Veterans Memorial
Most University students and staff members are familiar with the Memorial Chapel, yet many do not know its origins.
Honoring  our Veterans at Memorial Chapel
Although the Chapel is one of the University's most visible icons, many are unaware of its role as a Memorial to those Maryland students, alumni, faculty and staff who made the ultimate sacrifice as members of the armed services. During the building dedication on Oct. 12, 1952, then Chairman of the Board of Regents Judge William P. Cole, Jr., declared that the Chapel stood "in loving remembrance of those who died in defense of their country..." To fully solidify the memory of University associates who served and lost their lives during military conflict, a Memorial Book was established and was first "published" with 209 names. This book can be found in the University Archives.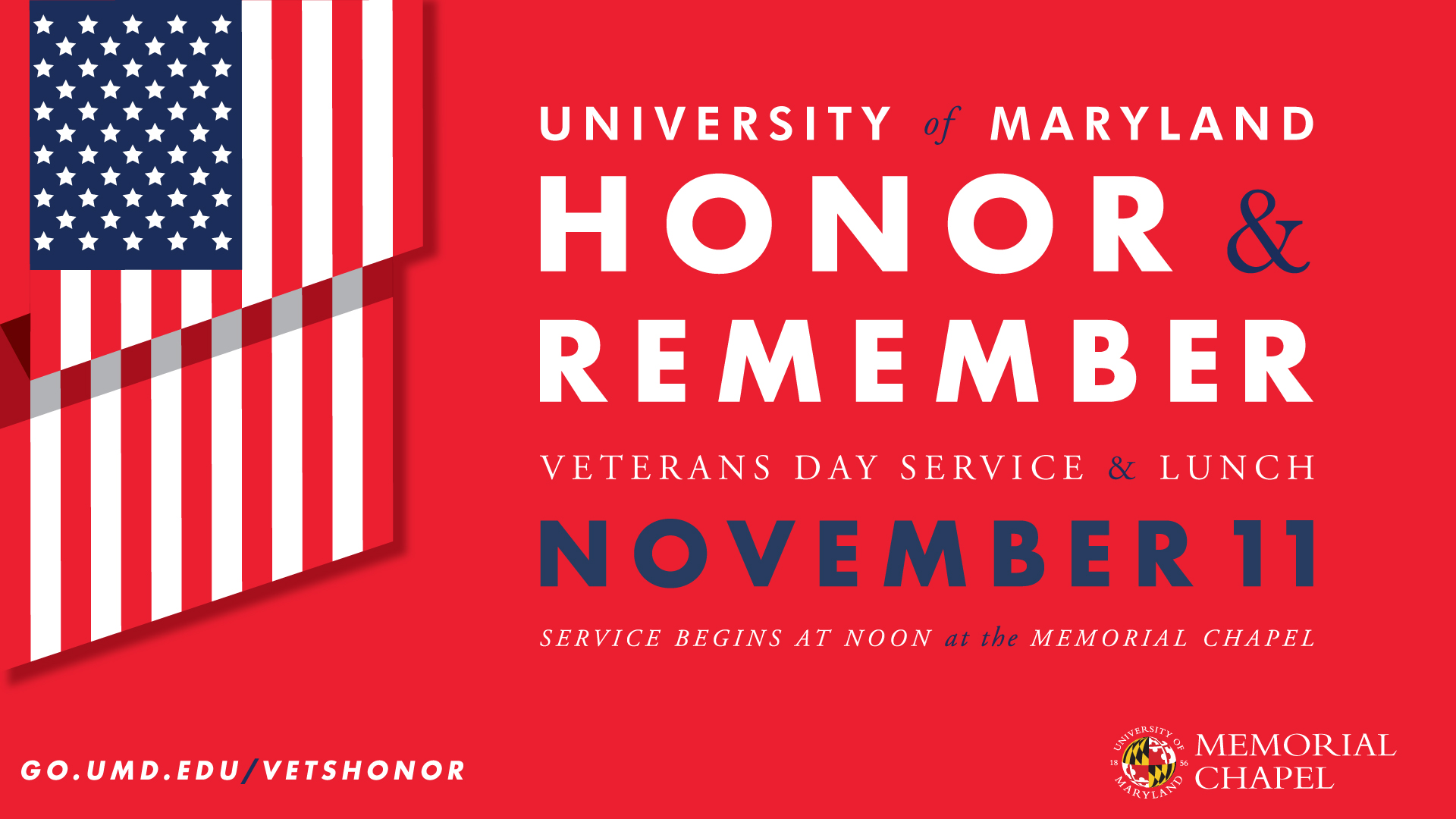 Each Veterans Day, the University community gathers to honor and celebrate the contributions of  Maryland Veterans.  This commemoration has gained momentum as part of the University of Maryland's Veterans Initiative to raise the level of  opportunities for Veterans on campus. In November 2008, the Memorial Chapel was proud to contribute to the inaugural Veterans Week which presented a series of programs for and about Veterans. Since then, this treasured event has become a tradition.
Visit this link to view the service that took place on 11/11/2021- https://fb.me/e/18HnWTLPO
Remembering UMD Veterans Who We Have Lost, October 1, 2020 - September 30, 2021 
Donald K. Algier
William W. Aspinall
Eugene W. Baker
George W. Baublitz
Thomas M. Beall
Charles G. Benevento
Harold T. Bennet
James H. Breffle
John J. Brehm
Russell B. Brinsfield
Robert D. Bruns
Robert Jason Cadrette
Donald F. Chandler
Reginald W. Clemens
Joseph L. Colbourn
John N. Connelly
William D. Crawford
James W. Custer
Ben S. Davis
Donzelle Davis
Russell A. Dawson
Robert F. De Carlo
Roy A. DeBolt
James F. Dray
Carl V. Dreisbach, Jr.
Peter W. Edwards
Richard L. Eigenbrot
Ronald R. Ellis
George A. Erickson
Kenneth A. Fink
Frederick A. Fox
Lothar Fox, Ret.
Donald G. Fraasa, Ret.
John Frank Gamboa
Matthew A. German
James R. Geyer
Richard L. Googins
Jay S. Gorban
P. James Hansen, Jr.
William M. Harris, IV
Gerald E. Hartdagen
Gail M. Hartjen
John J. Hartke
John Harty, III
Edward R. Hasbrouck
William A. Hewitt
Miles S. Hill
James B. Hockersmith, Jr.
James G. Howes
Charles L. Hutto
William K. Jenne, Jr.
Christopher P. Jodrie
Frank S. Kravitz
Elena A. Kukulies
Richard H. Lawlor
Thomas Lee
Archie C. Lewis, Jr.
Kenneth C. Loper
James A. Madison
Thomas A. Marcelino
Donald O. Martin
Edwin L. Matthai
V. Joseph McAuliffe
Phyllis S. McKoy
Ralph E. Meadows
Edward E. Morler
Barbara A. Neumann
Nicholas C. Nicholas
William B. O'Connell
Jordan Obertier
Allen R. Overmyer
Robert P. Padousis
John J. Park
John R. Pedevillano
Gilbert E. Petrina
Raymond A. Plant
John D. Powell
Donald R. Redmiles
Dean M. Reily
Max L. Reuss, Jr.
Joseph A. Reyes, Jr.
Jay E. Ricks
Cornelius F. Roche
Rolf J. Roth
James M. Russo
Wesley R. Samosuk
Robert G. Sampson
Dewitt Searles, III
Merrick E. Shawe
Timothy M. Smith
Charles E. Smyrk, Jr.
Louis E. Snyder, Jr.
Arthur E. Stack, Jr.
Allan J. Suing
Daisy L. Tagge
John F. Thompson
John M. Timmons
Kenneth E. Troxell
David L. Twomey
Frank Underhill
Edwin R. Underwood
Richard B. Uskievich
Paola A. Verduci
Donald J. Vitale
Carl L. Wagner, Jr.
Gordon H. Ward
William C. Watts
Jeffrey A. Weber
Harold R. Weiss
Donald L. Whipp
Anthony Williams
Robert K. Windham
Mikolaj G. Wojnowski
Glenn R. Young
Charles A. Yount
William H. Zietz
2021 Veterans Day Service: