Event & Guest Services
Welcome
Event & Guest Services Office 
Adele H. Stamp Student Union - Center for Campus Life
University of Maryland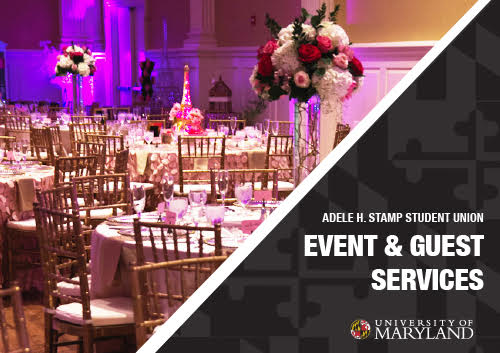 Download PDF Brochure: 
EGS_Brochure_2021.pdf
Flip through Online Brochure: https://stamp.umd.edu/EGSBrochure2021
Website Assistance To Answer Questions
If you have questions about these commonly requested topics, please view the menu items listed above and to the left. Once you click on a menu item, information on that specific topic will be provided. 
Rooms (you can also view the brochure above)
Room Rental & Equipment Rates & Room Capacities
Technology Price List
Catering Information
How to Reserve Rooms (eCalendar Help)
Policies
Amenities
If after viewing information provided on this website you have additional questions, please contact the Event & Guest Services office at 301-314-8488 or email us at stamp365@umd.edu. This phone line and email are answered Monday - Friday, 9am - 5pm, whenever the University is open.  
UPCOMING RATE INCREASE
For more information about our upcoming rate increases, which will take effect on July 1, 2023, please go to  https://stamp.umd.edu/events/event_guest_services/capacities_rates
VISITING THE STAMP 
Welcome to Stamp Event & Guest Services! From this site you can find information to help you plan your next visit to the Stamp Student Union or a special event held in the facility. We have Guest Services Assistants available at our Information Desk to provide you with detailed information about the Stamp Student Union. We can also help answer questions about the campus and the surrounding area.
HOSTING AN EVENT IN STAMP
We have information on our website about our meeting rooms and event space (rates and capacities), technology services and equipment, catering, ticketing services, and special discounts.
Event & Guest Services also coordinates use of the following outdoor spaces:
McKeldin Mall and McKeldin Steps
Hornbake Plaza
Nyumburu Amphitheater
Stamp Outside Tables
Expressive Activity (Free Speech) Spaces
Academic Classroom Spaces (limited access for student orgs during fall/spring semester)
Event requests must be submitted at least 7 days in advance.
Our clients must use eCalendar to submit event requests. eCalendar can also be used to check for availability. Feel free to contact us to set up a tour of our facility or to speak with an Event Services Coordinator to help plan your event.  For additional information, continue down to the section on Reserving Space.
GENERAL EVENT GUIDELINES
Stamp Student Union meeting and event spaces are operating at normal capacity. Normal room capacity information is available on our website at  https://stamp.umd.edu/events/event_guest_services/capacities_rates
There are no physical distancing restrictions in place for events
Normal event cancellation policy is in effect for all events

35 business days in advance for ballrooms
10 business days in advance for other other spaces

7 Step Guide for student organizations 
HEALTH & SAFETY PRECAUTIONS 
Masks are optional, with the following exception

Mask are required in patient care areas, including the University Health Center 

Practice good hand hygiene at all times always 
Stay home when feeling sick 
​STUDENT ORGANIZATION EVENT APPROVALS 
SORC will continue to review all student organization events (virtual, hybrid, and in-person events) for approval

If your event will occur inside the Stamp Stamp Student Union,  any Stamp managed outside space, or in an academic classroom space please submit your space requests in eCalendar first, then submit your event for approval with SORC. 
For more information on the SORC event approval process
HYBRID AND VIRTUAL EVENTS 
Stamp IT will to work with clients to stream event content to multiple locations and/or to virtual participants
ACADEMIC CLASSROOM REQUESTS (Student Organizations Only)
Requests for classroom spaces will not be accepted in eCalendar until the first day of classes for fall and spring semester. All requests must be submitted at least 7 days in advance, and a SORC Event Approval Form must be submitted for each reservation. Please plan accordingly.  We only have access to a limited number of specific classroom spaces in specific buildings.
This office only manages classroom requests for registered student organizations. University Departments should contact the Academic Scheduling Office for assistance.  Non-University groups must contact Conferences & Visitor Services for assistance.
_____________________________________________________________________
RESERVING SPACE (Stamp eCalendar)
eCalendar is the software programs that allows clients to submit event requests online. Requests must be submitted at least 7 days in advance.
UNIVERSITY DEPARTMENTS & STUDENT ORGANIZATIONS
If you are representing a university department or student organization you must request an eCalendar account. For more information about eCalendar, including links to an account request form, go to our eCalendar help page https://stamp.umd.edu/events/event_guest_services/ecalendar_help
For student organizations we have a handy 7-step guide. 
If you are an individual student that would like to reserve an outside table space for a class project, you can submit a request at Class Project Table.
NON UNIVERSITY CLIENTS
If you are not a member of the university community there are opportunities for you to use our meeting rooms and event spaces for some events.  We also welcome members of the university community interesting in hosting a personal  event (birthday and anniversary parties, etc.).  Please contact us directly at stamp365events@umd.edu for more information. You can also submit an event inquiry in eCalendar by clicking the green Request a Room button under the heading Welcome Guest.
(University departments and student orgs that submit guest event inquiries and do not use a official eCalendar account, will have their guest requests denied)
FREE SPEECH AND PUBLIC SPEAKING
If you are a non-university group/organization and would like to exercise your right to free speech on this campus, you can fill out our online request form on our Terp Link page.  If your request is confirmed, you should have your confirmation with you while you are on campus. Please read the form in its entirety to ensure that you are prepared to abide by all university policies.
BUSINESSES AND CORPORATIONS
If you are interested in marketing your business to university students, you can do so by becoming a Stamp Supporter.  For more information on being a Stamp Supporter, please contact Casey Bell at cbell9@umd.edu or 301-314-3694.
If you are interested in recruiting students for employment, please contact the University Career Center. The Career Center will help facilitate the reserving of space to recruit students.
TerpZone
The TerpZone is a billiards, bowling, and recreation area located in the basement of the Adele H. Stamp Student Center for Campus Life. 
To view more information about the TerpZone please visit https://stamp.umd.edu/centers/terpzone
Memorial Chapel
Concerts, recitals, performances, meetings, retreats, baptisms, weddings and more all take place in the Memorial Chapel. UMD departments and student groups, as well as the general public, are welcome to reserve a space today. Check us out at Memorial Chapel Website or call 301-314-9866.
Stamp Special Events
If you're interested in learning more about Stamp Special Events, including Homecoming, All Niter, StampFest, Maryland Day at The Stamp, Stamp Study Zone, or Sizzlin' Summer Series, please visit:
Student Ent. Events (SEE)
If you are looking for Student Entertainment Events (SEE), UMD's student programming board – please contact:
SEE.umd.edu | seeoffice@umd.edu |  301-314-8498 
Land Acknowledgement
Every community owes its existence and strength to the generations before them, around the world, who contributed their hopes, dreams, and energy into making the history that led to this moment.
Truth and acknowledgement are critical in building mutual respect and connections across all barriers of heritage and difference.
So, we acknowledge the truth that is often buried: We are on the ancestral lands of the Piscataway People, who are the ancestral stewards of this sacred land. It is their historical responsibility to advocate for the four-legged, the winged, those that crawl and those that swim. They remind us that clean air and pristine waterways are essential to all life.
This Land Acknowledgement is a vocal reminder for each of us as two-leggeds to ensure our physical environment is in better condition than what we inherited, for the health and prosperity of future generations.