Event & Guest Services
Welcome
Event & Guest Services at the Adele H. Stamp Student Union, University of Maryland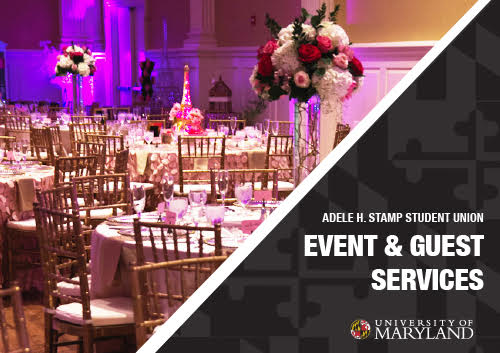 Download PDF Brochure: 
EGS_Brochure_2021.pdf
Flip through Online Brochure: https://stamp.umd.edu/EGSBrochure2021
VISITING THE STAMP 
Welcome to Stamp Event & Guest Services! From this site you can find information to help you plan your next visit to the Stamp Student Union or a special event held in the facility. We have Guest Services Assistants available at our Information Desk to provide you with detailed information about the Stamp Student Union. We can also help answer questions about the campus and the surrounding area.
HOSTING AN EVENT IN STAMP
We have information on our website about our rooms, catering services, ticketing services, and special offers. Our clients use  eCalendar to check for room availability and submit event requests. Feel free to contact us to set up a tour of our facility or to speak with an Event Services Coordinator to help you plan your event.
COVID-19 Related Event Guidelines
As a result of COVID-19, there are updated guidelines for hosting events in STAMP.  This information will be updated as campus  and county leaders continue to manage the health and safety of the community:
During Winter Term 2022 all food purchases in Stamp are Grab & Go. Eating in public areas of building is not permitted.
General Event Guidelines
Stamp Student Union meeting and event spaces are operating at full capacity. Normal room capacity information is available on our website at  https://stamp.umd.edu/events/event_guest_services/capacities_rates
There are no physical distancing restrictions in place for events
Normal event cancellation policy is in effect for all events
The indoor mask mandate remains in place for Prince George's County and the UMD campus (except while actively eating/drinking)
Health & Safety Precautions
Practicing good hand hygiene is still necessary
Staying home when feeling sick is still necessary
Members of the UMD community that are on campus, but not fully vaccinated, must continue to participate in regular weekly COVID-19 testing
Visit https://umd.edu/4Maryland for the campus policy on mask wearing
KN95 masks are required in all classroom settings, and recommended everywhere

All individuals that enter the Stamp Student Union must wearing a mask covering both nose and mouth
All individuals that attend or participate in an event in the Stamp Student Union must be wearing a mask, covering nose and mouth, at all times (unless actively eating/drinking)
​Student Organization Event Approvals
SORC will continue to review all student organization events (virtual, hybrid, and in-person events) for approval

If your event will occur inside the Stamp Stamp Student Union,  any Stamp managed outside space, or in an academic classroom space please submit your space requests in eCalendar first, then submit your event for approval with SORC. 
For more information on the SORC event approval process
Hybrid and Virtual Events 
 Stamp IT will continue to work with clients to stream event content to multiple locations and/or to virtual participants
Academic Classroom Requests (Student Organizations)
Requests for use of academic classroom spaces for student organization meetings, during spring 2022, will not be accepted in eCalendar until January 24. 
_____________________________________________________________________
STUDENT ORGANIZATIONS AND UNIVERSITY DEPARTMENTS
If you are representing a registered student organization or a university department, and you need to request an eCalendar account, visit our Terp Link page to complete a  request form.
If you are an individual student that would like to reserve an outside table space for a class project, you can submit a request at Class Project Table.
Non University Clients
If you are not a member of the university community there are opportunities for you to use our meeting rooms and event spaces some events.  We also welcome members of the university community interesting in hosting a personal  event.  Please contact us directly at stamp365events@umd.edu or 301-314-8489 for more information.
FREE SPEECH AND PUBLIC SPEAKING
If you are a non-university group/organization and would like to exercise your right to free speech on the campus, you can fill out our online request form on our Terp Link page.  If your request is confirmed, you should have your confirmation with you while you are on campus. Please read the form in its entirety to ensure that you are prepared to abide by university policies.
BUSINESSES AND CORPORATIONS
If you are interested in marketing your business to university students, you can do so by becoming a Stamp Supporter.
If you are interested in recruiting students for employment, please contact the University Career Center.
TerpZone
The TerpZone is a billiards, bowling, and recreation area located in the basement of the Adele H. Stamp Student Center for Campus Life. 
To view more information about the TerpZone please visit https://stamp.umd.edu/centers/terpzone
Memorial Chapel
Concerts, recitals, performances, meetings, retreats, baptisms, weddings and more all take place in the Memorial Chapel. UMD departments and student groups, as well as the general public, are welcome to reserve a space today. Check us out at Memorial Chapel Website or call 301-314-9866.
Stamp Special Events
If you're interested in learning more about Stamp Special Events, including Homecoming, All Niter, StampFest, Maryland Day at The Stamp, Stamp Study Zone, or Sizzlin' Summer Series, please visit:
Student Ent. Events (SEE)
If you are looking for Student Entertainment Events (SEE), UMD's student programming board – please contact:
SEE.umd.edu | seeoffice@umd.edu |  301-314-8498