University Book Center
UBC Store Hours | ShopTerps.com
Welcome to the UBC, the official bookstore of the University of Maryland College Park! We are OneTerp, Keep it local and keep it on-campus, Go Terps!
Visit us online for our latest promotions and updates. We are located in the Stamp Student Union and online; University Book Center




Semester Break Store Hours
Monday – Saturday: 10:00 AM – 5:00 PM
Closed Sunday
Closed: Memorial Day Weekend (5/28-5/30)
REGULAR HOURS RESUME MAY 31 |  MON-SAT  10:00 AM - 6:00 PM
Spring Commencement & Regalia Information
CONGRATULATIONS!
Ordering and Distribution Update (5/20/22)
IN STORE ORDERS (UBC)
Undergraduate and Graduate regalia is still available on a first come, first served basis. The University Book Center staff will do our best to accommodate everyone but sizes and items may be limited or unavailable at this time. We are not able to hold regalia at this time. Refund request must be received before Noon on May 20, 2022. 
Ph.D (student) rental gowns:  RENTAL REGALIA IS RETURNED TO THE UNIVERSITY BOOK CENTER. IF MAILING THE RETURN, BE SURE TO INCLUDE YOUR FULL NAME. 
Rental Regalia Is Due Back No Later Than Friday, June 3.
Regalia is due back to the University Book Center, Stamp Student Union Building. 
If needed, request an extension to the deadline by emailing Deddisun Won at dwon1@umd.edu. The fee for unreturned regalia is $500. 
Faculty, Staff, & Admin rental regalia 
Faculty and Department Orders are due back no later than Friday, June 3. Please contact your commencement coordinator or the University Book Center for assistance. 
ONLINE ORDERS (OAK HALL)
Order Tracker: Orders will be listed in pending status until UPS scans the order for delivery. You can use your confirmation email to enter your order number to view the current status. When your order is shipped, you will receive a UPS tracking number on the following day.
If your order was late or did not arrive, please reach out to the Oak Hall service team at webdept@oakhalli.com
.
University Book Center Contact:
Deddisun Won  |   dwon1@umd.edu.
Stadium Hours & Locations 
Gameday Info: https://umterps.com
Xfinity Center | Closed During Summer (May 20 -  Sept 3) | Check Back for Event Dates & Special Openings
Gamedays:  Enter the Xfinity Center via GATE C. The Terrapin Team Shop is located on Level 2. Store opens 1.5 hours before tip-off.
Capital One Field at Maryland Stadium | Open Gamedays Only/ Stadium Access (Ticket) Required
Gamedays: Terp Gear & Gifts can be found throughout the stadium at our 5 locations, featuring our Under Armour Team Shop located near Gate H. The stadium locations open approximately 1 hour before the event and will close at around the 8-minute mark of the 4th quarter.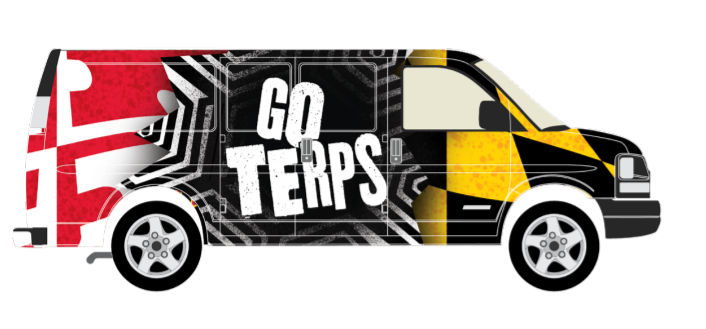 If you see our Go Terps van, please stop by and check us out! 
 
Welcome to the University Book Center
Order Online or Shop in Store (Stamp Student Union)
Official Merchandise
The UBC has it all. We offer the latest trends and the best gifts for every season. We feature top brands like Champion, Blue 84, Vineyard Vines, Columbia, and of course, a huge selection of Under Armour performance wear. We have gifts and clothing for every age, in many styles and in all the official colors of the University of Maryland College Park. Come and visit us, in-store or online, and you are sure to find the things you love.
Course Materials & Supplies
The University Book Center is a "one-stop-shop" and you will have many choices of various available textbook formats, such as new and used books, rental options, and easy to get digital choices as well.  Whether you are taking classes virtually or on campus, we want to make sure you have multiple ways to secure your course materials. You can choose to ship your order or use our in-store pick up option.
We always welcome you to come into the store and purchase your materials while you're on campus. Just bring your schedule and one of our friendly knowledgeable booksellers will assist you in gathering everything you need! 
We know that you want to find the most affordable options and the UBC is a great choice. We offer a price-match program (matching qualified pricing of Amazon and others) and for peace of mind, the UBC provides a textbook refund policy covering the first 30 days of classes.
STUDENT ACCOUNT CHARGE OPTION
You can also charge your books to your student account in the store and take advantage of many online payment options.  Our University Book Center staff stands ready to help you make the most cost effective choice for you and your family.
 Here are a few easy steps to view your customized course material list.
Go to Testudo (

testudo.umd.edu

)

Click "Student Schedule" 

Login with your UMD credentials

Select the correct "Term" from the drop down menu

Click "Book List" to see your course material requirements

Our UBC management team receives regular updates from our faculty so if information isn't posted yet, don't worry, they are working on getting the information.
Please visit our website for updated store hours:  University Book Center 
We are proudly located in the Stamp Student Union.  To learn more about other activities and dining options, Go to https://stamp.umd.edu 
Please be sure to confirm store hours and Covid-19 updates before driving to the Stamp Union.
Order your course materials today from the University Book Center!  
>>>>>>   Order Textbooks Here >>>>>> 
Official Terp Gear and Helpful Links
(click here to enter the official site for the University Book Center)       
We are located in STAMP 0210 (Ground Floor)
Quick Links:
Download Our College Bookstore App
Shop our Under Armour Collection