Save The Music
Save a Piece of Maryland History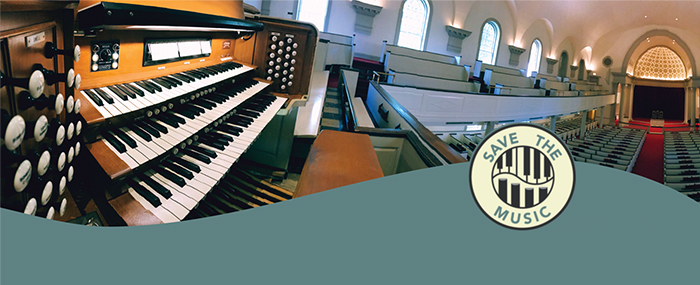 Be a part of history,
and help save a piece of the University of Maryland.
For 65 years, a rare and impressive Moller* pipe organ has filled the UMD Memorial Chapel with music for countless weddings, graduations, memorials, Veterans Day receptions, convocations, inductions, and so much more.
Perhaps its melodic notes helped carry you down the aisle on your special day and created memories of a lifetime.
Today, we need your help to restore the pipes of the Memorial Chapel organ to their original luster and sound fidelity before it's too late. Won't you join us in restoring the Chapel organ, and give the gift of music for generations to come?
Donate today, and save a piece of Maryland history:
Every dollar donated will go into the full restoration efforts of the Chapel organ by a fine Maryland company, experts in finetuning and preserving this one-of-a-kind instrument.
*For over a century, the M.P. Moller Pipe Organ Company of Hagerstown, Maryland, produced thousands of distinctive instruments to the exacting standards of its Danish founder Mathias Peter Moller before closing its doors in 1992.
UMD Memorial Chapel Organ at Play
Listen to organist Elizabeth Dumas Schneider, PhD, an alumna of the Julliard School of Music, playing the UMD Memorial Chapel Moller organ. Built and installed in 1952, this one-of-a-kind instrument has filled the Chapel for numerous weddings, events, memorials, and so much more. Help save a piece of Maryland history.
Music is Ageless
"The pipe organ may be in or out of "fashion," but it is never out of style: like a bride's white dress, some classics are always in demand. From a Bach aria to the fanfares of John Williams movie scores, the Chapel organ is the true voice of the University. It has married hundreds, graduated thousands, and marked many decades of commemoration and celebration with dignity and grandeur. Give the Chapel a gift worthy of all the meaningful events and memories created there. Let its organ sound like new again, because its sounds are truly ageless."
— Dr. Elizabeth Dumas Schneider, Chapel Organist