LGBTQ Student Involvement & Advocacy
Pride Month 2022 Theme and Call for Programs are out! Submit your Pride events here. For more details, check out the Pride Month page. 
We have launched Queer Creative Corner, a weekly community space to create and connect with fellow LGBTQ+ folks! Check out the flyer below for more information. 
Lesbian, Gay, Bisexual, Transgender Student Involvement
The University of Maryland is one of the nation's most academically challenging and diverse public institutions. Maryland's rich diversity affords students the opportunity to learn more about themselves and the people and cultures that make up our country and our world. Students can learn about diversity both inside and outside of the classroom. We urge you to take advantage of this great opportunity to connect with the staff of the Multicultural Involvement and Community Advocacy Office. We invite you to visit us in Suite 1120 of the Stamp Student Union, or give us a call at (301) 314-8600 to learn more about diversity and student involvement at the University.
Mission Statement
LGBTQ+ Student Involvement and Advocacy promotes student development and campus participation for students who identify as lesbian, gay, bisexual, transgender, queer, questioning, intersex, and diverse sexual/gender minorities. We are committed to the creation and maintenance of a campus environment where LGBTQ+ identity and issues are affirmed and supported through programming, student mentorship, scholarship fund development, and other initiatives. Curious to learn more? Visit us in Suite 1120, or send our Graduate Coordinator, Joey Haavik, an email at ljhaavik@umd.edu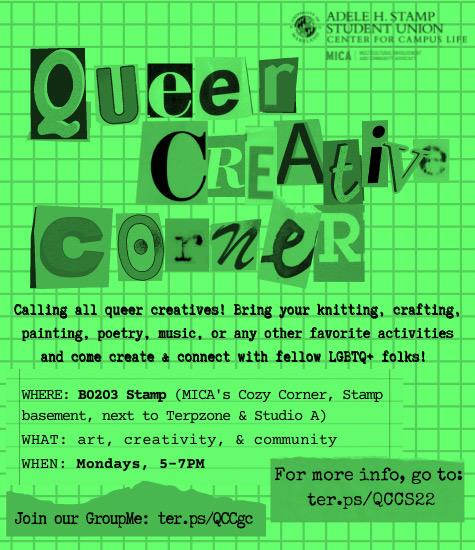 Calling all queer creatives! Bring your knitting, crafting, painting, poetry, music, or other favorite activity and come create & connect with fellow LGBTQ+ folks!
We encourage you to bring your favorite creative materials with you, but some craft materials will also be provided.
QCC meets in the MICA Cozy Corner every Monday, from 5-7pm 

(B0203 Stamp, in Stamp basement, across from Studio A, Terpzone, and lower entrance to the UMD Bookstore)
Link to GroupMe: https://groupme.com/join_group/71462924/qvtFOiB6
For more questions, email kpeck1@umd.edu
Check out our Linking Communities Calendar for more events!