Info for Faculty and Staff
Faculty and Students
7 Things You Can Do to Create a Welcoming Environment for Undocumented Students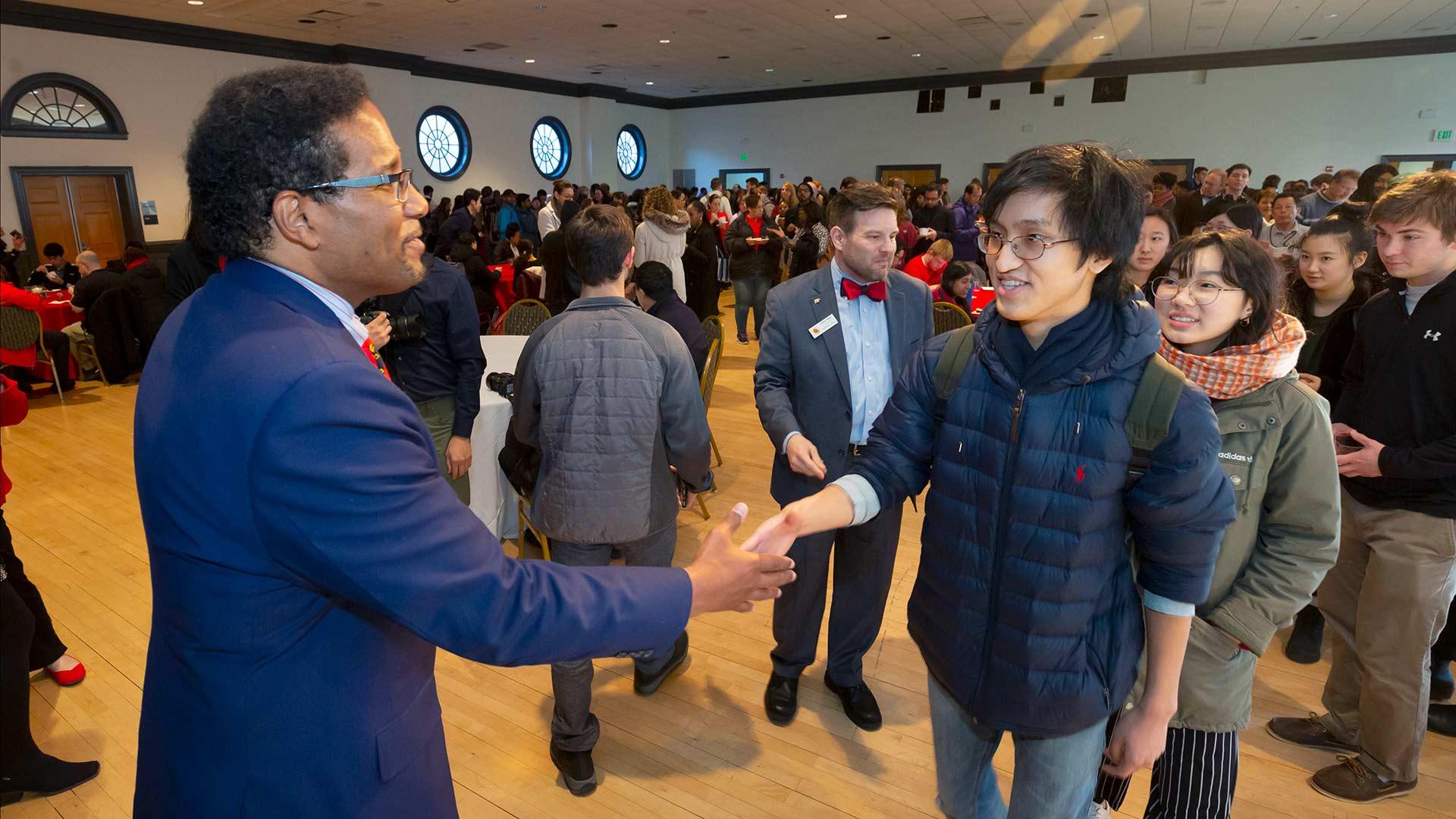 1. Do not inquire about a student's immigration status. Students may have legitimate fears about disclosing this information. Educators and other personnel should not make assumptions about students' immigration status. Remind students that your role as a staff or administrator is to help and support them and that their personal information and records fall under federal law FERPA guidelines. You can share more information about FERPA or share this website with them: Student Privacy (FERPA explained).
2. Convey openness and assurance of confidentiality in discussing the topic, if a student chooses to disclose their immigration status.
3. Consider establishing welcoming spaces, while respecting student privacy, where undocumented students have the opportunity to learn and engage with their peers without fear or intimidation.
4. Use inclusive language such as "undocumented student" "undocumented immigrant" "people without documents," or "people without legal status." The term "illegal alien" is derogatory and dehumanizing and will make students feel unwelcome. 
5. Learn the facts. For instance, every academic year, 454,000 undocumented students graduate from high school in the United States. Currently, around 5%-10% of these 454,000 high school graduates move on to a higher education institution. There are 16,000 undocumented students in Maryland. Maryland allows undocumented students to pay in- state tuition under certain conditions. Read more about Undocumented Students in Higher Education, the Maryland Dream Act and the Maryland Student Financial Aid Application. 
6. Be sensitive to the limits that undocumented students face in your classroom activities and discussions. Not every student is eligible to register to vote, to travel out of the country, or feels comfortable discussing their family's migration story.
7. Donate to students DACA Renewals or Legal Fees at ter.ps/plumasdf or to the undocmented student opportunity fund to help with general emergency needs and or professional development opportunities here
Join the Staff and Faculty Rapid Response Team
What is the Rapid Response Team (RRT)? 
Given the challenging time for many immigrant students on our campus, particularly those who are undocumented, who have undocumented family members, or who are facing other challenges related to immigration status there was a need to build a community of support to work alongside our students as a part of their UMD journey. As a response to these needs, the rapid response team was created by Dr. Janelle Wong and Laura Bohorquez during the fall of 2017.
Who can join the RRT?
UMD staff and faculty are highly encouraged to join the RRT. Discretion and confidentiality are important to this effort. 
What might capacity and time commitment look like if I join the RRT?
We hope to build teams based on your capacity. We understand that there will be times when members are not available.  We also anticipate that each member of the team will be working with no more than one student per semester. In the past, we have needed this kind of support for 8-10 students every semester, and sometimes the need is a one-time ride or other short-term commitment.
How have folks who are part of the RRT supported students?
Some examples include driving students to appointments for immigration hearings, providing carpool for consultations with lawyers, accompanying students to meetings on campus related to residency reclassification, or providing on-campus advocacy related to a student's particular needs with various campus units. 
How can I join the RRT?
Thank you for your interest in joining the rapid response team. In order to show your interest and join the RRT, you will need to send an email to undoc@umd.edu and request the RRT interest form link. In your email subject line please include: "RRT Interest Form Inquiry". As a way to help you prepare, the form will ask you the following information: 
First Name
Last Name
E-mail
What role best describes you?
Department/Unit
Position/Title
Phone (Work)
Cell Phone
What is your best method of communication? 
Do you agree to be part of a group text with other members of the rapid response team?
Do you have a car that you would be willing to use?
Please let us know what your capacity is by sharing how you can help support our UMD immigrant community. Please click all that apply. 

Drive a student to an appointment (morning 8-11am, midday 11am-4pm, evening after 5pm)
Accompany a student to a hearing or other legal proceedings (during the workday)
Provide one on one support and advocacy during students' interactions with various campus units (i.e. residency reclassification, registrar, bursar)
One on one support and help with students' housing issues (i.e. speaking with landlords, talking through options)
Become a mentor for a student
Help a student with a grocery run/ride
Provide carpool to an off campus event
Help with fundraising efforts for our Undoc UMD Opportunity Fund
Help fundraise during Maryland Giving Day (Spring Semester- March) for the Terp Dream Crisis Fund
Make a one time donation ($250, $500, $1,000, $2,500)
If you have folks in mind that might be interested in being a part of this group. Please share their name, email, and role below. If you do not simply write N/A.
Please share any comments, suggestions, and or questions.
By signing up, you will join our rapid response team and also be included in our emailing listserv for future events and training.
When or how will I be contacted if I submit the form to join the RRT?
We will contact you to let you know when we have reviewed your interest form and will follow up when we need folks to call, email or tweet at their congressperson, for any events taking place on and off-campus, and for opportunities to facilitate, fundraise and or when students share ways that you can support them and or the immigrant rights movement.
I am a student and want to request support from the RRT, who do I contact?
Please send an email to undoc@umd with the email subject line: "RRT Student Support Inquiry". Please share the following information in your email:
First Name
Last Name
E-mail
Cell Phone
What best describes you? 

Undergraduate UMD Student
Graduate UMD Student

What is your best method of communication? 

E-mail, phone call, text, other

How time sensitive is your request?

Emergency
1-2 business days
3-5 business days
I am not sure, a consultation would be helpful.

Please choose all that apply

I need a ride to- a doctor appointment, hearing or other legal proceedings, biometrics appointment, grocery, other. 
I would like someone to attend a meeting that I have coming up with an on campus office. For example, residency reclassification, bursars office, etc. 
I need help finding short term housing closer to campus during finals week. 
I need financial support to help with 

A months of groceries
A month of gas/public transportation costs
Books
Printing
Legal fees/ Application renewals
A locker in Stamp/Recwell to leave my things in a safe place
Tuition
None, of the above, I need help with my own fundraising efforts 
Other

I want a staff/faculty mentor
Please share any comments, suggestions, and or questions.
I still have questions about the RRT, who can I contact?
For questions about the rapid response team, please email undoc@umd.edu and add Rapid Response Team Inquiry to your subject line. 
Terminology for Educators and Service Providers on Immigration, Identity, and Education
Asylum Seeker- A person who has fled their home country as a political refugee and is seeking sanctuary in another country. Only asylum seekers who are granted refugee status are allowed to work and stay in the new country. An asylum seeker may be a displaced person or an economic migrant. Every year, around one million people seek asylum.
Comprehensive Immigration Reform (CIR) – CIR is reform of the immigration system as a whole. Some issues that are discussed in CIR are border enforcement, border security, adjusting the status of the undocumented population living in the U.S., visa reforms, among others.
Cultural/Performative Citizen- Acknowledges the cultural resilience and social reproduction in which undocumented peoples participate. They take part in the class, cultural, and linguistic knowledge and skills that establish the cultural capital of social groups in the U.S. Performative citizenship also acknowledges that folks can identify as citizens in all ways except on paper because they do not have a nine-digit social security number.
Deferred Action for Childhood Arrivals (DACA) – DACA is program announced on June 15, 2012, by President Barack Obama that is to protect individuals who qualify from deportation and give them a work permit for 2 years. The program is renewable. Deferred Action does not provide lawful status, it provides lawful presence.
DACA-mented or (Un) DACA-mented- The term is used by undocumented individuals who are DACA recipients. DACA-mented and (un) DACA-mented (similar to Dreamer) is sometimes used as a way to navigate away from the negative connotations given to terms such as undocumented, immigrant, non-U.S. citizen and so forth.
DREAM Act – The Development Relief and Education for Alien Minors (DREAM) Act is a national piece of legislation proposed to provide a pathway to permanent residency and U.S. citizenship for qualified undocumented immigrant students.  The national DREAM Act has been proposed several times in Congress since 2001 but has not been approved. The national DREAM Act is many times confused for state-based laws such as the Maryland Dream Act that provide access to in-state tuition for qualified undocumented immigrant students.  
DREAMer– DREAMer refers to students who are undocumented and are also part of the DREAM Act movement. DREAMer is a term commonly used by students who connect with the DREAM Act movement and sometimes used as a way to navigate away from the negative connotations given to terms such as undocumented, immigrant, non-U.S. citizen and so forth.  
Detention- The action of detaining/imprisoning someone or the state of being detained/imprisoned in official immigration and customs enforcement custody. Detention usually takes place inside detention centers which are jail-like spaces. The U.S. permits the indefinite detention of people until a decision is made by immigration authorities to grant a visa, release them into the community while they seek status adjustment, and or wait for their removal proceedings and eventual deportation.
Deportation- The action of deporting a person from a country. Also described as the expulsion of a person or group of people from a place or country. The term expulsion is often used as a synonym for deportation, though expulsion is more often used in the context of international law, while deportation is more used in national (municipal) law. There were 2.5 million deportations under the Obama administration.
Entry without Inspection- Refers to individuals who have entered the U.S. without presenting normative government accreditation (i.e. visa).  
F- Visa- It is a type of visa issued to students who are not from the United States but who are attending an academic program or English language program at a U.S. college or university. These students are required to maintain a full-time course load for the entirety of their approved stay.
Generation 1.5- Refers to immigrants who were brought to the U.S as young children and identify as American. The label comes from the groups' special place as first-generation Americans who migrate to this country during childhood and feel a strong identification with the U.S., yet are native to another country.
"Illegal"- "Illegal" (I-word) is a racially charged slur used to dehumanize and discriminate against immigrants and people of color regardless of migratory status. The I-Word is shorthand for "illegal alien," "illegal immigrant" and other harmful terms. The Applied Research Center (ARC) and Colorlines.com, have presented the Drop the I-Word campaign to eradicate the slur "illegals" from everyday use and public discourse.
Immigrant – In the U.S. context this term refers to all people who are born outside of the United States and or who have family members who were born outside of the United States. Some people might be a first generation, second or third generation immigrant.. Some people also use the term foreign born.
Immigration Detention- The policy of holding individuals suspected of visa violations, unauthorized arrival into the U.S, and those subject to deportation and removal until a decision is made by immigration authorities to grant a visa and release them into the community, while they seek status adjustment, and or wait for their removal proceedings and eventual deportation. The U.S. permits the indefinite detention of people.
Immigration Raid- A tactic used by federal immigration authorities to enforce immigration law. Immigration Customs Enforcement (ICE) agents "round up" individuals in private homes with and many times without deportation orders/warrants. Many times ICE agents raid public spaces like grocery stores and school bus stops as a way to find undocumented immigrants who may fit the agency's criteria for deportation. Many times immigration raids are done in locations considered sensitive locations such as hospitals and places of worship. Many immigration raids have taken place without the proper warrants and therefore have engaged in human rights violations and racial profiling.
Individual Tax Identification Number (ITIN)- A U.S. tax processing number (Tax ID), issued by the Internal Revenue Service to individuals who are required to have a taxpayer identification number but who do not have, and are not eligible to obtain, a social security number.
International Student– Most colleges and universities consider any student who currently holds a visa (M, F, or J) to be international students. Valid student visas are required to apply to the Department of Homeland Security for admission into the United States at the port of entry.  Undocumented students are not international students as they do not have an M, F, or J visa. In addition, undocumented students should not have to go through the international admission process as they cannot provide an international student visa and other documentation required.
Interior Checkpoints- These checkpoints are located between 25 and 100 miles of the United States border. Their interior locations are meant to deter illegal activities that may have bypassed official border crossings along the frontier. The checkpoints are divided among nine Border Patrol sectors. There are a number of these checkpoints near the southern U.S. Mexico border as well as the northern border in states across the U.S. and Canadian borders such as Washington, New York and Maine.
Legal Permanent Resident (LPR) – Or "green card" recipient is defined by immigration law as a person who has been granted lawful permanent residence in the U.S.  
Maryland Dream Act-The Maryland Dream Act became law on December 6, 2012. This law allows Maryland high school graduates who are undocumented immigrants, U.S. citizens, and other statuses the opportunity to qualify for the lowest tuition rates at their public colleges and universities upon meeting certain eligibility requirements and submitting required documentation. This law applies to all future semesters, starting with the 2013 winter session.
Mixed-Immigration-Status Family– Refers to students that are either: 1) undocumented, but have family members that are U.S. residents or U.S. citizens or 2) are U.S. residents or U.S. citizens but have family members that are undocumented and or U.S. residents or U.S. citizens.
Naturalization- The process by which U.S. citizenship is conferred upon a lawful permanent resident after they fulfill the requirements established by Congress in the Immigration and Nationality Act (INA). The general requirements for administrative naturalization include: a period of continuous residence and physical presence in the United States; an ability to read, write, and speak English; a knowledge and understanding of U.S. history and government; good moral character; attachment to the principles of the U.S. Constitution; and a favorable disposition toward the U.S. Immigrants face several barriers in this process; some include lack of access to lawyers, financial means for filing fees, time to study for tests and/or attend appointments.
Non-US-Citizen – The non-citizen category applies to people born outside of the U.S. and who have not applied for or have been granted citizenship. Permanent residents also fall into this category.
Non- Immigrant Visa- Issued to the citizens of other countries coming to the U.S. temporarily. Some of the nonimmigrant categories are students, tourists, treaty investors, foreign government officials, etc.
Overstayed Visa- Refers to individuals who have stayed in the U.S. after their tourist, visitor, or student visa has expired. A person overstaying their visa becomes undocumented. 
Refugee- A person who has been forced to leave their country in order to escape war, persecution, or natural disaster.
Temporary Protected Status (TPS) – A temporary immigration status granted to nationals of certain countries who are already in the U.S. and who cannot safely return to their home country due to things like war, a natural disaster, and other extraordinary conditions. Some countries include El Salvador, Haiti, Nepal, Honduras, Nicaragua, Somalia, Sudan, South Sudan, Syria, and Yemen.
T-Visa- T Nonimmigrant Status (T visa) is a set aside for individuals who are or have been victims of human trafficking. It protects victims of human trafficking and allows victims to remain in the United States to assist in an investigation or prosecution of human trafficking.
U.S. Citizen- Individuals who obtain U.S. citizenship by birth in the U.S. or by process of naturalization. Citizens obtain a Social Security Number, have the right to vote, are able to use federal benefits, and are protected from deportation.
Unauthorized– This term is used to highlight the fact that all peoples have documents (i.e. birth certificate, a form of identification card, and so forth), but who may be residing in the U.S. without legal authorization, thus unauthorized.
Undocumented– Undocumented refers to people who are not U.S. citizens or Permanent Residents of the United States, who do not hold a visa to reside in the U.S. and who have not applied for or are eligible for legal residency in the U.S.
UndocuTerp- UndocuTerp refers to students who are undocumented and are also part of the University of Maryland, College Park community. The term UndocuTerp is commonly used by students who connect with the UMD community (Terp) and their undocumented identity. This term is sometimes used as a way to navigate away from the negative connotations given to terms such as undocumented, immigrant, non-U.S. citizen and so forth.
U-Visa- An immigration benefit that can be sought by victims of certain crimes who are currently assisting or have previously assisted law enforcement in the investigation or prosecution of a crime, or who are likely to be helpful in the investigation or prosecution of criminal activity.
Helpful Resource for Administrators and Staff
Resource Guide: Supporting Undocumented Youth (US Department of Education)
Questions on best practices for serving undocumented students at UMD? Email undoc@umd.edu.