Terp Traditions
THE GRADTERP TRADITIONS BOOK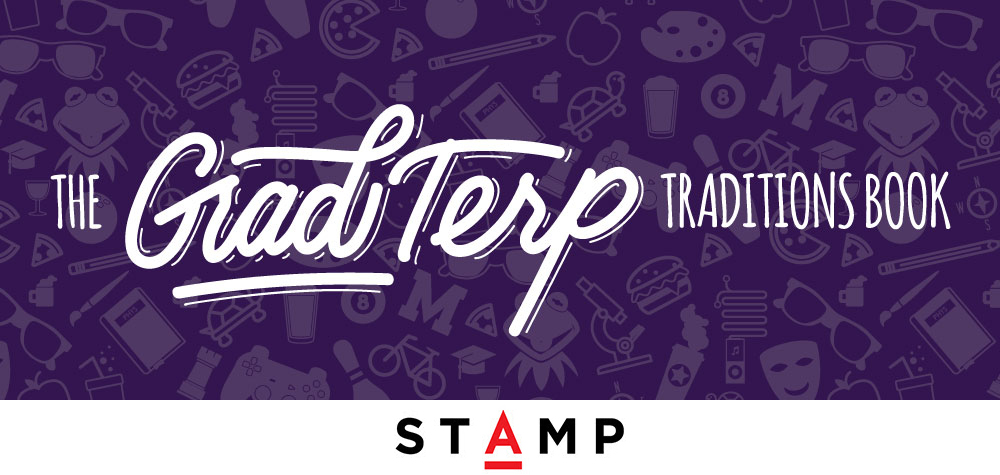 [Image of white text on purple background with purple university-related icons. Text reads "The GradTerp Traditions Book."]
BECOME A TRADITION KEEPER!
What's the GradTerp Book?
The GradTerp Book was developed to guide Graduate Students through the various traditions alive at the University of Maryland. Perform all traditions and become an official University of Maryland Tradition Keeper!
Contained within its pages are 30 GradTerp traditions. Each tradition is an event that countless GradTerps like yourself have enjoyed before you. With the completion of each tradition, you get one step closer to the title of Tradition Keeper!
How does it work?
For each tradition, take a picture of yourself (and your friends!) participating in the tradition. At a football game, you might be cheering on the Terrapins in the stands. For Kickoff, it might be a picture of you and your friends in the GSL photo booth.
Throughout the year, GSL will send out reminders to submit your pictures to be officially logged and recorded. Photos can be uploaded at any time at  We'll track your progress on our end, no matter how many years it takes you! Along the way (after 10, 20, 25, and 30 traditions), you'll earn tokens to display your progress and official Tradition Keeper decoration to wear at graduation.
Don't have a Book?
Stop by the Graduate Student Lounge or visit our table at any graduate student resource fair to grab your copy!
TRADITIONS CHECKLIST
1. Attend Graduate School Orientation 
Every year, the Graduate School hosts a campus-wide New Graduate Student Orientation. The event is designed to provide information for graduate students across programs and is a great chance to meet fellow GradTerps. Take a selfie in the audience or when you get a turtle pin from President Loh! 
2. Get Your UID at the Mitchell Building
Your UID is your Student ID. It serves as your library card, your shuttle buss pass, your University Recreation and Wellness pass, and more. Head to the Mitchell Building once you've registered for classes, and say, "Cheese!" Snap a picture (or you have a friend take one!) of you and your new ID. 
3. Relax in the Grad Student Lounge 
The Graduate Student Lounge is a place just for graduate students where you can hang out, study, play board games, or just relax. Every week, you can indulge on Free Coffee Thursdays. 
To complete this tradition, head on over to the Graduate Student Lounge located at 0121 STAMP on the ground level (across from Hoff Theater), and show us your favorite way to lounge!
4. Wear Your Red, Black, and...
In 2014, The University of Maryland entered the Big Ten Conference. 
Show your team support by wearing your red, black, or gold at a UMD sporting event! 
5. Sweat at the Eppley Recreation Center
University Recreation & Wellness, known also as "RecWell" is dedicated to your complete health. RecWell offers a number of classes, programs, and challenges to keep you happy, healthy, and fit! Take a jog around the indoor track, a dip in one of the indoor or outdoor pools, or take the courts to show your racquetball skills. To fulfill this tradition, snap a photo of you taking a part in one of RecWell's programs at the ERC! 
6. Rub Testudo's Nose in STAMP...
Join in on the Maryland tradition, and rub Testudo's nose for good luck on that presentation or scholarship essay. Contribute to his shine when you need a boost on your upcoming exam. 
Bronzed Testudos can be found throughout campus, including inside STAMP and in front of McKeldin Library.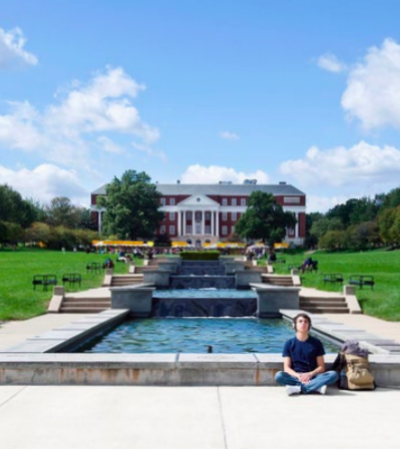 7. Study at McKeldin Library
 Be sure to get to know your subject area librarian for all your research needs at McKeldin Library. Stop by the "Grad Student Only" study room or visit the Graduate School Writing Center for one of their programs or retreats. Can't study because you forgot your computer? The IT desk on the second floor rents out computers, computer and phone chargers, cameras, headphones, and even A/V equipment. Snap a studious selfie in the stacks to fulfill this tradition! 
8. Support Fellow Grads by Attending GradTerp Exchange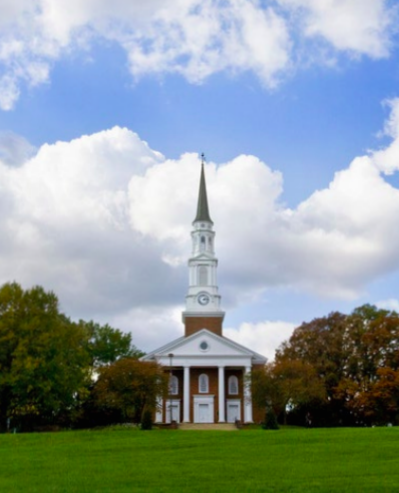 9. Reflect at the Memorial Chapel
The UMD Memorial Chapel is host to religious and secular events throughout the year. Come visit the Memorial Chapel and take a picture while you relax and de-stress in the Labyrinth or the Garden of Reflection & Remembrance. 
10. Take in the View on McKeldin Mall
The highly photogenic and ever-so-popular McKeldin Mall offers many services just for graduate students. The mall in front of the McKeldin Library is a great place for Frisbee, taking a nap, or studying when there's good weather. It's also the spot where our UMD Quidditch Team holds their practice, and where you'll often see Erasable, Inc. practicing and performing improve on Friday afternoons. 
Snap a picture of yourself or with friends on the lawn -- whether you're being studious, enjoying the sun, or just taking a break from classes. Even after you've completed this tradition, we know you'll be back soon! 
11. Explore STAMP's Resources 
STAMP is the center for campus life at the University of Maryland. Throughout the year, STAMP offers events and opportunities to enhance the student experience. Whether you bowl a few frames in the TerpZone or visit STAMP Gallery, there's something for everyone happening at STAMP every day. 
To fulfill this tradition, choose three of the following, and snap pictures of your experience: 1) take a class at the Art & Learning Center, 2) view an exhibition at STAMP Gallery, 3) attend an event by SEE, 4) visit the TerpZone in the basement, 5) attend or participate in a program from Leadership & Community Service-Learning. 
12. Hang out with Jim Henson
Jim Henson, an alumnus of the University of Maryland at College Park, is commemorated in statue form with his longtime associate, Kermit the Frog, beyond the trees in the gardens outside the front steps of STAMP. 
For this tradition, take a moment to spend a few minutes with Jim and take a picture sitting with him on his bench.  
13.Get Involved with a Student Organization or Committee
Find your niche on campus. Run for a Graduate Student Government position, find a graduate student organization, or get involved with your academic department. There are over 800+ student organizations at the University of Maryland, including organizations for graduate students. Once you've found your niche, snap a pic with your new crew, or head over to the brand new (and super stylish) Student Involvement Suite on the ground level of STAMP. 
Tip: Login to TerpLink to sift through the different orgs on campus! 
14. Get Enriched at The Clarice 
The Clarice Smith Performing Arts Center, known as "The Clarice," is the hub for the arts on campus. The Clarice brings in a wide variety of artists and productions, so make sure to take advantage of it as much as you can while you are here. Take a picture at one of their master classes or workshops, at an event or festival, or taking advantage of their Free Ticket Mondays! 
15. Learn at the LGBTQ Center 
The Lesbian, Gay, Bisexual, and Transgender Equity Center aims to empower innovators and agents of social justice for the LGBTQ+ community. The LGBT Equity center serves students, staff, faculty, and alumni of all gender identities and sexual orientations. Take a photo of you checking out the Center's extensive library or attending one of their annual events like Quelcome or Lavender Graduation. 
16. Think Globally with MICA
The Office of Multicultural Involvement & Community Advocacy (MICA) at STAMP serves to empower students through education on issues of race, ethnicity, sexual orientation, gender identity, gender expression, religion, and their intersections. Snap a selfie at one of their annual diversity events designed to build community and create social change locally, nationally, and globally. 
17. Visit the Nyumburu Cultural Center
The Nyumburu Cultural Center is named after the Swahili words "nyumba" for house, and "uhuru" for freedom. This "freedom house" offers opportunities for social, cultural, and intellectual interaction for students of color. The Nyumburu Center offers guest lectures, seminars, exhibits, music, workshops, and academic courses to the public and University of Maryland surrounding communities.
The Nyumburu Cultural Center (NCC) founded in 1971 is home to courses, volunteer activities, events, civic engagement and has served as an affirming space for students of color at the University of Maryland. Stop by and take a selfie!  
18. Enjoy Maryland Day
Maryland Day is a holiday in Maryland, but also a chance to have a one-day open house with family-friendly and interactive events. Come see how the University of Maryland contributes to the community, the state, and the globe... and don't forget to take a picture!  
19. Attend an Office of Graduate Diversity and Inclusion (OGDI) mixer 
20. Take a Selfie with Testudo
Maryland's mascot, Testudo, can be found around campus for special events, or walking around campus giving high-fives to whomever comes in passing. Unlike his bronzed bretheren, you'll never see more than one Testudo on campus at a time! Be sure to Tag Testudo, @Testudo_UMD, on Twitter!
21. Grab a copy of The Diamondback
To get the pulse on campus, grab a copy of the Diamondback at various newsposts around campus. Or, join the Maryland tradition of reading a copy when an opposing team announces their starting lineup at basketball games. You can pick up copies of the Diamondback at various kiosks throughout campus, or bring one to the next basketball game! Remember to take some selfies! 
22. Get Advice at Graduate Legal Aid (GLAO)
Located in the South Campus Dining Hall, the Graduate Legal Aid Office (GLAO) is a resource providing free legal consultations, referrals, and information on a wide range of both off-campus and university matters. Snap a picture while you take advantage of their lease-review services or attend a Gradulting workshop throughout the semester at STAMP. 
23. Participate in Graduate Student Government (GSG)
Graduate Student Government (GSG) is the body that represents GradTerps on campus. GSG sponsors Graduate Research Appreciation Day (GRAD), sports tournaments, GradPub, and other events through the year. Snap a photo of yourself at GSG general assembly meetings, GradPub, GRAD, or when you visit their office located within the Graduate Student Lounge! Follow @GSGUMD on Twitter to see what GSG has going on throughout the semester.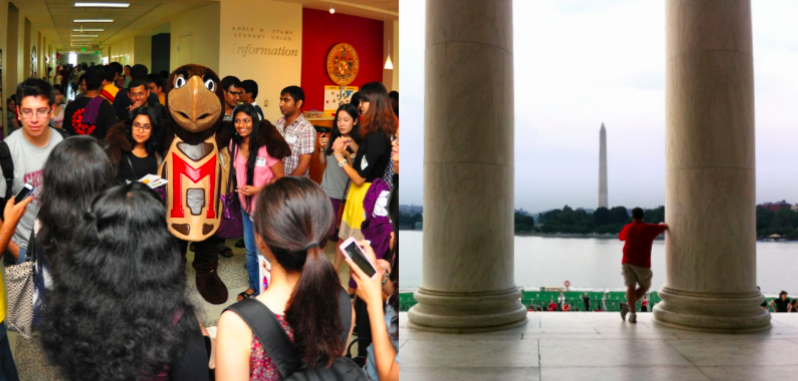 24. Explore the District
Take advantage of what the nation's capital has to offer. The University of Maryland is less than 9 miles from Washington, DC. 
You might consider visiting one of the many free Smithsonian museums, checking out the monuments on the national mall, taking a trip to the National Zoo, or even foray into DC's bustling brunch culture. Take a photo of you and your friends anywhere in our Nation's Capital! 
25. You Are Appreciated! (Attend GSAW)
Graduate Student Appreciation Week (GSAW) is your chance to be appreciated for everything you do as a graduate student. Graduate Student Life provides free coffee, food, and activities throughout the week. Pose among the petals during our annual Cherry Blossom Cruise. Tickets go fast, so get yours as soon as possible!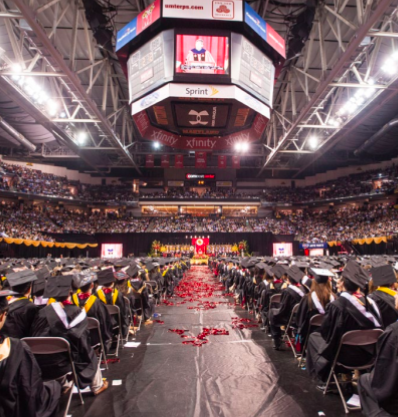 B. Bonus Tradition: Take Your Cap and Gown Pictures!
You've done it! You worked hard for your degree, and it's your turn to show off that academic regalia. Take advantage of University of Maryland's beautiful campus to take pictures in your cap and gown. Be sure to grab some phots of the Maryland M, the statues of Testudo, and McKeldin mall while in your academic regalia. 
SUBMIT IMAGES
                    Got pics? Submit them now at gradstudentlife@umd.edu