About GSL
Mission
To foster a sense of community and connection among graduate students through meaningful, fun, diverse programs. 
 
Vision
That all graduate students feel welcomed, included, connected, and supported at the University of Maryland.

What our work looks like:
Provide programs that help create a tangible graduate student campus community.
Foster graduate student conversation and collaboration across disciplines.
Encourage, recognize and celebrate the uniqueness of graduate students.
Promote existing campus services and encourage service areas to be more inclusive of graduate student needs.
Grow and maintain a graduate student presence in institutional decisions that affect the quality of life for graduate students.
Help departments share ideas about programs and support structures for graduate students.
Conduct regular assessments of graduate student quality of life on campus
Advocate for graduate student needs across campus.
THE GRADUATE STUDENT LOUNGE
The Graduate Student Lounge is a space just for graduate students, located conveniently in the Stamp!
0121 Stamp (across from the Hoff Theater Box Office)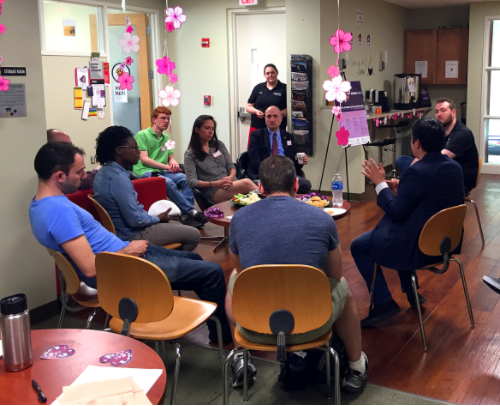 [Image of graduate students and campus staff chatting over snacks in the Graduate Student Lounge during Graduate Student Appreciation Week]
 
The Lounge Features:
·      The Graduate Student Life Office
·      The Graduate Student Government Office
·      Soft Seating
·      Work Desks
·      Round tables and chairs
·      Fridge for short-term storage
·      Filtered water/ice dispenser
·      Microwave
·      Sink with instant hot water faucet
·      Wireless internet access
·      Grad life and campus resource material
·      Board games, coloring pages, Play-Doh, & Legos- because grads need breaks too!