March is Multiracial Heritage Month

Multiracial Heritage Month 2023: Taking Root
This year's multiracial heritage month theme aims to celebrate the beauty of blooming from various roots. This theme is both timely and critical on campus and in society as we seek to honor and recognize what it means and looks like to be a multiracial, multiethnic, or transracial adoptee. This theme encompasses the exploration and identity development that comes from taking root in your own identities. 
Multiracial Heritage Month Events:
March 6
Multiracial Graduate Student and Staff Panel
with MICA and the Multiracial Biracial Student Association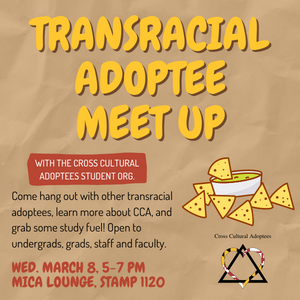 6-7 pm | ESJ 1202 |
Link
March 8
Transracial Adoptee Social 
with Cross Cultural Adoptees
5-6 pm | MICA Lounge, Stamp 1120 |
link

March 9
A Pedagogy of Belonging: Workshop for Postdocs, Doctoral Students and New Faculty with Dr. Aeriel Ashlee
with MICA and The Graduate School
12 - 1:30 pm | Lee Building 2124
Register: bit.ly/AshleeWorkshop

March 9
Keynote by Dr. Aeriel Ashlee '09: "Root to Rise"
6-7 pm | Grand Ballroom Lounge, Stamp Student Union |
link
March 9
Student Meet n Greet with Dr. Aeriel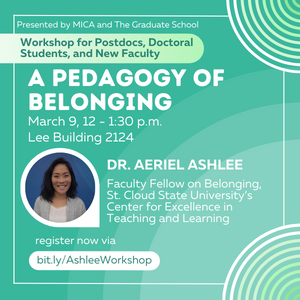 Ashlee '09
with the Multiracial Biracial Student Association and Cross Cultural Adoptees
7:30-8:30 pm | MICA Cozy Corner |
link
March 15
MBSA General Body Meeting
7-8 pm | MICA Cozy Corner |
link
March 29
Mixed Monologues, an Antiracist Creative Writing Workshop
with MICA and the Multiracial Biracial Student Association
Preregistration required - Email Adriana Feijoo at
afeijoo1@umd.edu
6-8 pm | AJC 2223
March 31
Multiracial Mashups
with the Multiracial Biracial Student Association
7-8 pm | Contact MBSA for details