Winter Student Exhibition Closing Reception and Black History at UMD Pop Up Exhibition 
The Stamp Gallery
Friday February 4th, 2022
5-9pm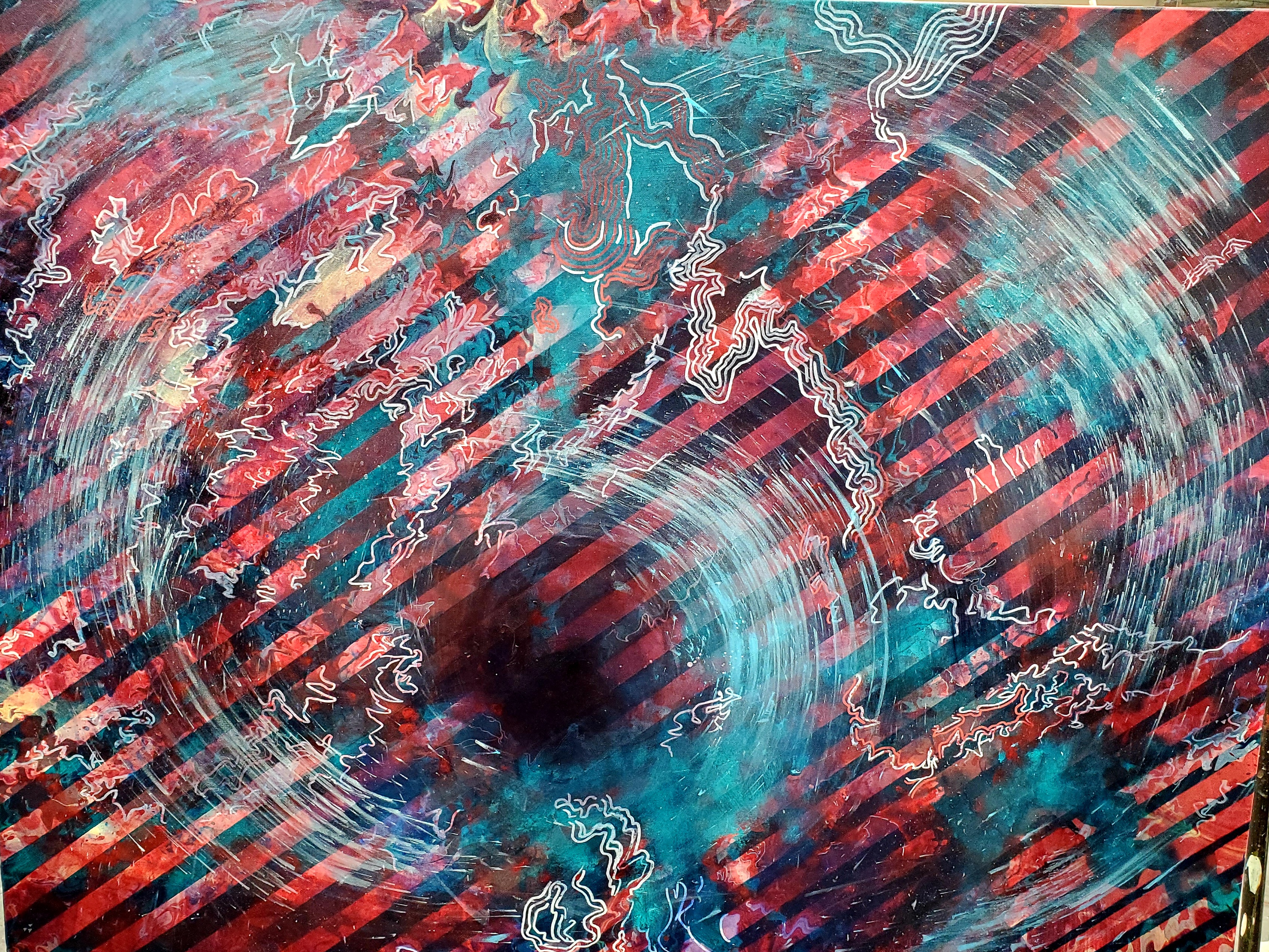 Su Han, Ad Astra, 2021, 36 x 48"
The Stamp Gallery is proud to present our second Juried Winter Show, which is on view through Friday, February 4th, 2022.
Of the seventeen works selected created by fourteen individual student artists and a collective project created by UMD and Bowie State students, juror Dr Abigail McEwen says "The works selected for the Winter Show convey the strength and poignance of human experience.  They address the interiority of the mind as well as the vastness of the natural landscape, acknowledging the complexity of identity and being in the world today.  Across multiple media, these pieces express vulnerability and resilience through the body—alien, activist, partial, collective—and tap into the self-reflective zeitgeist of a new generation of artists and students."
Please join the Stamp Gallery for a closing reception on Friday February 4th from 5:00 - 9:00 pm to celebrate the artists and artworks selected, in conjunction with a pop-up exhibition of Black History at the University of Maryland supported by Special Collections and University Archives. This pop-up also serves as a preview for a fall exhibition by Special Collections and University Archives highlighting student activism at UMD. 
For more information, please visit: thestamp.umd.edu/Gallery
For more information on the All Niter, please visit: stamp.umd.edu/activities/special_events_programs/all_niter_time_warp
THE STAMP GALLERY PRESENTS 
alternate universe: visualizing queer futurisms
Camila Tapia-Guilliams and micha cárdenas
Feb 10 - April 6, 2022
Virtual Opening Toast
Thursday, February 10, 2022, 6:00 PM ET
RSVP at stamp.umd.edu/galleryreception
Closing Reception - TBD
Free and Open to the Public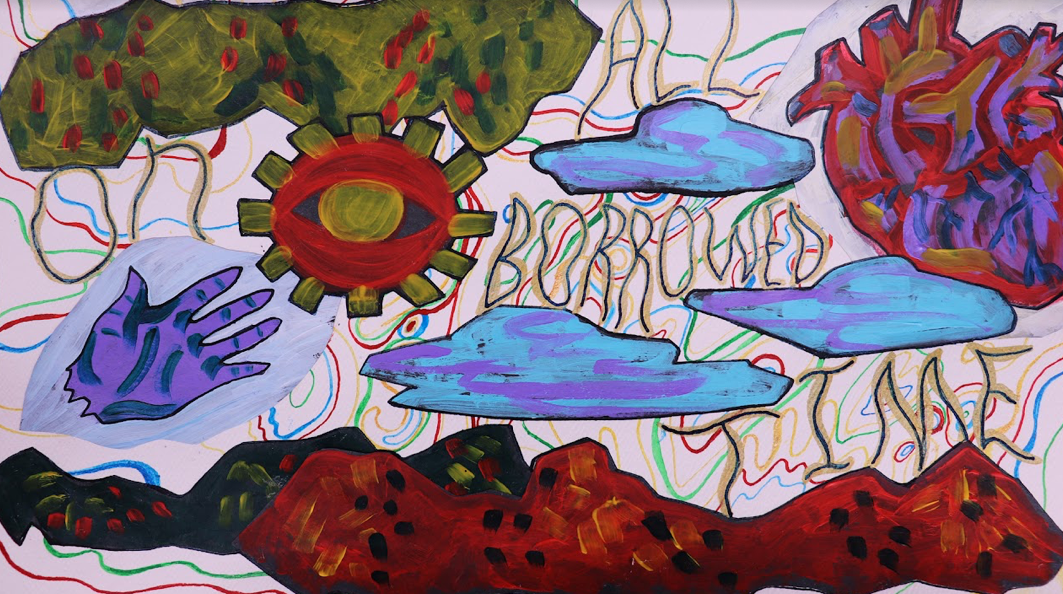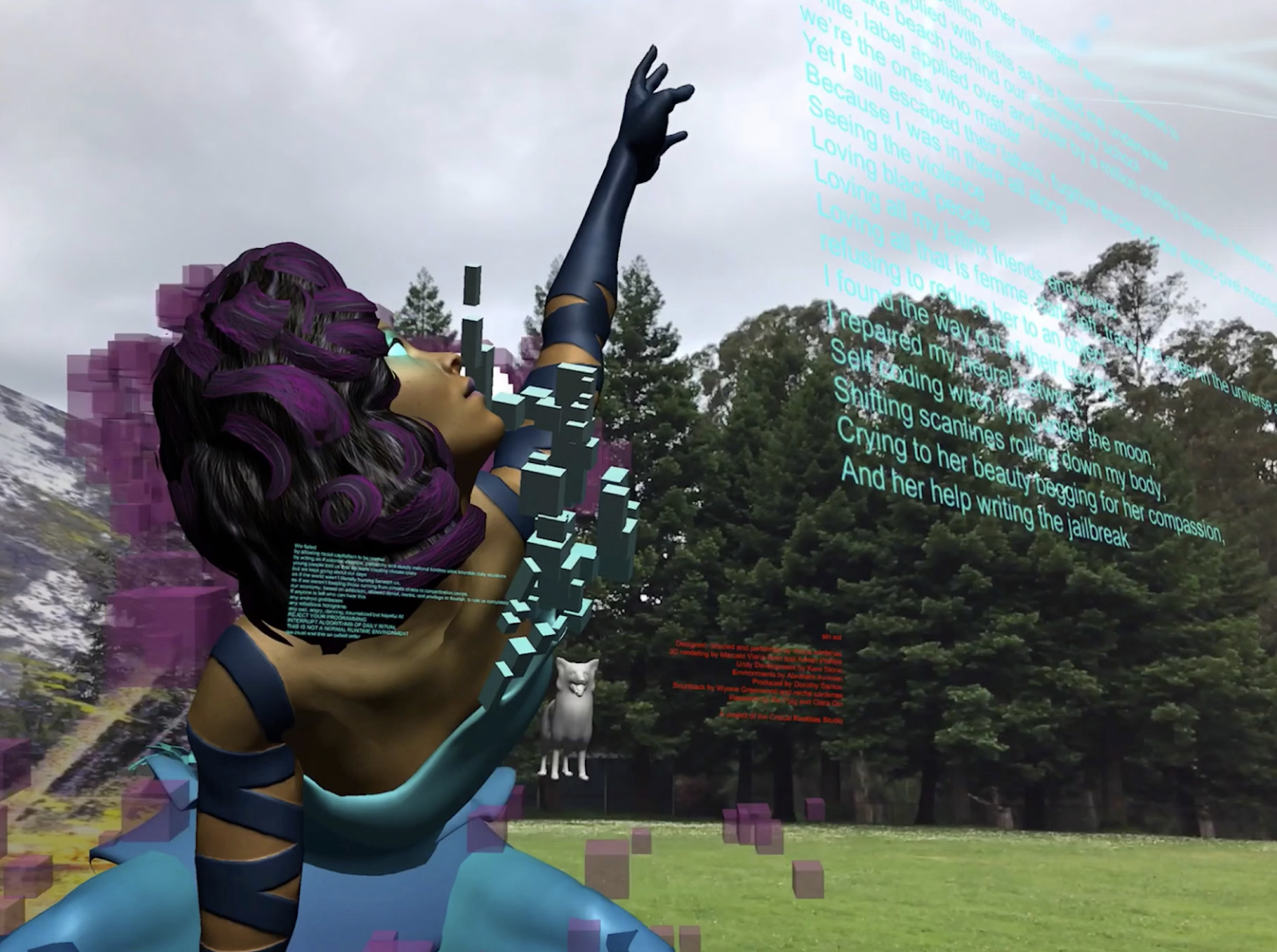 (left) Camila Tapia-Guilliams (right) micha cárdenas with Critical Realities Studio (micha cárdenas, Abraham Avnisan, Marcelo Viana Neto, Adrian Phillips, Kara Stone, Dorothy Santos, Wynne Greenwood, Morgan Thomas, Rachel Raymond and Robin Cruz)
College Park, MD. This spring the Stamp Gallery at the University of Maryland, College Park, presents alternate universe: visualizing queer futurisms, a two-person exhibition featuring artwork by Camila Tapia-Guilliams and micha cárdenas. On view February 10 through April 6, 2022, this curated exhibition places themes of speculative futures, queerness, gender, and survival in conversation with our current world. A juxtaposition of different mediums and focuses, from augmented reality artwork, game design and trans of color theory, to mixed-media and cooperative and anti-capitalist work, alternate universe ultimately engages in the questions: What are the responses to the current state of our universe, our Earth, our world as queer/queered people? And how do we create and build alternate universes to survive?
Curated by Marjorie Antonio '22
In conjunction with this exhibition, there will be a workshop on mixed media and cooperative arts communities with Camila Tapia-Guilliams and a virtual artist talk by micha cárdenas. Dates and details are forthcoming. 
This exhibition and programming is supported by the Immersive Media Design Program, the Harriet Tubman Department of Women, Gender and Sexuality Studies, University Libraries, STAMP Events, and the Maryland State Arts Council (msac.org).
ABOUT THE ARTISTS
micha cárdenas, PhD, is Assistant Professor of Performance, Play & Design, and Critical Race & Ethnic Studies at the University of California, Santa Cruz, where she directs the Critical Realities Studio. Her book Poetic Operations, forthcoming from Duke University Press, proposes algorithmic analysis as a method for developing a trans of color poetics. cárdenas's co-authored books, The Transreal: Political Aesthetics of Crossing Realities (2012) and Trans Desire / Affective Cyborgs (2010), were published by Atropos Press. She is co-editor of the book series Queer/Trans/Digital at NYU Press, with Amanda Philips and Bo Ruberg. She is a member of the artist collective Electronic Disturbance Theater 2.0. She is a first generation Colombian American.
Camila Tapia-Guilliams (they.them) is a mixed media artist, educator, and community organizer. Weaving together narratives of social sustainability, cooperation, and the solidarity economy, Camila's art also explores their identities as a Latine, chronically ill, queer, non-binary person. They created and led the Cooperative Arts Cohort, and are the Co-Lead on the Community Team for Anticapitalism for Artists. They currently work at the Phillips Collection in Community Engagement and are collaborating with other creatives on starting a worker-owned arts cooperative. Camila graduated in 2019 from the University of Maryland, College Park, where they were a worker-owner of the Maryland Food Collective. Their work has been featured in a variety of DC-MD-VA galleries and on the cover of the Washington Socialist. Further, they have organized events, classes, and exhibitions in conjunction with numerous arts collectives. You can find out more about Camila and their projects on their Instagram @byunnaturalcauses.