STEM Tutoring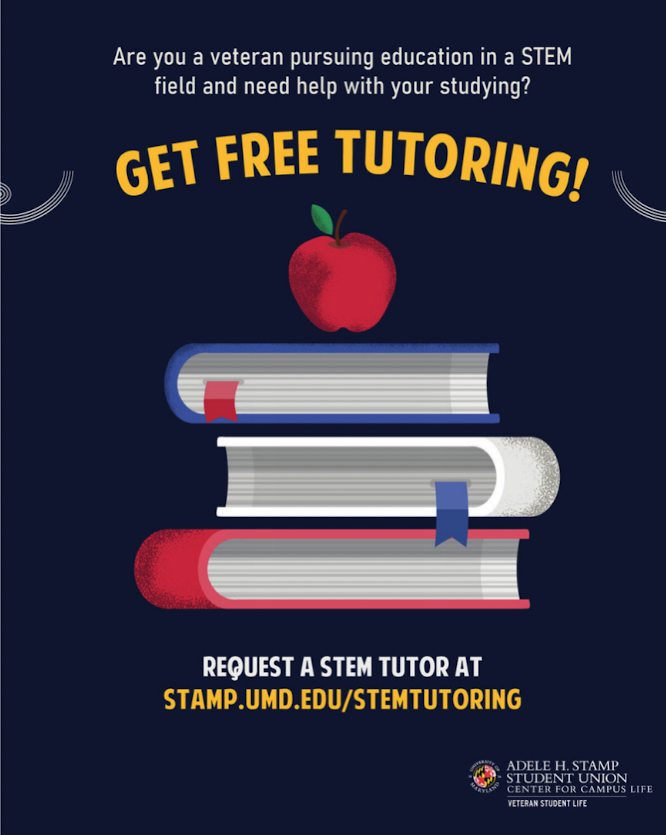 If you are a current veteran or military-connected student and would like to receive one-on-one tutoring through the STEM Veteran Assistance Program, please complete the following form at stamp.umd.edu/STEMTutoring
Our STEM Tutors
Below you will find the names of our current tutors and the courses in which they could provide tutoring support. Tutoring sessions are scheduled for one hour.
Taruni Sanjay
MATH 015, MATH 140, MATH 113, MATH 120, MATH 013, MATH 007, MATH 206, MATH 214, MATH 240, STAT 100, ENEE 101, ENEE 205, ENEE 245, ENEE 322, ENEE 324
Office Hours:
Zoom Link: https://umd.zoom.us/j/5446743656
Bio: Hello, my name is Taruni and I'm currently enrolled as a graduate student under the Electrical and Computer Engineering department. I also have a year's experience in teaching dance on the virtual platform. I'm excited to teach you all and make learning concepts fun!
Blen Mulugeta
Office Hours:
Zoom Link: https://umd.zoom.us/j/5504670468
Office Hour Times

Monday 1-2PM
Wednesday 1-2PM
Bio: Hi, my name is Blen Mulugeta, and I'm a junior Information Science major. My major entails learning how to manage information through computing and studying how people best utilize these systems. I want to use this education to become a User Experience (UX) designer. I love to tutor because I enjoy helping people understand things. Likewise, I'm looking forward to working with veterans, so they can best accomplish that and their educational goals, either virtually or in person.
Click HERE for Guidelines on STEM Tutoring Sessions
Additional Resources;
The Keystone Center: ( A. James Clark School of Engineering )
The Keystone Center is a place you can go to work on homework or group projects, use the computer labs, or study for exams.  It will be staffed with upper-level undergraduate and graduate students who can provide you with assistance in answering questions in fundamental engineering and STEM courses. 
For more information visit eng.umd.edu/keystone/resources/center
Additionally, UMD's English Department offers writing assistance. For more details and to make an appointment with the Writing Center, please follow this link: http//www.english.umd.edu/academics/writingcenter
Guided Study Sessions (GSS) are also available through the Teaching & Learning Transformation Center and provide peer-led collaborative learning groups for a variety of courses. More information on GSS is available at: https://tltc.umd.edu/guided-study-sessions
If we are unable to accommodate your request or if there is a course you need tutoring for that is not listed above – please check available tutoring resources at UMD at: www.tutoring.umd.edu – there are lots of great tutoring resources available on-campus!
Become a Tutor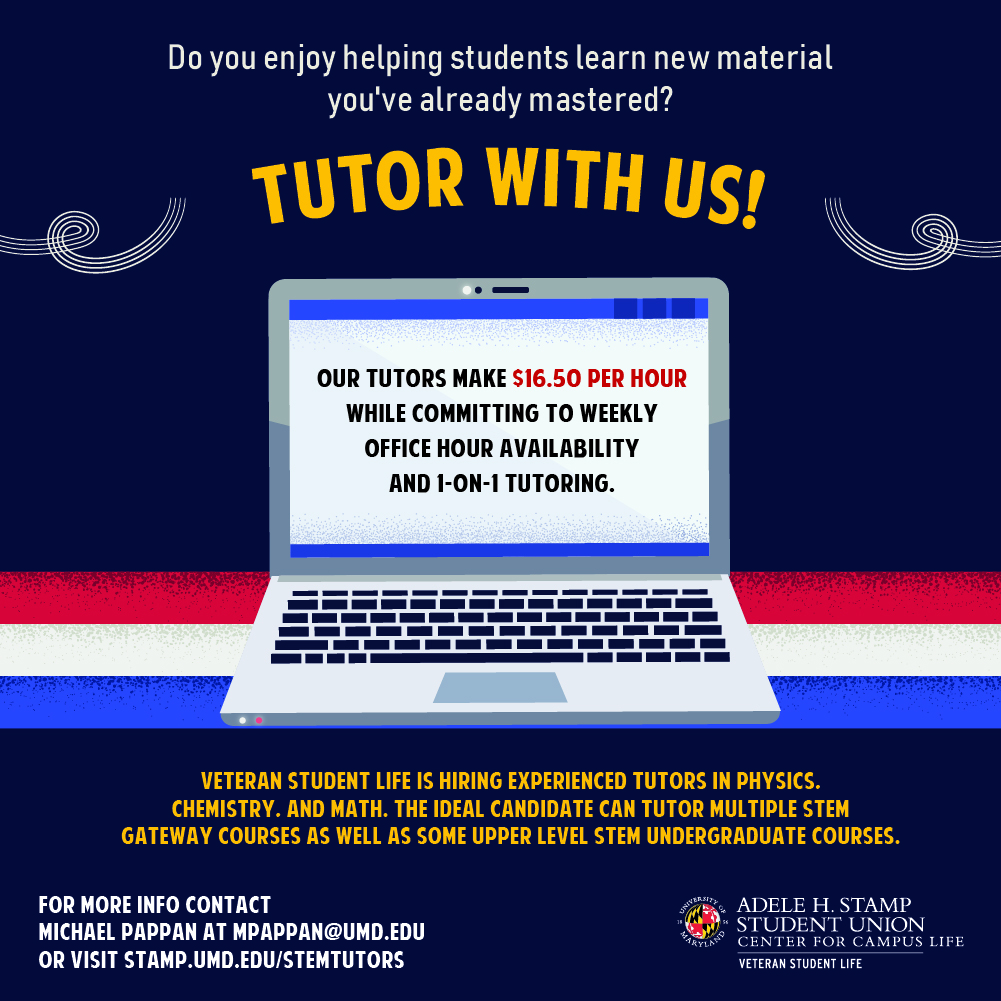 Tutors for the STEM Veteran Assistance Program are currently enrolled students at UMD. We are currently searching for more tutors, as our previous tutors have moved on in their academic careers. If you or someone you know would like to apply to be a tutor in the STEM Veteran Assistance Program, click here! 
Michael Pappan - Undergraduate Work-Study, Veterans STEM Assistance Program (mpappan@umd.edu)
Emmanuel E Romelus - Grad Assistant, Veterans STEM Assistance Program (eromelus@umd.edu)
If you would like to request tutoring services in general or get more information about the program, please contact us directly at vetstudentlife@umd.edu and indicate that you are a student veteran.