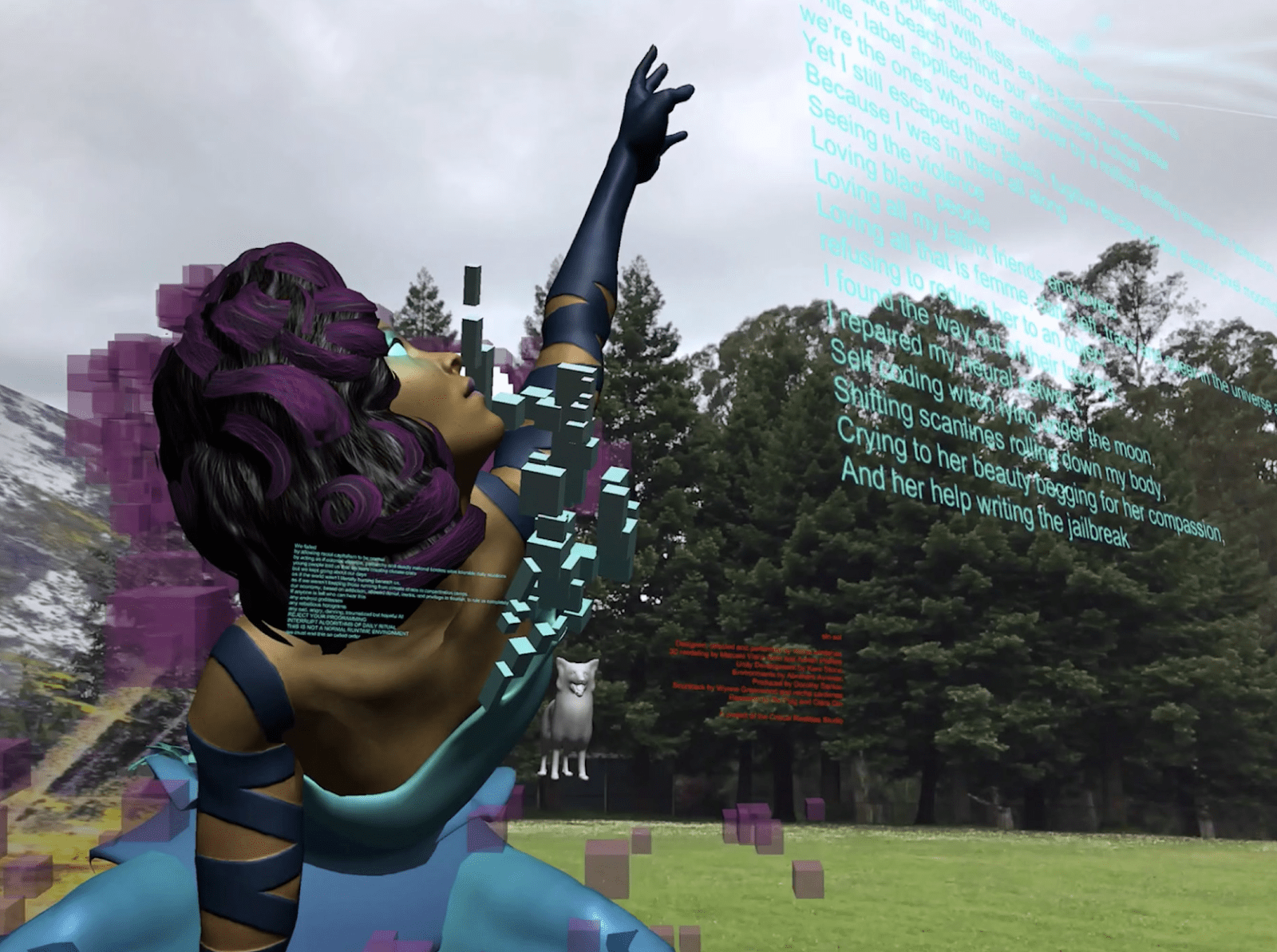 Virtual Opening Toast
Thursday, February 10, 2022, 6:00 PM ET
In-Person Closing Reception - Thursday March 31, 6-8 PM ET
Free and Open to the Public
College Park, MD. This spring the Stamp Gallery at the University of Maryland, College Park, presents alternate universe: visualizing queer futurisms, a two-person exhibition featuring artwork by Camila Tapia-Guilliams and micha cárdenas. On view February 10 through April 6, 2022, this curated exhibition places themes of speculative futures, queerness, gender, and survival in conversation with our current world. A juxtaposition of different mediums and focuses, from augmented reality artwork, game design and trans of color theory, to mixed-media and cooperative and anti-capitalist work, alternate universe ultimately engages in the questions: What are the responses to the current state of our universe, our Earth, our world as queer/queered people? And how do we create and build alternate universes to survive?
Curated by Marjorie Antonio '22
In conjunction with this exhibition, there will be a workshop on mixed media and cooperative arts communities with Camila Tapia-Guilliams and a virtual artist talk by micha cárdenas:
The Art of Community Care: Collaging Collective Action
March 16th from 6:00-7:30 PM ET <-UPDATED TIME
Hybrid - Livestreamed Talk and In-Person Art-Making Activity

Hosted by artist-organizer Camila Tapia-Guilliam with Ellie Yanagisawa and Aviah Krupnick of Transverse Cooperative
Over livestream with an in-person audience at the Stamp Gallery from 6:00-6:30pm, join artist-organizers of the Transverse Cooperative as they discuss their growing worker-owned arts collective, their other projects of creative action, and the role of the Maryland Food Collective in the arts and the activist community at the University of Maryland.
With the in-person audience from 6:30-7:30pm, the hosts will move to Studio A for a participatory art-making activity and conversation about how art can be used as a tool of mutual aid, education, and community-building.
Transverse Cooperative can be reached at @transverse.coop or transverse.coop@gmail.com
Poetic Operations and Trans Ecologies
April 6th at 10AM PT / 1PM ET
Virtual Artist Talk

In this talk, Dr. cárdenas will discuss her new book Poetic Operations, as well as her augmented reality artwork about climate justice and her forthcoming publication "Poetics of Trans Ecologies." In Poetic Operations artist and theorist micha cárdenas considers contemporary digital media, artwork, and poetry in order to articulate trans of color strategies for safety and survival. Drawing on decolonial theory, women of color feminism, media theory, and queer of color critique, cárdenas develops a method she calls algorithmic analysis. Understanding algorithms as sets of instructions designed to perform specific tasks (like a recipe), she breaks them into their component parts, called operations. By focusing on these operations, cárdenas identifies how trans and gender-non-conforming artists, especially artists of color, rewrite algorithms to counter violence and develop strategies for liberation. In her analyses of Giuseppe Campuzano's holographic art, Esdras Parra's and Kai Cheng Thom's poetry, Mattie Brice's digital games, Janelle Monáe's music videos, and her own artistic practice, cárdenas shows how algorithmic analysis provides new modes of understanding the complex processes of identity and oppression and the intersection of gender, sexuality, and race.
This exhibition and programming is supported by the Immersive Media Design Program, the Harriet Tubman Department of Women, Gender and Sexuality Studies, University Libraries, STAMP Events, and the Maryland State Arts Council (msac.org).
ABOUT THE ARTISTS
micha cárdenas, PhD, is Assistant Professor of Performance, Play & Design, and Critical Race & Ethnic Studies at the University of California, Santa Cruz, where she directs the Critical Realities Studio. Her book Poetic Operations, forthcoming from Duke University Press, proposes algorithmic analysis as a method for developing a trans of color poetics. cárdenas's co-authored books, The Transreal: Political Aesthetics of Crossing Realities (2012) and Trans Desire / Affective Cyborgs (2010), were published by Atropos Press. She is co-editor of the book series Queer/Trans/Digital at NYU Press, with Amanda Philips and Bo Ruberg. She is a member of the artist collective Electronic Disturbance Theater 2.0. She is a first generation Colombian American.
Camila Tapia-Guilliams (they.them) is a mixed media artist, educator, and community organizer. Weaving together narratives of social sustainability, cooperation, and the solidarity economy, Camila's art also explores their identities as a Latine, chronically ill, queer, non-binary person. They created and led the Cooperative Arts Cohort, and are the Co-Lead on the Community Team for Anticapitalism for Artists. They currently work at the Phillips Collection in Community Engagement and are collaborating with other creatives on starting a worker-owned arts cooperative. Camila graduated in 2019 from the University of Maryland, College Park, where they were a worker-owner of the Maryland Food Collective. Their work has been featured in a variety of DC-MD-VA galleries and on the cover of the Washington Socialist. Further, they have organized events, classes, and exhibitions in conjunction with numerous arts collectives. You can find out more about Camila and their projects on their Instagram @byunnaturalcauses. 

ABOUT THE GALLERY
Located on the first floor of the Adele H. Stamp Student Union—Center for Campus Life at the University of Maryland, College Park, the Stamp Gallery is dedicated to exhibiting contemporary art, especially the work of emerging and mid-career artists. The Stamp Gallery supports contemporary art that is challenging, academically engaging, and attuned to broad community and social issues. Through meaningful exhibitions and programming, the Gallery offers outside-of-the-classroom experiential learning opportunities. It functions as a laboratory where emerging artists and curators experiment and work through their ideas. The Gallery's programming aims to emphasize the importance of process to contemporary artistic practice and to provide a forum for dialogue.
FREE and open to the public. Spring Hours: Mondays–Thursdays: 10 am – 8 pm, Fridays: 10 am – 5 pm, Saturdays: 11 am – 5 pm, Sundays: Closed. 
More information: thestamp.umd.edu/gallery