Terrapin Leadership Institute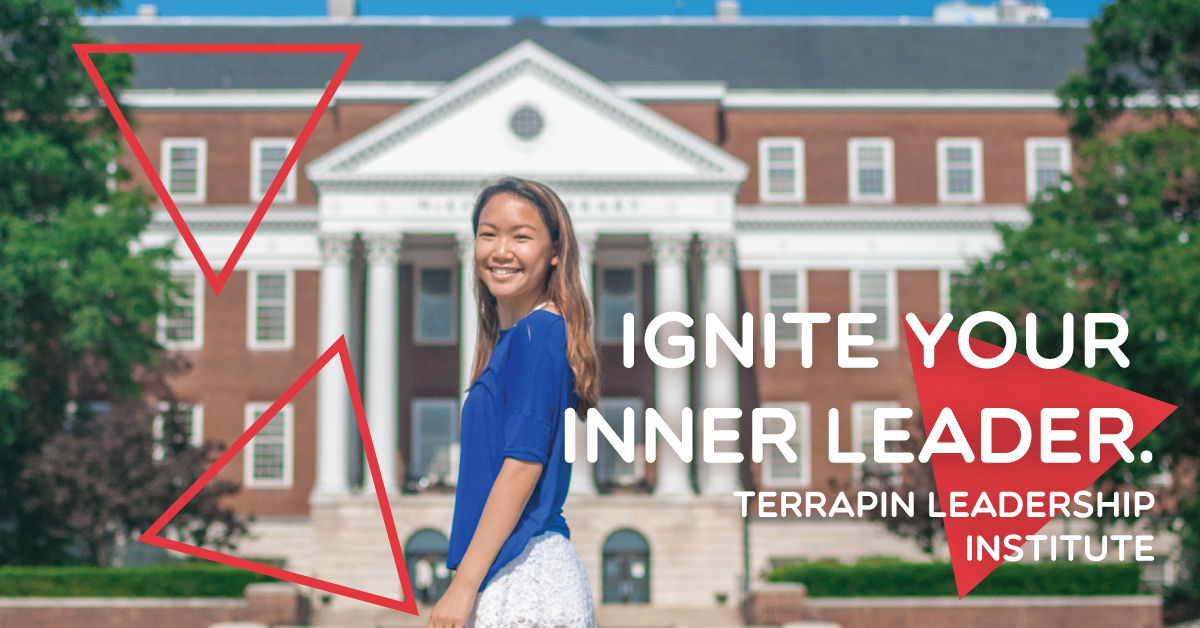 Terrapin Leadership Institute
The Terrapin Leadership Institute (TLI) is a five to six week-long leadership development program tasked to guide students across campus—through hands-on activities and critical dialogue—in discovering who they are as leaders and becoming confident with tangible leadership skills and strategies that can be applied to their everyday lives. The workshop is a low-commitment, high intensity series that is meant to accommodate the student's busy schedule. There is no cost to participate in TLI! 
Sessions Overview
Terrapin Leadership Institute: Foundations Leadership
Sessions will take place in-person starting the week of September 26th, 2023 and conclude the week of November 7th, 2023 (sessions will not take place during the Week of October 31st)
In-person Sessions:
Track 1: Tuesdays 5:00PM - 6:30PM, (STAMP, TBA)
Track 2: Wednesdays 5:30PM - 7PM, (STAMP, TBA)
Track 3: Thursdays 5:30 - 7PM, (STAMP, TBA)
Registration Opens August 22nd, 2023
[Fall Only] Foundations (6 weeks): Participants will explore and develop foundational leadership skills such as leadership styles, ethics, identity, collaboration, and communication . Perfect for emerging leaders who want to discover and/or refine their leadership philosophy and practice! No prior formal leadership experience necessary.
Leadership Introduction & Ethics
Leadership Styles & Strengths
Leadership & Identity
Communication
Collaboration
Goal Setting & Philosophy
*sessions are subject to change*
[Spring Only] MOSAIC: Inclusive Leadership (5 weeks) In collaboration with the Multicultural Involvement and Community Advocacy Office, this track will explore leadership and social identity concepts related to liberation in how we navigate interconnected social systems in the present while reimagining and taking action steps towards the future we are dreaming of in the tomorrow. A great experience for leaders who...
Wish to practice inclusive leadership and explore identities, representation, and dominant narratives in leadership,

Desire to develop their confidence to practice leadership among diverse groups and context, 

Value growing in their awareness of social power systems and

Who want to be in a learning community with others practicing reimagining systems and leadership processes 
Community and Identity
Power and Empowerment
Reimagination
Action
Commitment
Registration opens January 17th
Track begins week of February 27th
[Spring Only] Organizational Leadership (5 weeks) In collaboration with the Student Organization Resource Center, this track is designed specifically for students involved in student organizations on campus. Students will participate in hands-on activities and critical dialogue with a small group of peers. This track focuses on organizational dynamics and development centered around structural, relational, and cultural aspects of student organizations. Perfect for student organization leaders looking to lead and develop their organization
Evaluation and Assessment
Organization Communication and Structural Tensions
Member Motivation and Team Contribution
Organization Conflict and Delegation
Organization Culture and Mission/Vision Workshop
Registration opens January 17th
Track begins week of February 27th
Benefits of Participating
There are many benefits to participating in the Terrapin Leadership Institute. Each participant receives the opportunity to receive the following:
Letter of Recommendation. Receive a personalized letter from your peer facilitator(s) outlining your performance and skills developed through TLI. This can be used when apply for jobs, internships, as well as campus or community organizations!
Resume Workshop. Following TLI, you will be offered a session on the best way to include TLI on your resume and how to best communicate the learning and knowledge gained through TLI. Offered Spring '22
Community. By participating in TLI, you are joining a community of life-long learners and leaders. You'll be able to meet and network with campus leaders with a variety of backgrounds, interests, and future goals. It's a great place to start building your network and form lasting relationships.