Terrapin Leadership Institute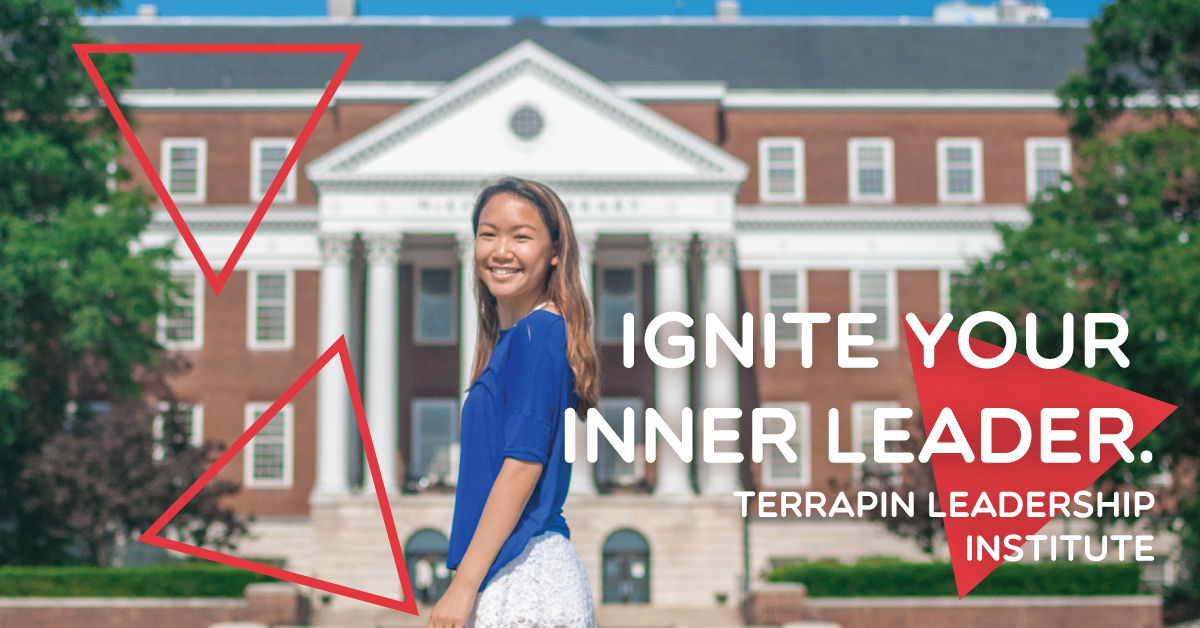 Terrapin Leadership Institute
The Terrapin Leadership Institute (TLI) is a five week-long leadership development program tasked to guide students across campus—through hands-on activities and critical dialogue—in discovering who they are as leaders and becoming confident with tangible leadership skills and strategies that can be applied to their everyday lives. The workshop is a low-commitment, high intensity series that is meant to accommodate the student's busy schedule. There is no cost to participate in TLI! 

Sessions Overview
Terrapin Leadership Institute (Spring 2022)
Sessions will take place starting the week of March 1st, 2022 and conclude the week of April 4th, 2022 (no sessions during Spring Break)
*Tracks are subject to change pending facilitator availability*
In-person Sessions: 
Wednesdays 5:30PM - 7PM
Thursdays 5:30PM - 7PM
Online Sessions: 
[Spring Only] Spring Track (5 weeks): This track is designed to prepare you to effectively engage in current or new leadership positions and challenges. Participants will critically analyze and engage with difficult realities of being in a Big L leadership role. This will relate to students who are currently in positional leadership positions in their involvement on and off campus, or to students who are looking to become involved with such roles in the future. More so, TLI Spring will stand apart from TLI Fall by deepening participants' leadership strategies through real-life examples and reflections on challenges positional leaders are faced with (rather than just discussing the foundation of leadership and key skills).
1.  Strengths-based Leadership
2.  Weaknesses in Leadership
3.  Power & Leadership
4.  Conflict Management
5.  Ownership & Responsibilty
[Spring, Online Only] Social Change: Group + Community Leadership Track (5 weeks): This track will exclusively be provided in a virtual space during the spring semester. Following the social change model, this track engages participants in topics that cover group and community leadership such as collaboration, decision making, creating a shared vision, conflict management, change processes, and community action, to help them develop more of understanding the nature of collective leadership, social change, and community action.
1. Recap & Introduction
2. Common Purpose
3. Collaboration
4. Controversy with Courage
5. Community & Change
Registration Opens December 6th, 2021
Deadline to Register: February 23rd, 2022
Benefits of Participating
There are many benefits to participating in the Terrapin Leadership Institute. Each participant receives the opportunity to receive the following:
Letter of Recommendation. Receive a personalized letter from your peer facilitator(s) outlining your performance and skills developed through TLI. This can be used when apply for jobs, internships, as well as campus or community organizations!
Resume Workshop. Following TLI, you will be offered a session on the best way to include TLI on your resume and how to best communicate the learning and knowledge gained through TLI. Offered Spring '22
Community. By participating in TLI, you are joining a community of life-long learners and leaders. You'll be able to meet and network with campus leaders with a variety of backgrounds, interests, and future goals. It's a great place to start building your network and form lasting relationships.