Second Look Fair
Whatever your thing is—sports, theater, community service, beekeeping, or just about anything else you can imagine—you have a SECOND chance to find your thing at the Second Look Fair!  
Due to the global health crisis, this year will be unlike any other as we welcome our students this fall. To ensure the safety of our community, this year's Second Look Fair will take place online through a  live component on TerpLink and a passive video portion. 
Questions? Email secondlookfair@umd.edu
Second Look Fair 2022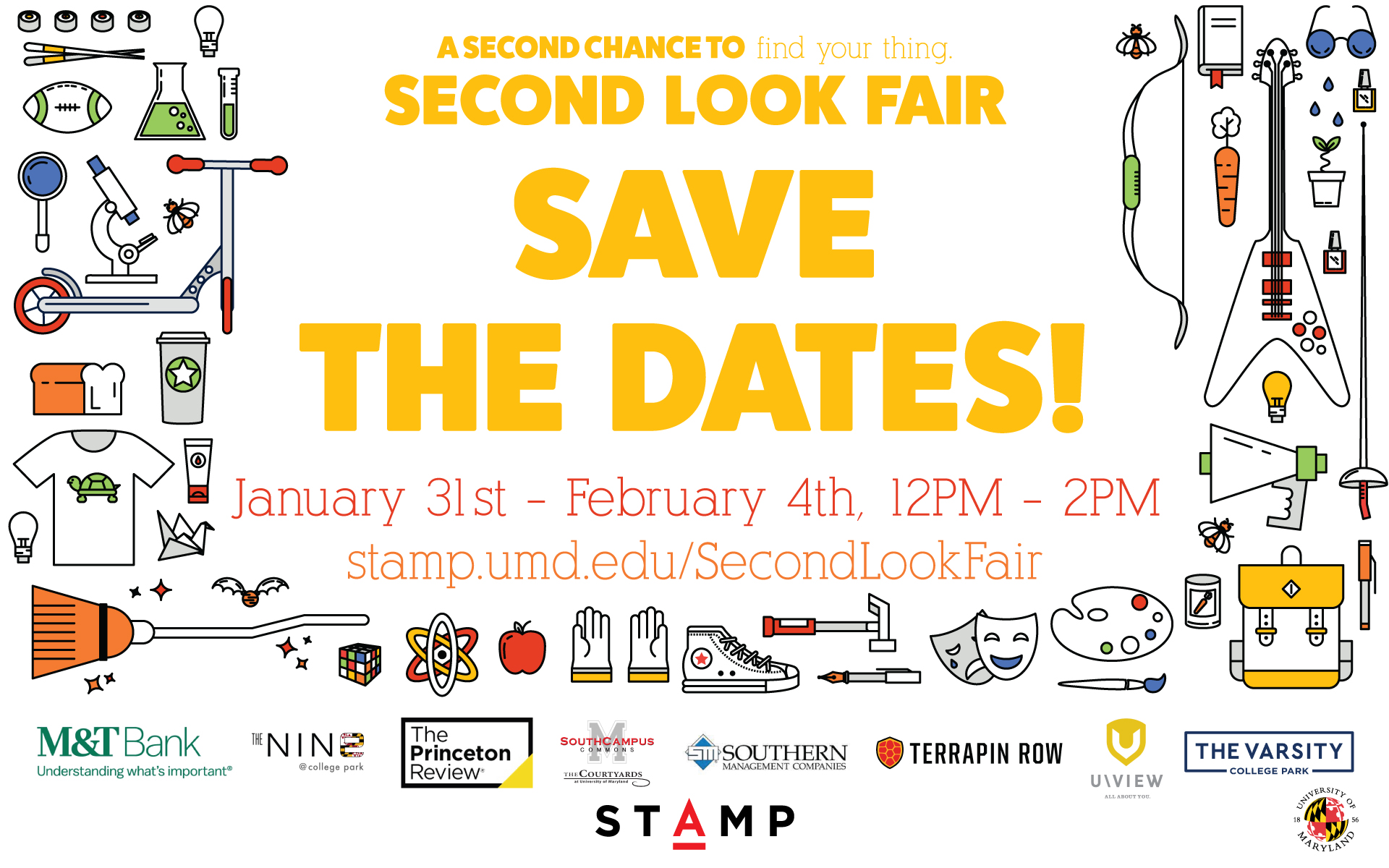 As we look to welcome new students, and welcome back our returning students, we are revamping some of the aspects of the Second Look Fair.
The live portion of the Second Look Fair 2020 will take place from Jan 31 - Feb 4 at 12:00PM - 2:00PM each day. There will be no in-person tabling this year. 
Second Look Fair Schedule
In order to maximize the opportunity for organizations to be present at the fair, we will be assigning organizations and departments to a maximum of 2 days based on the selected primary and secondary category during registrations. You will not be able to change days, so please make sure you pick the category(ies) that best describe the mission/purpose of your organization. The category breakdown is:
| Jan 31 (Day 1) | Feb 1 (Day 2) | Feb 2 (Day 3) | Feb 3 (Day 4) | Feb 4 (Day 5) |
| --- | --- | --- | --- | --- |
| General Interest | Service | Creative and Performing Arts | Activism/Advocacy/Awareness | Academic and Pre-Professional |
| Sports and Recreation | Religious/Spiritual | Cultural/Ethnic | Military | Honorary/Honor Society |
| E-Sports and Gaming | Health and Wellness | Media/Publications | Political | Business and Entrepreneurship |
| | | Graduate Student Organizations | Science and Technology | |
| | | Social Fraternity/Sorority | | |
Registration for the Second Look Fair is open from January 4, 2022 to January 26, 2022.
The form helps SORC indicate what organizations and departments will be attending the Second Look Fair for the specific days. You, or someone in your organization, will need to officially sign-up for the virtual fair to be able to participate. Please check your email and TerpLink for a TerpLink notification to complete the registration before your day(s) of the Second Look Fair. More information about this can be found on the Prepare for the Fair website.
The Second Look Fair will feature a live component as well as a passive component for the event. 
The passive portion will mirror the First Look Fair website. If you are interested in submitting a video to be added to the Second Look Fair Website, you will need to fill out a separate form. All videos must be submitted by January 17, 2022 at 11:59pm. At this time, SORC is no longer accepting any video submissions.