First Look Fair
Whatever your thing is—sports, theater, community service, beekeeping, or just about anything else you can imagine—you can find it at the First Look Fair!
The First Look Fair is one of the longest running involvement traditions at the University of Maryland. First Look Fair hosts over 650 student clubs and organizations and campus departments! The festive atmosphere is the perfect place to gather resources, learn more about how to get involved, and connect with other students with similar interests. 
First Look Fair 2023
Find you way before you find your thing. Check out the First Look Fair map to see where all the organizations are.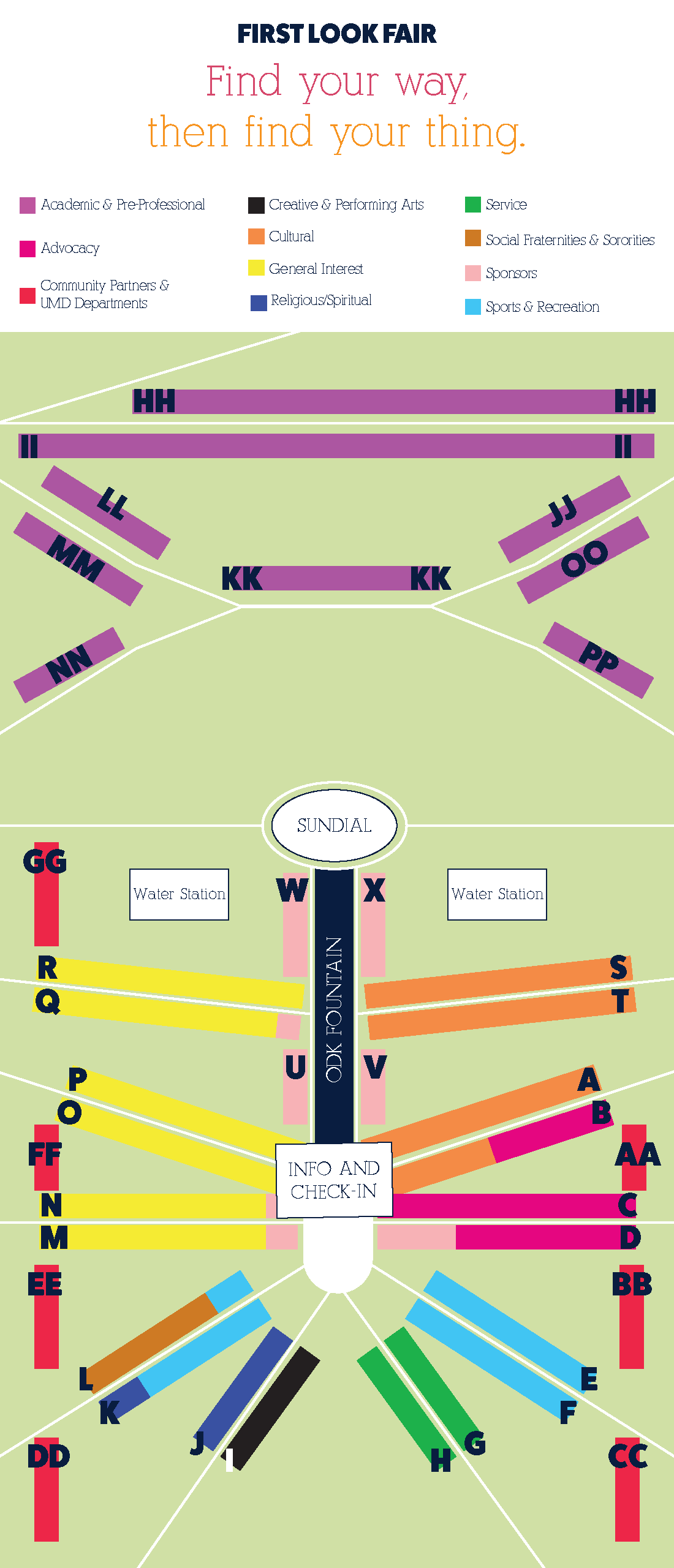 First Look Fair will be hosted on Friday, September 8 on McKeldin Mall from 10:00AM - 3:00PM. If you have any questions, please email firstlookfair@umd.edu.
First Look Fair Schedule
Organizations AND Departments have an assigned table at the fair to assist in reducing crowding on the mall. Looking for a particular type of organization or department? Our schedule will have you covered!
Registration for First Look Fair was open Monday, August 21 (the Monday before classes start). Please check your email for a TerpLink notification for your confirmation. Official table confirmations and logistics will be sent out approximately one week prior to the fair.
Registration Form - Student Organizations and Departments
Interested in being a sponsor for the First Look Fair? Email firstlookfair@umd.edu for more details and information.
Prepare for the Fair!
Do you feel prepared for the First Look Fair? No worries if not! SORC has you covered. Check out our Prepare for the Fair page and learn more about how to make the most out of the First Look Fair.
- Learn more about the fair
- Find ways to get everything ready for the First Look Fair
- Get ideas on how to promote and market your org.
- Tips on outreach for your org. in a virtual setting
- Ask SORC staff your burning questions on the First Look Fair
- AND MORE!
 
Don't get caught unprepared, join SORC and be Prepared for the Fair!
First Look Fair 2018 Video
Interested in seeing what First Look Fair is? Check out our video from 2018! (Note: All the orgs in the video may not be currently represented. We will be updating our video this year)