Homecoming
More information about all Homecoming 2023 events can be found at homecoming.umd.edu
Stamp Homecoming Events October 2023
Dates: October 8-14, 2023
Spirit Week & Spirit Stations
Homecoming is about celebrating the University of Maryland and what it means to be a Terp. Let's showcase our Maryland pride along with our best gold, black, white and red outfits.
Monday, Oct. 9: RED

Tuesday, Oct. 10: WHITE

Wednesday, Oct. 11: BLACK

Thursday, Oct. 12: GOLD

Friday, Oct. 13: ALL MARYLAND COLORS
Follow @UMDHomecoming and @umdsalc on social media to find out WHEN you can score Homecoming swag, learn about Maryland traditions and complete some UMD Bucket List items. Be the first to know by texting the word "UMDHOMECOMING" to 71444. A text will go out every morning at 8am with exclusive location information. 
Monday, Oct. 9: RED ---- 1pm 

Tuesday, Oct. 10: WHITE ---- 11am

Wednesday, Oct. 11: BLACK ---- 7:30pm

Thursday, Oct. 12: GOLD ----

4pm
You may also receive a Golden Ticket. Bring your golden ticket to Terp Carnival Info Tent on Friday 10/13 by 5:30pm and Coach Locksley might pick your name to win a UMD Homecoming Swag pack with up to $300 worth of prizes. Must be a UMD student or graduate student to win.
Can't make the Spirit Stations - stop by the STAMP wearing these colors and a Homecoming Fairy might find you and reward you with a free Homecoming Scarf! 
Spirit Stations are sponsored by PEPSI. 
Student Affairs Office Decorating
Date: Oct 1-14
Register: https://go.umd.edu/hcoffice2023
Description: With Homecoming approaching quickly, show your Terrapin Pride by decking out your office suites. It's our 10th Annual Homecoming Office Decorating Competition! Your participation will get students, faculty, and staff in the Homecoming Spirit as well as give your office a chance to be our Grand Prize Winner! One Grand Prize Winner will be selected by a member of VPSA Council, Spirit of Maryland Finalists, and a group of student leaders. The winning office suite will receive a UMD Dining Snack Pack and a trophy to be rotated annually between the winning offices! This year, we have added a People's Choice Award for those who want to show off their office on social media. Please use #UMDHomecoming or tag @umdhomecoming when promoting your Homecoming events! 
Official rules can be found:  https://go.umd.edu/hcoffice2023info  
Spirit of Maryland
Description: The Spirit of Maryland Award is presented annually, in lieu of a traditional Homecoming King or Queen honoree, to two members of the senior class who through their achievements have most exemplified the "spirit" of the University of Maryland.  More information https://stamp.umd.edu/spirit_maryland Nominations are due by 4:00pm on Friday, September 1, 2023. Finalist will be announced early October. 
Date: Sunday October 8th
Time: 7pm 
Location: Ritchie Coliseum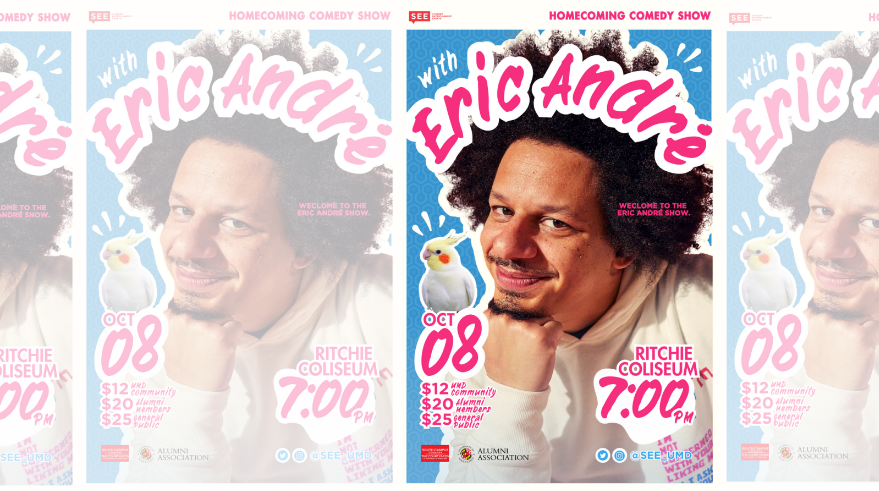 SEE's annual homecoming comedy show is BACK! Featuring comedian, actor, creator and host of Adult Swim's hit series "The Eric André Show", Eric André! André will take the stage on Sunday, October 8th in Ritchie Coliseum. Doors open at 6:00pm. The event starts at 7:00pm with doors closing at 7:30pm. Tickets are required for entry and available to the UMD community ($12), registered Alumni Association members ($20), and the general public ($25). Up to two tickets per person can be purchased. Tickets purchased within the UMD community must be accompanied by a PHYSICAL UMD ID. Tickets are available for purchase at umdtickets.com starting at 3:00pm on Friday, September 8th. 
Registered, active members of the Alumni Association can purchase up to 2 tickets, 1 for themselves and 1 for a guest. The primary registrant must have a current Alumni Association membership (single, 3 year, life) in order to purchase tickets. Guests are NOT required to be Alumni Association members or UMD Community members (UMD students, faculty or staff). Alumni association members will be asked for their member ID# alongside their ticket.
Big thank you to our sponsors: the Alumni Association, South Campus Commons, and the Courtyards at UMD!
Homecoming Spirit Boxes
Date: Week of October 9
Location: Studio A
Description: Studio A will host UMD Spirit Boxes for students to kick off their Homecoming week to prepare for a week of Terp Pride. Stop by Studio A in the STAMP from 1pm-5pm Monday - Friday.  They will hand out 60 boxes a day. First Come. First Serve. More information can be found here 
Stamp Gallery Fall Exhibition:

Placeholder
Date: October 12, 2023
Location: STAMP Gallery
Description: Join the Stamp Gallery for the opening of Placeholder- an exhibition that will bring together four artists who are engaging with materiality and identity: Elliot Doughtie, Richard Hart, Danni O'Brien, and James Williams II. The opening reception will run from 6-8pm in the Gallery, located on the first floor of STAMP above the food court. Come visit the exhibition throughout Homecoming weekend. Gallery hours at stamp.umd.edu/gallery 
Homecoming Terp Carnival 
Date: Friday October 13, 2023  
Time: 4:00pm-8:00pm
Location: McKeldin Mall
Description: Gather on McKeldin Mall with some friends to kick off Homecoming weekend with live music, beer garden, tailgating games, and prizes. Bring your own picnic food or grab some from Dining Services's menu options. Students will be able to pick the limited edition UMD Homecoming Scarf to wear at the big game Saturday. First Come First Serve. At the end of the Terp Carnival, there will be a fireworks display and laser light show from the top of McKeldin Library.   https://go.umd.edu/terpcarnival2023
________________________________________________________________
Take a look back at Homecoming 2022
Check out all the pictures in "Views from Homecoming" https://go.umd.edu/tc2022
Thank you to our Sponsors
Student Entertainment Events
Pepsi 
University Club
The Alloy
Tempo
Union on Knox