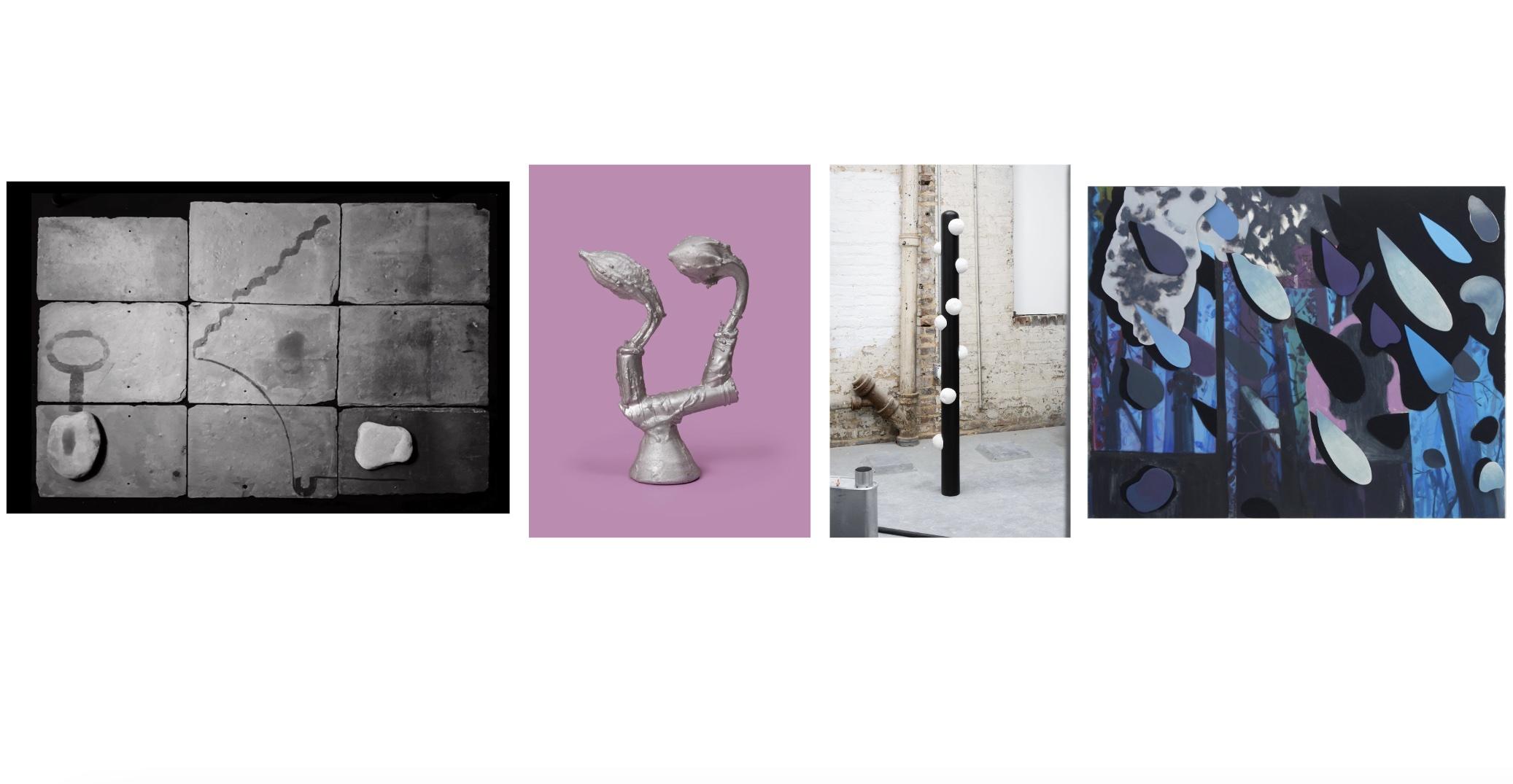 The Stamp Gallery is pleased to present Placeholder, an exhibition dedicated to the proxy, the metaphor, the stand-in. Elliot Doughtie, Richard Hart, Danni O'Brien, and James Williams II contend with the power of materials and images to invoke what is absent, elsewhere, postponed, or in hiding. These four artists test the limits of the alternate, whether by substituting the inert for the living, the imagined for the real, or the partial for the whole.
Elliot Doughtie is a Texas-born, Baltimore-based artist who works in drawing, sculpture, and installation, with a desire to form intimate relationships between common objects and the awkwardness of having a body. His work has been exhibited at venues including L'OEil du Poisson (Quebec City, Quebec), Nasher Sculpture Center (Dallas, TX), LangerOverDickie (Chicago, IL), Museum of Contemporary Art Arlington (Arlington, VA), and School 33 (Baltimore, MD). Doughtie has a BA from Tulane University, a MFA from Mount Royal School of Art at MICA, and is a recipient of a Joan Mitchell Foundation Painters & Sculptors Grant. (continued)
Richard Hart is a South African interdisciplinary artist based in New York City. His current body of work, a series of "water drawings" executed on stone surfaces and recorded as moving images, explores time itself as material. He has exhibited in solo and two-person exhibitions at Project for Empty Space (Newark, NJ), Field Projects (New York, NY), KZNSA (Durban, South Africa), Whatiftheworld (Cape Town, South Africa), and artSpace Berlin (Berlin, Germany); and in group exhibitions at Kalashnikovv Gallery (Johannesburg, South Africa), Gallery Twenty Twenty Two (New York, NY), Transfo (Kortrijk, Belgium), and Kirk Hopper Gallery (Dallas, TX), among others.
Danni O'Brien (she/they) is an interdisciplinary artist based in the Mid-Atlantic. Her artistic practice is rooted in environmentalism, nostalgia, and owned queerness. In the studio, they cycle through continuous acts of deconstruction and reconstruction, and employ assemblage, ceramic handbuilding, paper making, casting, CNC routing, and woodworking, to concoct amalgamated sculptures. O'Brien has exhibited at the Museum of Contemporary Art Arlington (Arlington, VA), Asya Geisberg Gallery (New York, NY), Tephra Institute for Contemporary Art (Reston, VA ), Pazo Fine Art (Kensington, MD), and the Virginia Museum of Contemporary Art (Virginia Beach, VA), among others. 
James Williams II is a New York-born, Baltimore-based interdisciplinary artist who creates paintings and sculptures centered on topics of racial constructs, systematic racism, and cultural identity in the United States. His paintings integrate non-traditional materials to create layered reliefs. His work has appeared in solo exhibitions at UTA Artist Space (Atlanta, GA), LCVA Museum (Longwood, VA), Langer Over Dickie (Chicago, IL), and Resort Baltimore (Baltimore, MD ); and in group exhibitions at GAVLAK Gallery (Los Angeles, CA), Catalyst Contemporary (Baltimore, MD), and the Walters Art Museum (Baltimore, MD), among others. He is a recipient of the 2022 Janet & Walter Sondheim Artscape Prize and the MFA Joan Mitchell Foundation award.
This exhibition is supported in part by the Maryland State Arts Council (msac.org)
ABOUT THE GALLERY
Located on the first floor of the Adele H. Stamp Student Union—Center for Campus Life at the University of Maryland, College Park, the Stamp Gallery is dedicated to exhibiting contemporary art, especially the work of emerging and mid-career artists. The Stamp Gallery supports contemporary art that is challenging, academically engaging, and attuned to broad community and social issues. Through meaningful exhibitions and programming, the Gallery offers outside-of-the-classroom experiential learning opportunities. It functions as a laboratory where emerging artists and curators experiment and work through their ideas. The Gallery's programming aims to emphasize the importance of process to contemporary artistic practice and to provide a forum for dialogue.
 FREE and open to the public. Fall hours: Mondays–Thursdays: 10 am – 8 pm, Fridays: 10 am – 5 pm, Saturdays: 11 am – 5 pm, Sundays: Closed. More information: stamp.umd.edu/gallery.