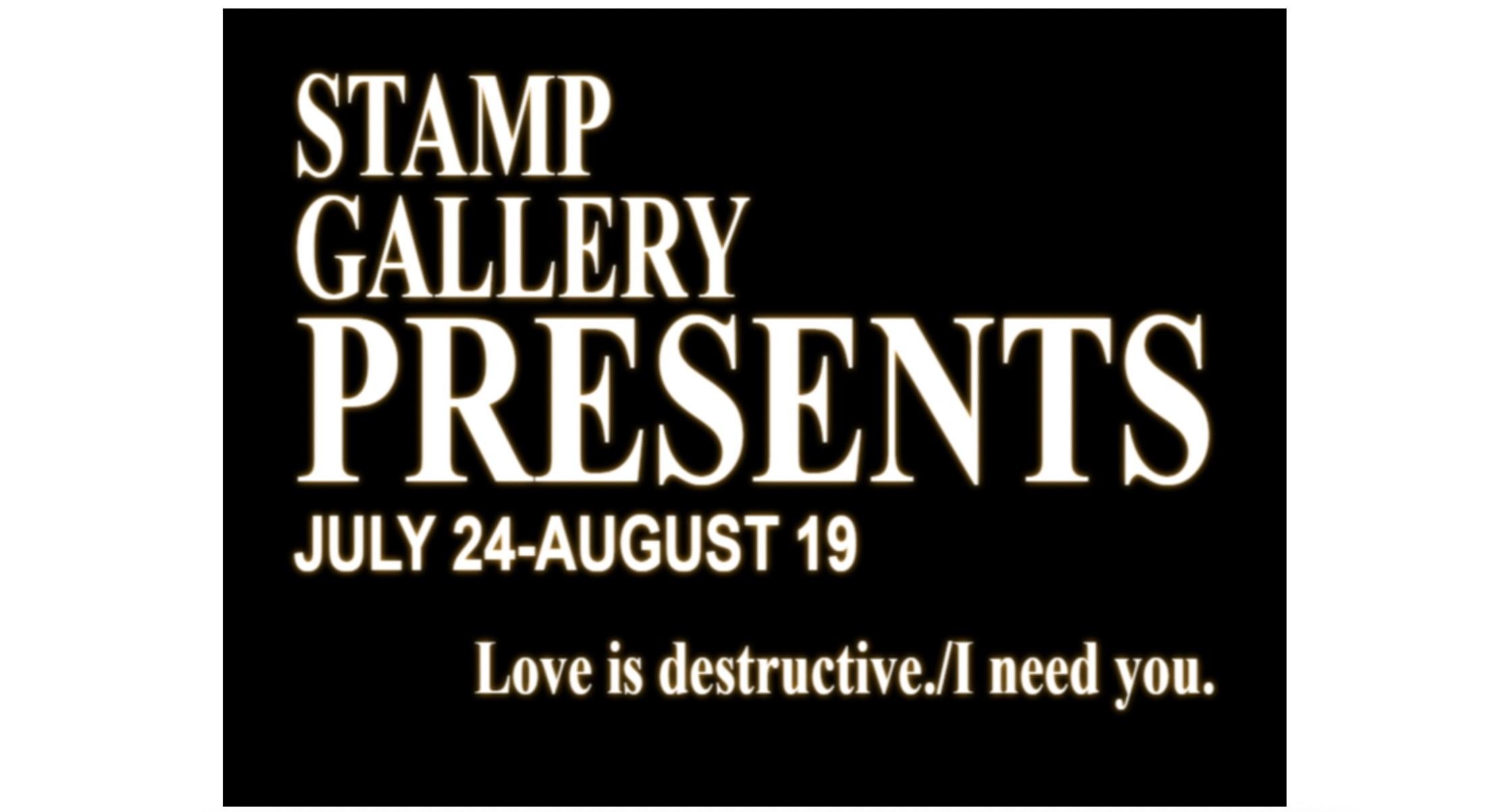 Featuring Arleen Seed, Ashley Jaye Williams, Britt Sankofa, Noah McWilliams, Samantha Van Heest, Sanju Kottapalli, Sara Caporaletti, Trevon Coleman, and Varvara Tokareva
Opening reception: Friday, July 28, 6-8pm. Free and open to the public.
The Stamp Gallery is pleased to announce Love is destructive./I need you., a group exhibition curated by Kamryn Dillon.
In the voice of the Ordinary Man who grapples with the unknown, Albert Camus writes, "I don't know whether this world has meaning that transcends it. But I know that I do not know that meaning and that it is impossible for me just to know it… I cannot reconcile it." Camus's essay, The Myth of Sisyphus, questions a quintessential part of the human condition: is life worth living? Love is destructive./I need you., whose title is parallel to the alternative ending of the landmark anime Neon Genesis Evangelion, follows the Ordinary Man's descent into depression, desire for meaning, and finally his choice between rejecting or accepting the Absurd. For this exhibition, the artists explore our persistent struggle juggling an abundance of free will in a world with no tangible answers.
The Stamp Gallery is located on the first floor of the Adele H. Stamp Student Union—Center for Campus Life at the University of Maryland, College Park and is dedicated to exhibiting contemporary art, especially the work of emerging and mid-career artists. Love is destructive./I need you. is part of a series of student-curated exhibitions.
Curator: Kamryn Dillon, B.A. Studio Art, 2024
Kamryn Dillon's practice studies the influence of various sociopolitical, psychological, religious, and philosophical binaries on the human perception of reality and our longing for "free will." An Art History minor, their academic emphasis revolves around explicit and subliminal consumption of Christian ideals and iconography within art and media.
FREE and open to the public. The Gallery is open during the summer Mondays–Fridays: 12-5pm. Closed Saturday–Sunday.