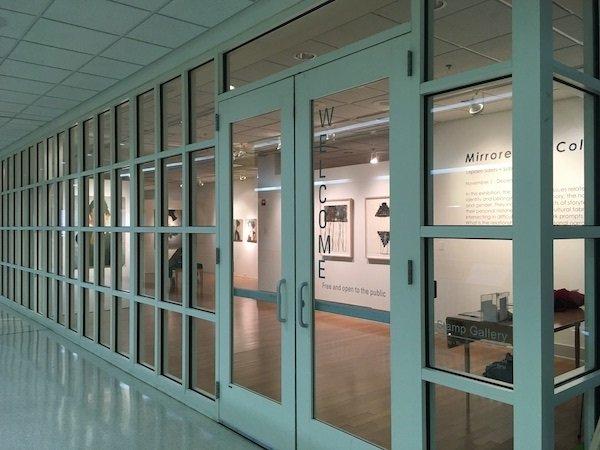 Submission deadline: June 26, 2023
Notification date: July 1, 2023
Exhibition dates: July 24 - August 19, 2023
Love is destructive./I need you. concerns itself with the Ordinary Man's falling out of love with life. Inspired by French Existentialist philosopher Albert Camus's essay The Myth of Sisyphus, the exhibition follows the Ordinary Man's descent into depression, desire for meaning, and finally his choice between rejecting or accepting the Absurd. For this exhibition, the Stamp Gallery is looking for work engaged with absurdist themes and our persistent struggle against an abundance of free will in a world with no tangible answers. Works in all media will be considered, with a preference for emerging and mid-career artists local to the DMV (DC, Maryland, and Virginia) region. 
The Stamp Gallery is located on the first floor of the Adele H. Stamp Student Union—Center for Campus Life at the University of Maryland, College Park and is dedicated to exhibiting contemporary art, especially the work of emerging and mid-career artists. Love is destructive./I need you. is part of a series of student-curated exhibitions. Previous exhibitions in the series include: 
Not Your Model Minority: Pandemic, Proximity, and Power: Not Your Model Minority is a response to the wave of anti-Asian rhetoric and violence surrounding the "Chinese virus" and the critical self-evaluation of Asian American positionality in the movement for Black Lives and earlier histories of Black and Asian solidarities. Curated by Marjorie Antonio '22
Radical Threads: Radical Threads questions the lasting omission of women's work from the field of fine art, while encouraging the public to see domestic materials in a new light. Considering the intersection between the personal and the political, these artists bring attention to social and cultural issues that women still grapple with today. The exhibition prompts the question: How can artists use historically domestic art practices as vessels for resistance and change? Curated by Erin Allen '20
UN/Sustainable: As we confront shifting environmental realities, the influence of policy past and present, and the impact of such things on humanity, art can serve as a starting point for change. Artists stand at the forefront, using their stories to open the eyes of viewers and reflect upon their own relationships to the physical world. UN/Sustainable presents one of the many questions that we as global citizens must answer: Are our ways of existing sustainable? Curated by Kat Mullineaux '19
Curator: 
Kamryn Dillon, B.A. Studio Art, 2024
Kamryn Dillon's practice studies the influence of various sociopolitical, psychological, religious, and philosophical binaries on the human perception of reality and our longing for "free will." An Art History minor, their academic emphasis revolves around explicit and subliminal consumption of Christian ideals and iconography within art and media.
SUBMISSION GUIDELINES  
Prospective artists should be emerging or mid-career, preferably located within the DMV (DC, Maryland, and Virginia) region. Submissions may include multiple artworks. AI-generated art is discouraged.
Applicants must submit: 
For each submitted artwork, a title and short description (up to 200 words), year of production, medium, and dimensions.

High-resolution image of each artwork with any necessary alternative views. Video/audio works may be shared as links to streaming sites (with password information as necessary).

Artist's CV with optional link to website.
PLEASE SUBMIT MATERIALS TO: stampgallery@umd.edu, CC: kdillon9@terpmail.umd.edu.
Artists selected for this exhibition will be responsible for delivering finished work to the Stamp Gallery between July 10-17 and for retrieving their work following the exhibition run.