Homecoming Week 2021
Connect with friends, flaunt your terp gear, cheer on the home team—and make new memories. Prepare to laugh until your face hurts, watch fireworks on McKeldin Mall, inspire our fearless generation of students and meet other proud alums!
EXPERIENCE UMD'S HOMECOMING THIS OCTOBER 24-30th, 2021.
Keep reading to learn more, and to sign up to participate in individual STAMP Homecoming events.
More information about all Homecoming 2021 events can be found at homecoming.umd.edu 
SPIRIT & TRADITIONS
Homecoming Scarf Spirit Sale  (SOLD OUT)
Visit UMDtickets.com to purchase your very own Homecoming Scarf! Limited Scarves will be on sale starting October 11th @ 12pm. 
$20 for UMD students (+ $6 S&H)
$22 for Staff/Faculty (+ $6 S&H)
 $24 for General Public (+ $6 S&H)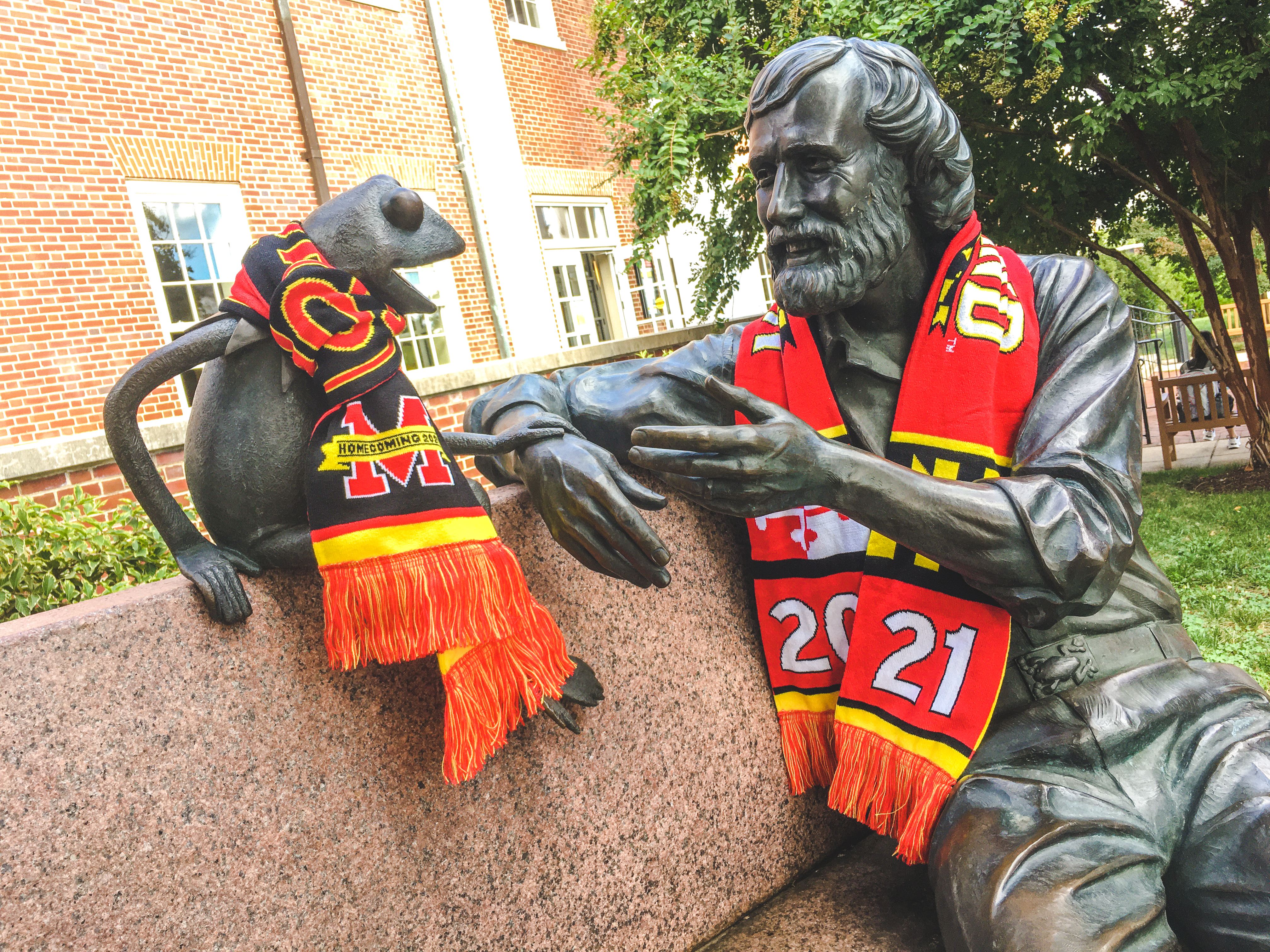 Homecoming Spirit Days
Homecoming is about celebrating the University of Maryland, and we want to make sure that everyone can wear their best gold, black, white and red outfits. On campus, please join us in donning the colors of our alma mater.
Monday, Oct. 25: RED
Tuesday, Oct. 26: WHITE
Wednesday, Oct. 27: BLACK
Thursday, Oct. 28: GOLD
Friday, Oct. 29: ALL MARYLAND COLORS
Spirit Stations
Follow @umdhomecoming for clues on how to visit a secret Spirit Station to grab homecoming swag. If you are wearing the color of the day and one of the first 25 people to visit, you could receive a Golden Ticket. Bring your golden ticket to Terp Carnival at the STAMP Lobby Info. Desk on Friday 10/29 by 5:30pm and Coach Locksley might pick your name to win a UMD Homecoming Swag pack with up to $300 worth of prizes. 
Scarf Fairy
Stop by the STAMP wearing these colors and a Homecoming Fairy might find you and reward you with a free Homecoming Scarf! 
SPIRIT CONTEST
Homecoming 2021 Office Decorating Competition
With Homecoming approaching quickly, show your Terrapin Pride by decking out your office suites. It's our 8th Annual Homecoming Office Decorating Competition. Your participation will get students, faculty, and staff in the Homecoming Spirit as well as give your office a chance to be our Grand Prize Winner! One Grand Prize Winner will be selected by a member of VPSA Council, Spirit of Maryland Finalists, and a group of student leaders. The winning office suite will receive a UMD Dining Snack Pack and a trophy to be rotated annually between the winning offices! Please use #UMDHomecoming when promoting your Homecoming events! Offices can register here. 
Host:  Division of Student Affairs & Stamp Student Union 
Spirit of Maryland 
Description: The Spirit of Maryland Award is presented annually, in lieu of a traditional Homecoming King or Queen honoree, to two members of the senior class who through their achievements have most exemplified the "spirit" of the University of Maryland
Want more? Visit the University of Maryland Homecoming website, http://homecoming.umd.edu. 
Have questions about these events? Contact Laura Hood lcm@umd.edu 
MONDAY, OCTOBER 25
Homecoming Spirit Box
Dates: 10/25-10/29 (until supplies run out)
Studio A will host UMD Spirit Boxes for students to kick off their Homecoming week to prepare for a week of Terp Pride. Stop by Studio A in the STAMP from 12pm-8pm Monday - Thursday.  They will hand out 50 boxes a day. First Come. First Serve. More information can be found here
Please note these are first come first serve and only available for UMD Students.
Sign up: stamp.umd.edu/spiritboxes
Host Stamp Student Union- Studio A
TUESDAY, OCTOBER 26
Tuesday Night Lights
7PM-8:30PM - Capital One Field at Maryland Stadium 
Come out for a night under a festive sky, filled with music, games, free Homecoming merch and Testudo. Step onto the gridiron and snap a selfie at the 50-yard line.
WEDNESDAY, OCTOBER 27
Homecoming Juke Joint
7pm - Grand Ballroom, Stamp Student Union 
The Nyumburu Cultural Center is celebrating its 50th anniversary and continuing the Juke Joint tradition. Bestselling author Jason Reynolds '05 hosts this annual event where students present dance, music, spoken word performances, and more.
THURSDAY, OCTOBER 28
Stamp Gallery Fall Exhibition: Yams, Tomatoes, Potatoes, and Plums
Join the Stamp Gallery for the opening of Yams, Tomatoes, Potatoes and Plums- an exhibition of contemporary painting from central Australia on the local foodways. The opening reception will run from 6-8pm in the Gallery, located on the first floor of STAMP above the food court. Come visit the exhibition throughout Homecoming weekend. Gallery hours at stamp.umd.edu/gallery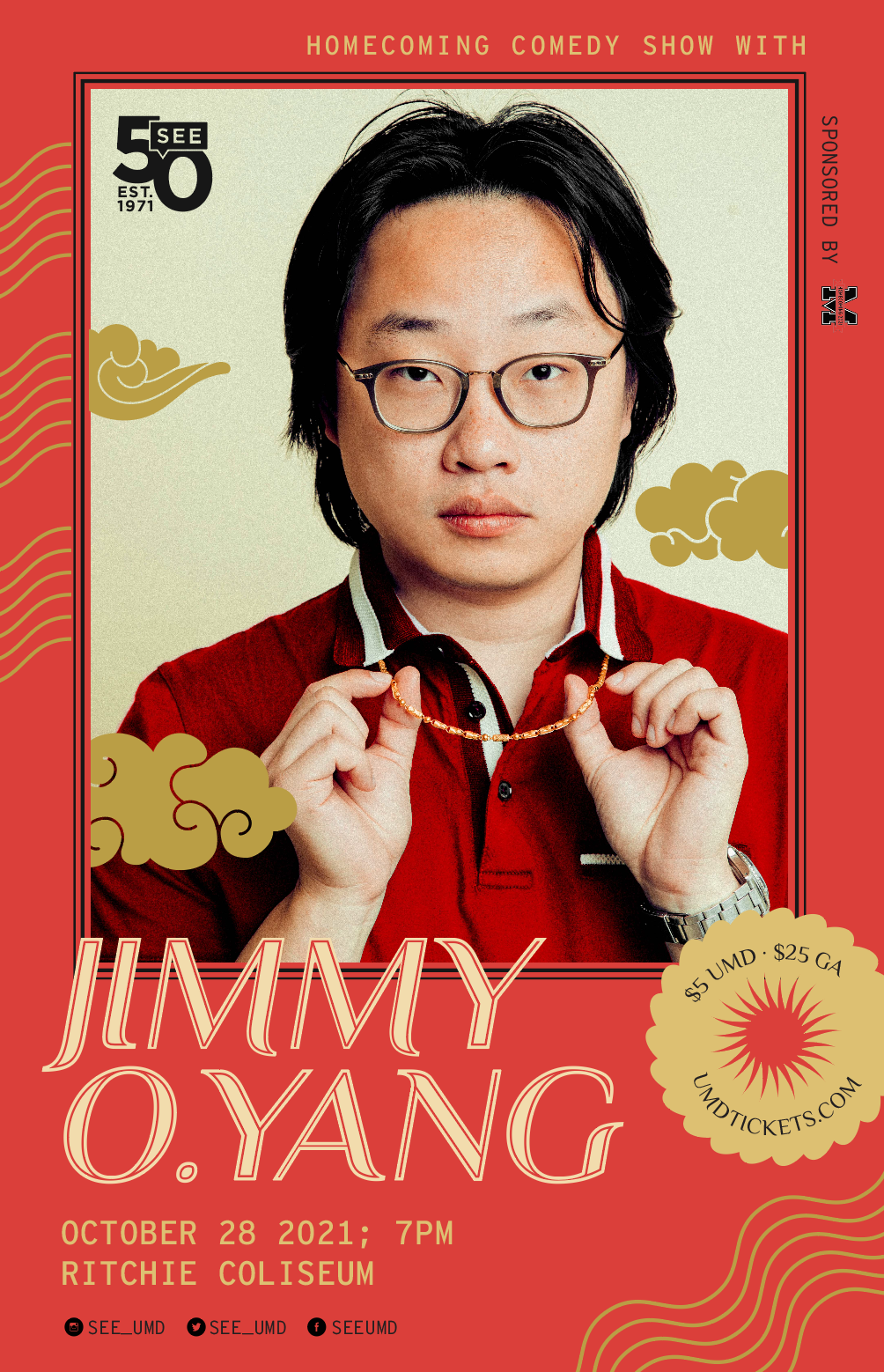 The #UMDHomecoming Comedy Show with Jimmy O. Yang will be IN PERSON! 
Join SEE for a night of laughs in Ritchie Coliseum during our annual Homecoming Comedy Show. This year, Jimmy O. Yang will be headlining the show. Jimmy O. Yang is a Hong Kong-American actor, stand-up comedian, and writer best known for starring as Jian-Yang in the HBO comedy series Silicon Valley. Student tickets are $5 and General Public tickets are $15. Tickets can be purchased from umdtickets.com
Follow @SEE_UMD for updates.
Host: Student Entertainment Events

FRIDAY, OCTOBER 29
Terp Carnival **LOCATION CHANGE**
Come spend Homecoming Friday with us at Terp Carnival in STAMP (where it'll be nice and dry) at between 4:30 and 8:30PM!
We still can't wait for Terp Carnival on Friday evening—but due to the rainy forecast, we've had to change things up a little: Terp Carnival will now take place inside STAMP. You'll be able to find carnival activities and concessions in the TerpZone and the North Atrium; the scarf giveaway will take place on the first floor, near the old Adele's Restaurant; and you'll be able to chat with partners around the food court balcony. The fireworks finale has been postponed until November 5.
Find all the most up-to-date details at stamp.umd.edu/TerpCarnival
Follow @thestampumd for more info.
SATURDAY, OCTOBER 30
Maryland Terrapins vs. Indiana Hoosiers
12pm Kick off 
Time to fill the shell and cheer on the Terps as they take on the Indiana Hoosiers. The Spirit of Maryland award winners will be announced at halftime, and the Ralph Friedgen-led 2001 Terrapins return in honor of the 20th anniversary of the team's 2001 ACC championship. Buy tickets today
DISCLAIMER: ALL events have the possibility of cancelling it's in person portion due to COVID restrictions. Follow @thestampumd for more information.