If you have any questions about the current schedule of events or questions related to Veterans Week, please do not hesitate to reach out to the Veteran Student Life team via email at: vetstudentlife@umd.edu

| Date | Time | Event | Description |
| --- | --- | --- | --- |
| Monday, Nov 7 | 5:30 PM - 8:30 PM | Veteran Student Life Cutting Board Pt. 1 | Join us at J. M. Patterson Building Rm 1212, to learn woodworking techniques, and produce a woodshop project. https://go.umd.edu/VSLcuttingboard2022 |
| Friday, Nov 11 | 12:00 PM - 1:30 PM | Honor & Remember Service & Lunch | Join us at the Chapel on campus, to show appreciation for all who have served. |
| Friday, Nov 11 | 7:00 PM - 10:00 PM | Washington Capitals Hockey Game | Join us to see the Washington Capitals host the Tampa Bay Lightning. Tickets are $25, and include food and unlimited drink. Sign up https://stampunion.umd.edu/tickets/Events.aspx?program_id=5 |
| Monday, Nov 14 | 5:30 PM - 8:30 PM | Veteran Student Life Cutting Board Pt. 2 | Join us at J. M. Patterson Building Rm 1212, to learn woodworking techniques, and produce a woodshop project. https://go.umd.edu/VSLcuttingboard2022 |
| Tuesday, Nov 15 | 3:00 PM - 6:00 PM | Battle of the Branches Bowling Competition | Join us at TerpZone in the STAMP for a bowling tournament between members of each branch. Prizes will be given out, and food will be provided. |
| Thursday, Nov 17 | 7:00 PM - 9:00 PM | Axe Throwing Night | Join us during Veteran's Week for an exciting night of axe throwing. https://go.umd.edu/VSLAxeThrow22 |
| Friday, Nov 18 | 2:00 PM | Veteran Yoga | Join us at the Pyon Su in STAMP for some relaxing yoga, facilitated by our very own Hannah Boss. https://stamp.umd.edu/VeteranYogaFall2022 |
| Saturday, Nov 19 | TBA | Veteran's Reception & Football Game | |

| Date | Time | Event | Description |
| --- | --- | --- | --- |
| Saturday, Nov 7 | All Day | Good Neighbor Day | Come together with others in the College Park community to beautify shared spaces, educate and engage in sustainable practices, and take pride in Greater College Park. Find out more info about how to get involved at https://oce.umd.edu/good-neighbor-day |
| Sunday, Nov 8 | 11:00 AM - 1:00 PM | Ruck March/Kick-off Lunch | Join VSL for our Vets Week Kick off event! Ruck with us around campus for 2-3 miles and we will assemble in McKeldin Mall for some socially-distanced lunch and socializing. Due to COVID-19 restrictions, please bring your own lunch. For more details see here. |
| Wednesday, Nov 11 | All Day | Celebration of UMD Veterans | We are unable to gather in person this year, so we invite you to watch our Celebration of UMD Veterans video below as a way to still be together and feel at home this Veterans Day. Watch here: stamp.umd.edu/VetCelebration |
| Thursday, Nov 12 | 8:00 PM | Netflix Watch Party | Join us for a Netflix movie night! We are watching "The Outpost" based on the non-fiction book "The Outpost: An Untold Story of American Valor" by Jake Tapper. Details on how to access the Netflix Party will be available here soon. stamp.umd.edu/VetsWeek2020NetflixWatchParty Movie Link | Zoom Link |
| Friday, Nov 13 | 6:30 PM - 8:30 PM | Axe Throwing Night | Join us during Veteran's Week for an exciting night of axe throwing in DC, totally for free! We have 12 spots available by RSVP only. RSVP here, beginning on Friday 6 Nov @ 10:00 AM |
| Friday, Nov 13 | 6:00 PM | Staff/Faculty Veteran Virtual Happy Hour | Staff and Faculty Veterans are invited to come together for a virtual happy hour hosted by VSL. Join the Zoom session here. UMD login required. |
| Saturday, Nov 14 | 7:30 PM - 8:30 PM | Virtual Happy Hour/Game Night | VSL will be hosting a virtual happy hour for student veterans to play trivia, party games, and chat about the #Terpsfootball game! Join the Zoom Session Here! |
| Wednesday, Nov 18 | 5:30 PM - 7:30 PM | Virtual Veterans Networking | It's time for our next Virtual Veterans Networking Event! If you are a student veteran this is an excellent opportunity to meet veterans in your desired industry and employers. Fill out the RSVP here. |

| Date | Time | Event | Description |
| --- | --- | --- | --- |
| Saturday, Nov 7 | All Day | Good Neighbor Day | Come together with others in the College Park community to beautify shared spaces, educate and engage in sustainable practices, and take pride in Greater College Park. Find out more info about how to get involved at https://oce.umd.edu/good-neighbor-day |
| Sunday, Nov 8 | 11:00 AM - 1:00 PM | Ruck March/Kick-off Lunch | Join VSL for our Vets Week Kick off event! Ruck with us around campus for 2-3 miles and we will assemble in McKeldin Mall for some socially-distanced lunch and socializing. Due to COVID-19 restrictions, please bring your own lunch. For more details see here. |
| Wednesday, Nov 11 | All Day | Celebration of UMD Veterans | We are unable to gather in person this year, so we invite you to watch our Celebration of UMD Veterans video below as a way to still be together and feel at home this Veterans Day. Watch here: stamp.umd.edu/VetCelebration |
| Thursday, Nov 12 | 8:00 PM | Netflix Watch Party | Join us for a Netflix movie night! We are watching "The Outpost" based on the non-fiction book "The Outpost: An Untold Story of American Valor" by Jake Tapper. Details on how to access the Netflix Party will be available here soon. stamp.umd.edu/VetsWeek2020NetflixWatchParty Movie Link | Zoom Link |
| Friday, Nov 13 | 6:30 PM - 8:30 PM | Axe Throwing Night | Join us during Veteran's Week for an exciting night of axe throwing in DC, totally for free! We have 12 spots available by RSVP only. RSVP here, beginning on Friday 6 Nov @ 10:00 AM |
| Friday, Nov 13 | 6:00 PM | Staff/Faculty Veteran Virtual Happy Hour | Staff and Faculty Veterans are invited to come together for a virtual happy hour hosted by VSL. Join the Zoom session here. UMD login required. |
| Saturday, Nov 14 | 7:30 PM - 8:30 PM | Virtual Happy Hour/Game Night | VSL will be hosting a virtual happy hour for student veterans to play trivia, party games, and chat about the #Terpsfootball game! Join the Zoom Session Here! |
| Wednesday, Nov 18 | 5:30 PM - 7:30 PM | Virtual Veterans Networking | It's time for our next Virtual Veterans Networking Event! If you are a student veteran this is an excellent opportunity to meet veterans in your desired industry and employers. Fill out the RSVP here. |

| Thu 10/24 6pm-10pm | Lonnie Bedwell Visit | Lonnie Bedwell will speak with attendees in the Colony Ballroom until 7pm, then join us for kayaking in the Eppley Center Pool at 8pm. |
| --- | --- | --- |
| Sat 10/26 11am-5pm | Kayak Football | Join us for a 5 on 5 kayak football tournament! All equipment provided! |
| Thu 11/7 6pm-8pm | Vets Networking | Meet with fellow veterans, alumni, and business owners at Denizen's Brewing's new Riverdale Park Location with a tour of the brewery. |
| Fri 11/8 11am-1pm | Kick-Off Lunch | Join us for lunch at the Veteran Student Lounge! |
| Mon 11/11 12pm-1:30pm | Chapel Service | Together, we will salute the Veteran community through a program of music and spoken word. Remarks will be offered by two Veterans with extensive ties to the UMD community. After the program, there will be a buffet lunch in the Memorial Chapel Garden. |
| Mon 11/11 4pm-5pm | Veterans Yoga | Join us for a free introductory class at Numi Yoga. |
| Wed 11/13 10am-4pm | Chair Massages | There will be a masseuse in the Vet Center. Book an appointment for a massage! (current student veterans) |
| Wed 11/13 6:30pm | Film Screening | "The Weight of Honor" will be shown at the Colony Ballroom, followed by a panel discussion at 7:45 |
| Thu 11/14 6pm-8pm | Game Meetup | Join us for some light gaming at the Board and Brew! |
| Fri 11/15 5:30pm-10pm | Hockey Game | Meet us in front of the Stamp for a ride to the Caps game against the Habs! Tickets on sale at Stamp Ticket Office. |
| Sun 11/17 1:00pm | Basketball Game | It's Military Appreciation Night for the UMD Women's Basketball team! Click the link for free tickets! |
| Mon 11/18 11:30am-1:30pm | Women's Luncheon | Women veterans are invited to share their stories with the hopes of facilitating conversations around how we can better serve those who have served. |
| Tue 11/19 11am-4pm | Succulent Planting | Drop by the Vet Center to pot a plant and take it home. |
| Wed 11/20 8pm-10pm | Paddle in the Pool | Join us for some pool kayaking! It's a chance to sharpen your skills for our whitewater trips. |
| Thu 11/21 12pm-2pm | DOGGO VISIT | Some service dogs in training are dropping by the Vet Center for a visit. Come out and pet some puppies! |
| Fri 11/22 2pm-3pm | Veterans Yoga | Join us for a free introductory class at Numi Yoga. |
| Sat 11/23 TBD | Veterans Reception and Game | After enjoying the reception and meeting UMD student veterans from the past and present, come to the UMD football game celebrating military service. |
Veterans Reception and Football Game 2019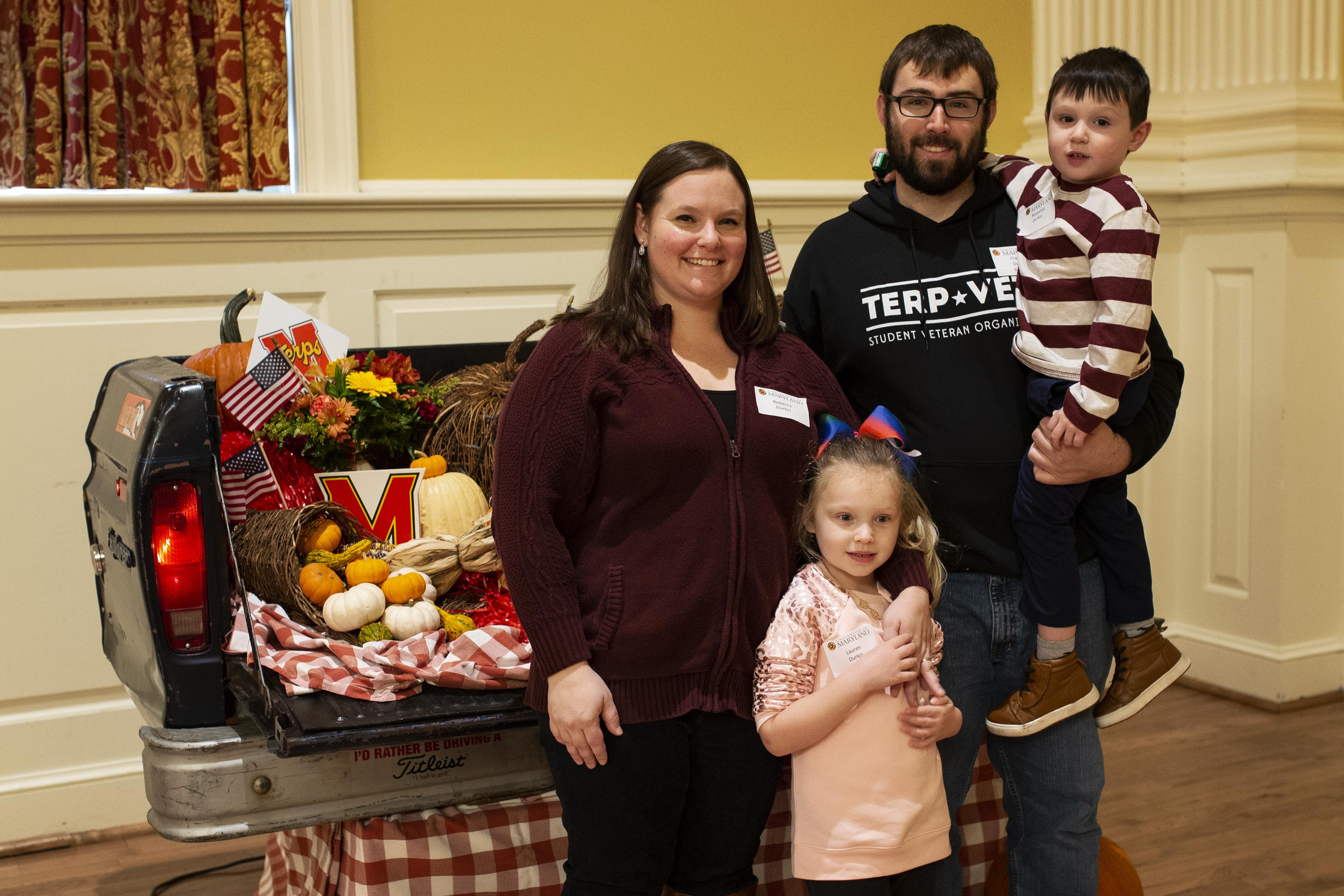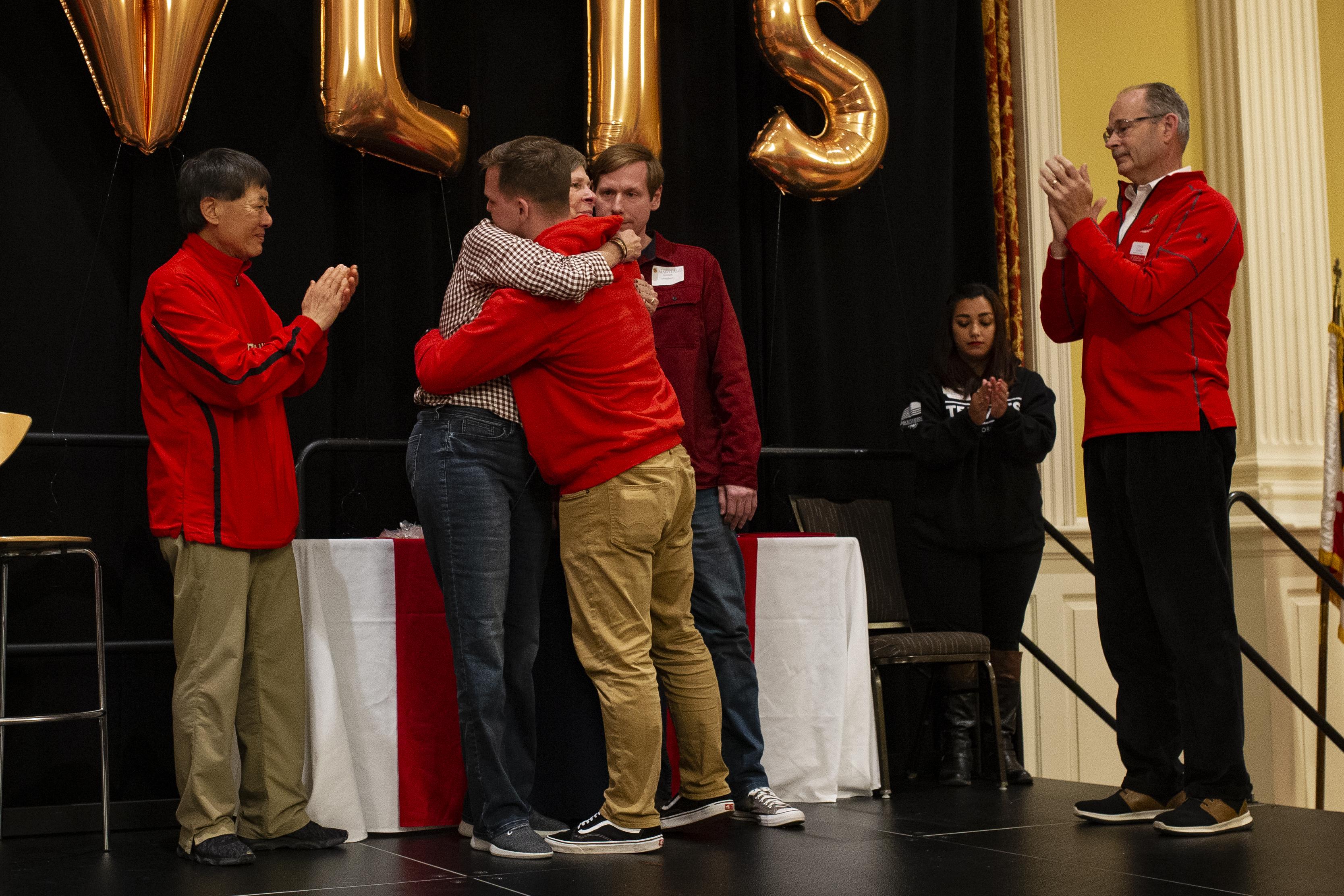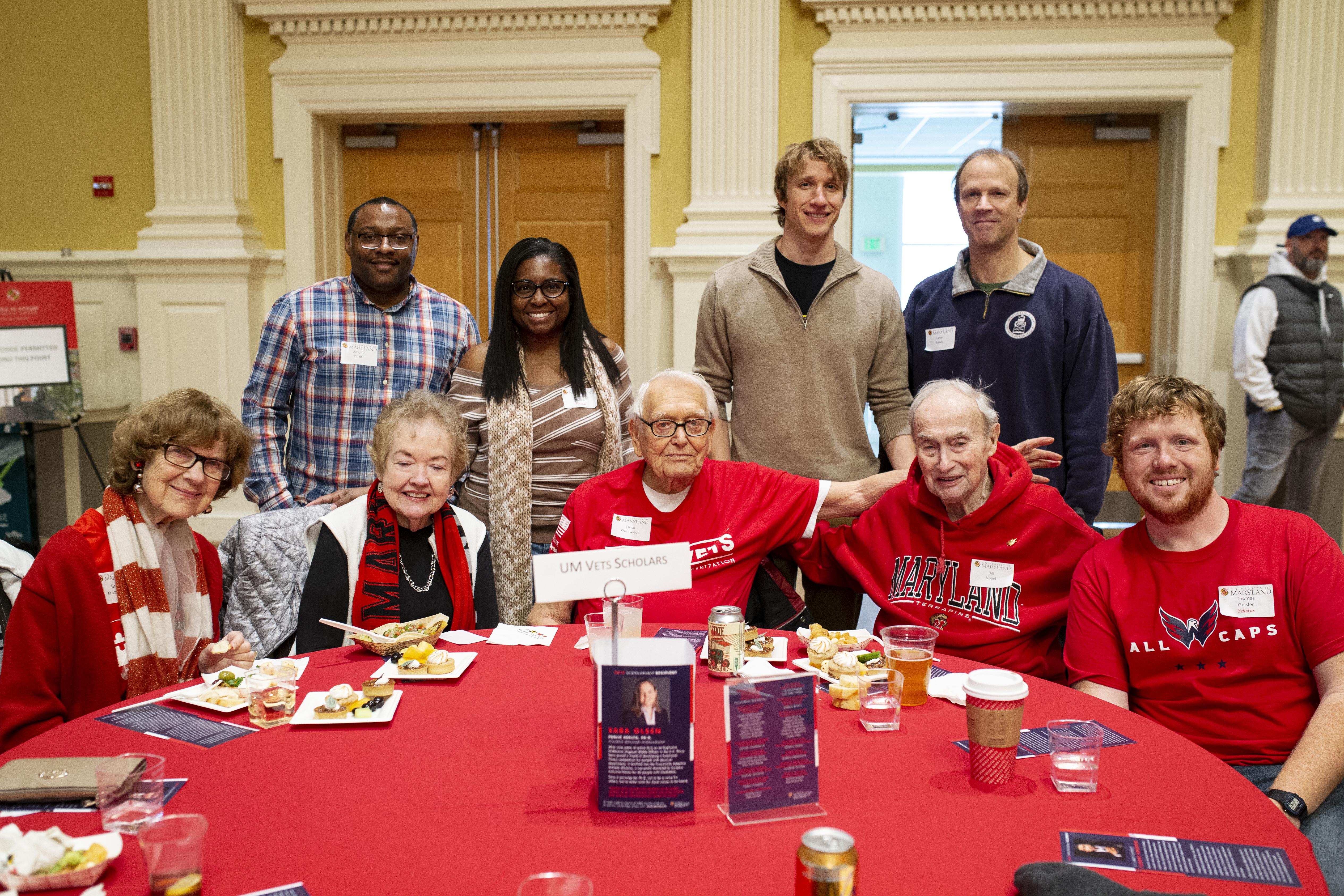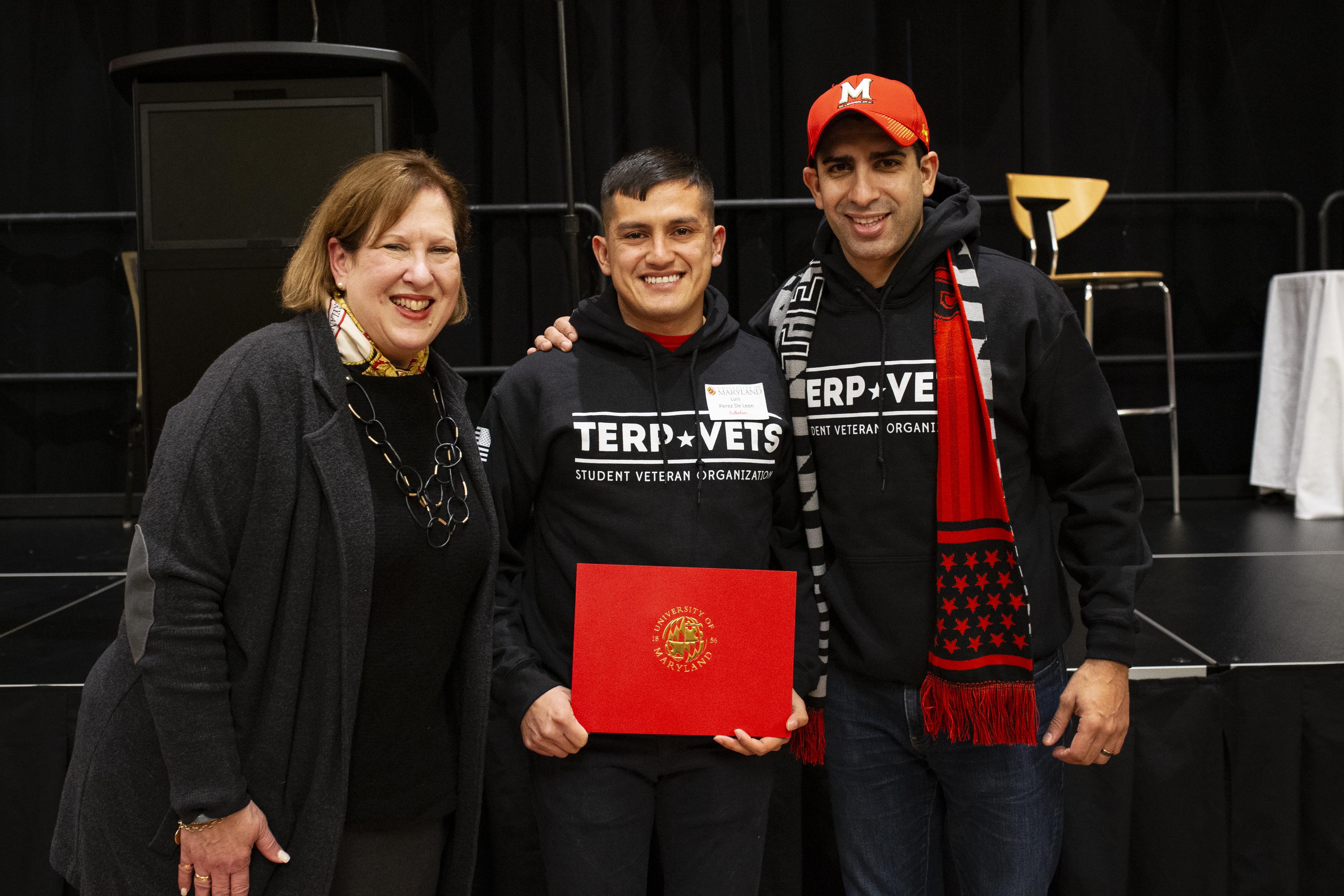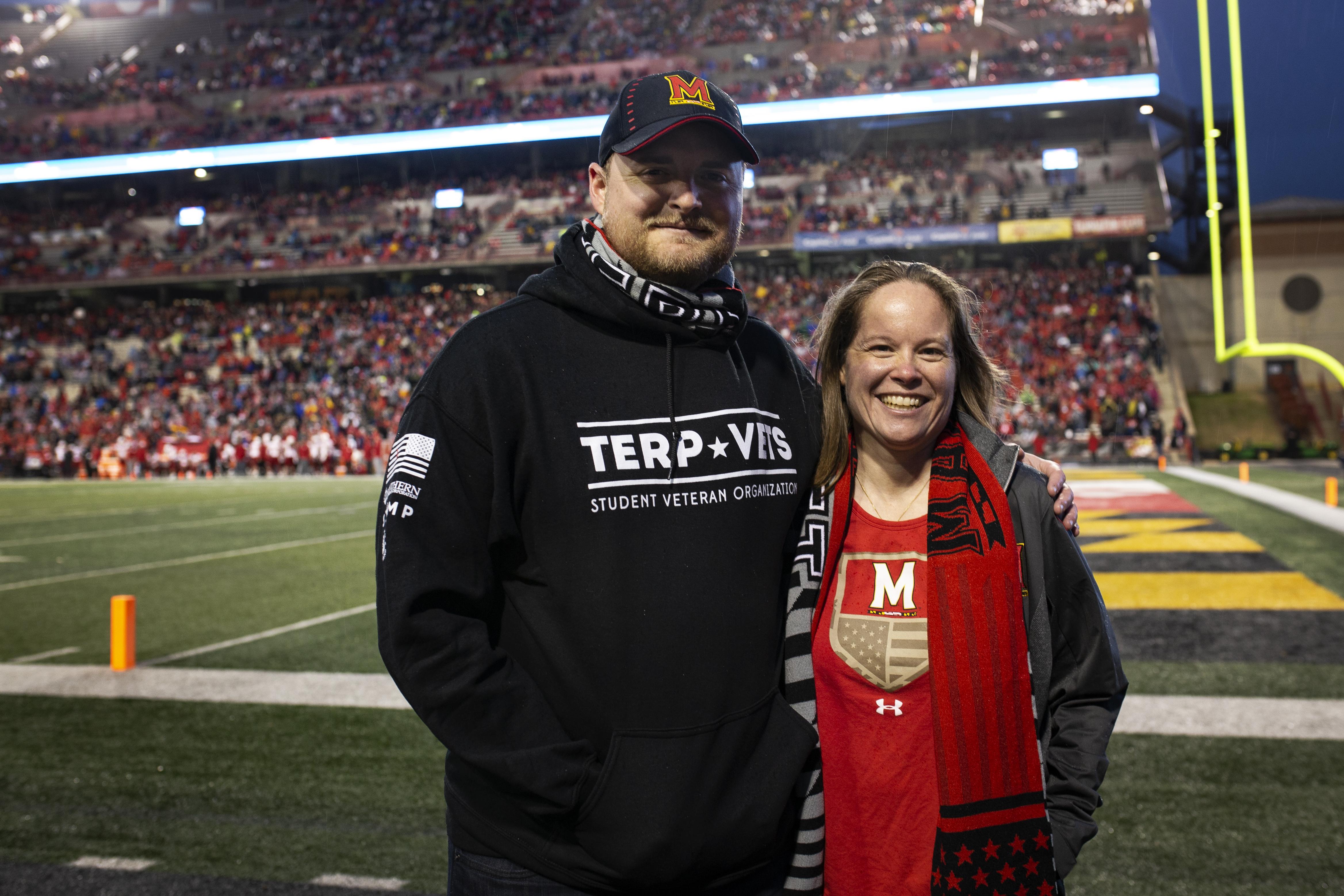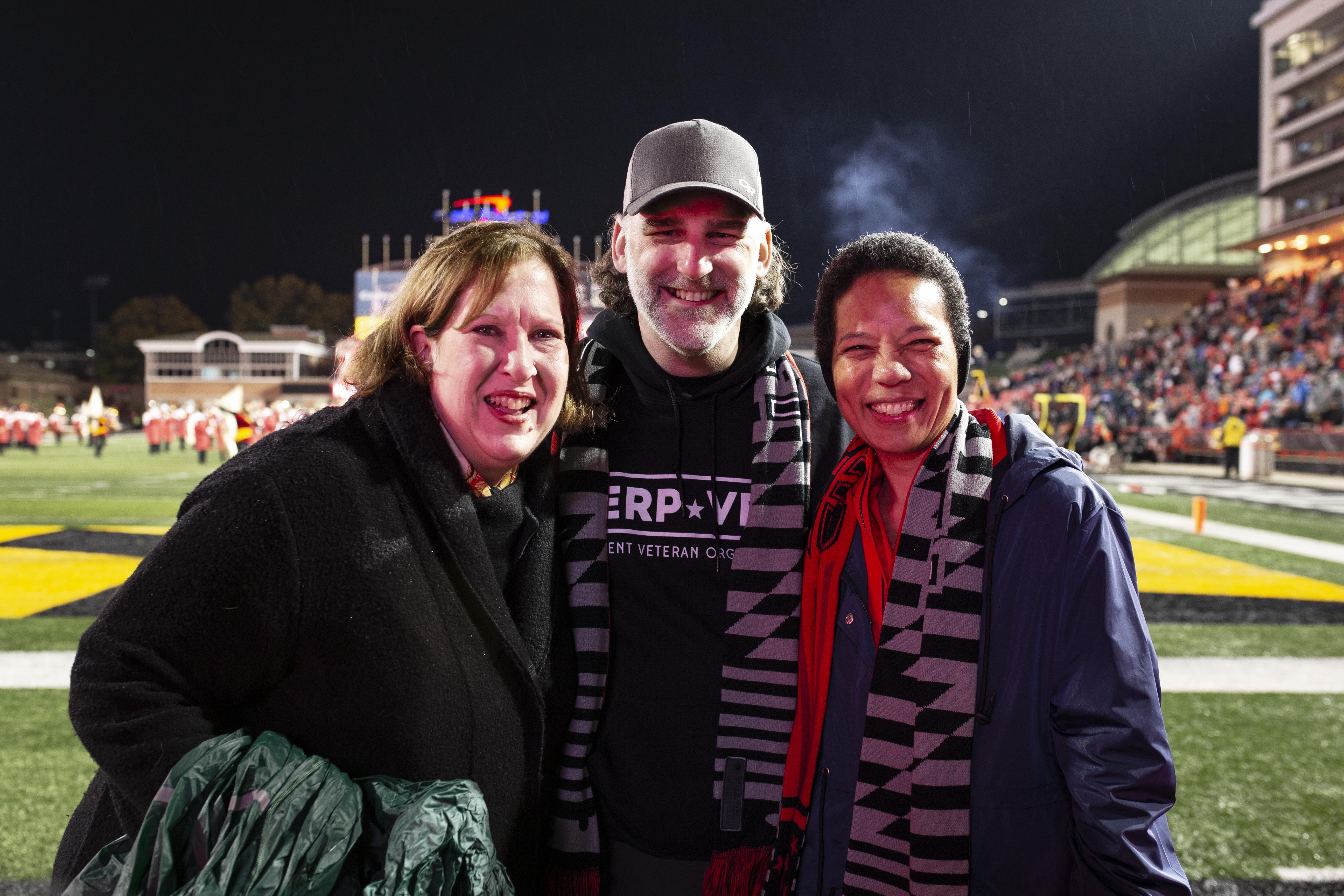 Veterans Week 2018 Schedule
| Date | Event | Description |
| --- | --- | --- |
| Nov. 2nd 12:00pm - 1:00pm | Kickoff Lunch | Join student veterans in the Veteran Center for a Chipotle lunch and learn about events coming up the following week. |
| Nov. 3rd 9:30am | Veteran's Reception & Football Game | After enjoying the reception and meeting UMD student veterans from the past and present, come to the UMD football game celebrating military service. |
| Nov. 4th 9:00am - 4:00pm | Kayak Football Tournament | Make a team or come as a free agent! TerpVets kayak football tournament is a fun way to spend a Sunday with family and friends. |
| Nov. 5th 9:00am - 10:00am | Meditation Monday | Begin your week with peace, quiet, and relaxation as we host an instructor-guided meditation session in the Veteran Center. |
| Nov. 6th | Election Day | We want you to get out and vote, so just show us your "I voted" sticker, and you'll get credit for attending this event. |
| Nov. 7th 2:30pm - 3:30pm | Rucking Wednesday | Put on a pack and join us as we ruck around campus. Meet at Testudo in the Stamp. Veterans and supporters alike are all welcome. |
| Nov. 8th 5:30pm - 7:30pm | Networking Social Event | Come mingle with business professionals and fellow veterans at The Hotel in UMD as we build the bonds that support successful transitions. The attire is business casual. |
| Nov. 9th 12:00pm - 1:30pm | Veterans Day Service | Together, we will salute the Veteran community through a program of music and spoken word. Remarks will be offered by two Veterans with extensive ties to the UMD community. After the program, there will be a buffet lunch in the Memorial Chapel Garden. |
| Nov. 10th 9:00am - 2:00pm | The Mission Continues | Lend a hand as we partner with The Mission Continues and give back to an underserved community in Washington D.C. |
| Nov. 11th 3:15pm - 9:00pm | Capitals Hockey Game | To celebrate Veterans Day, we will be selling reduced-price tickets to current student veterans for the Washington Capitals game. Tickets cost $20 and include $15 of food credit. Tickets can be purchased at the Stamp Box Office outside of the Hoff theater. |
| Nov. 12th 10:00am - 4:00pm | Massage Monday | Take a break from the busy school day and enjoy a free massage in the Veteran's Center. Sign up for a time slot here: |
Veterans Reception and Football Game 2018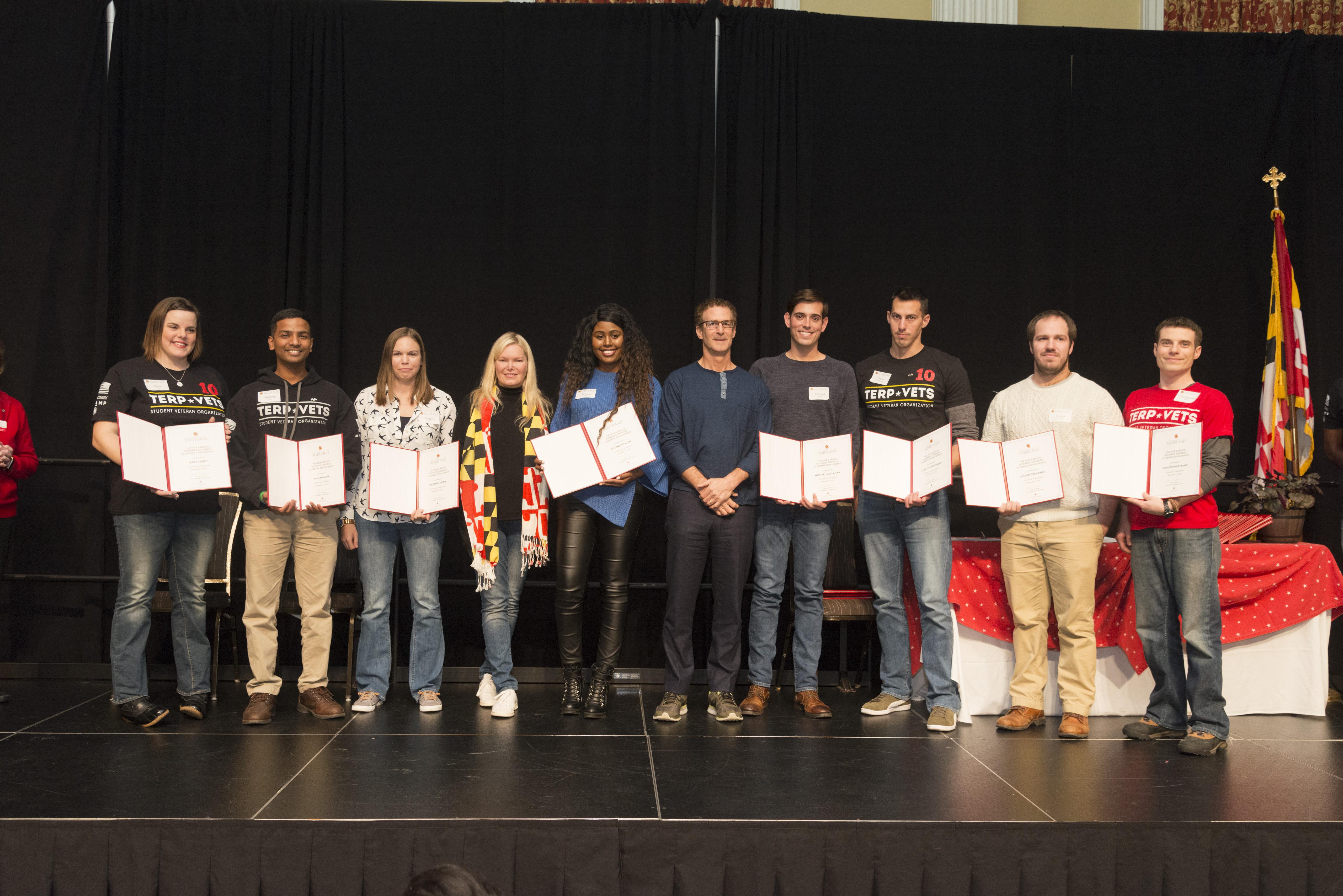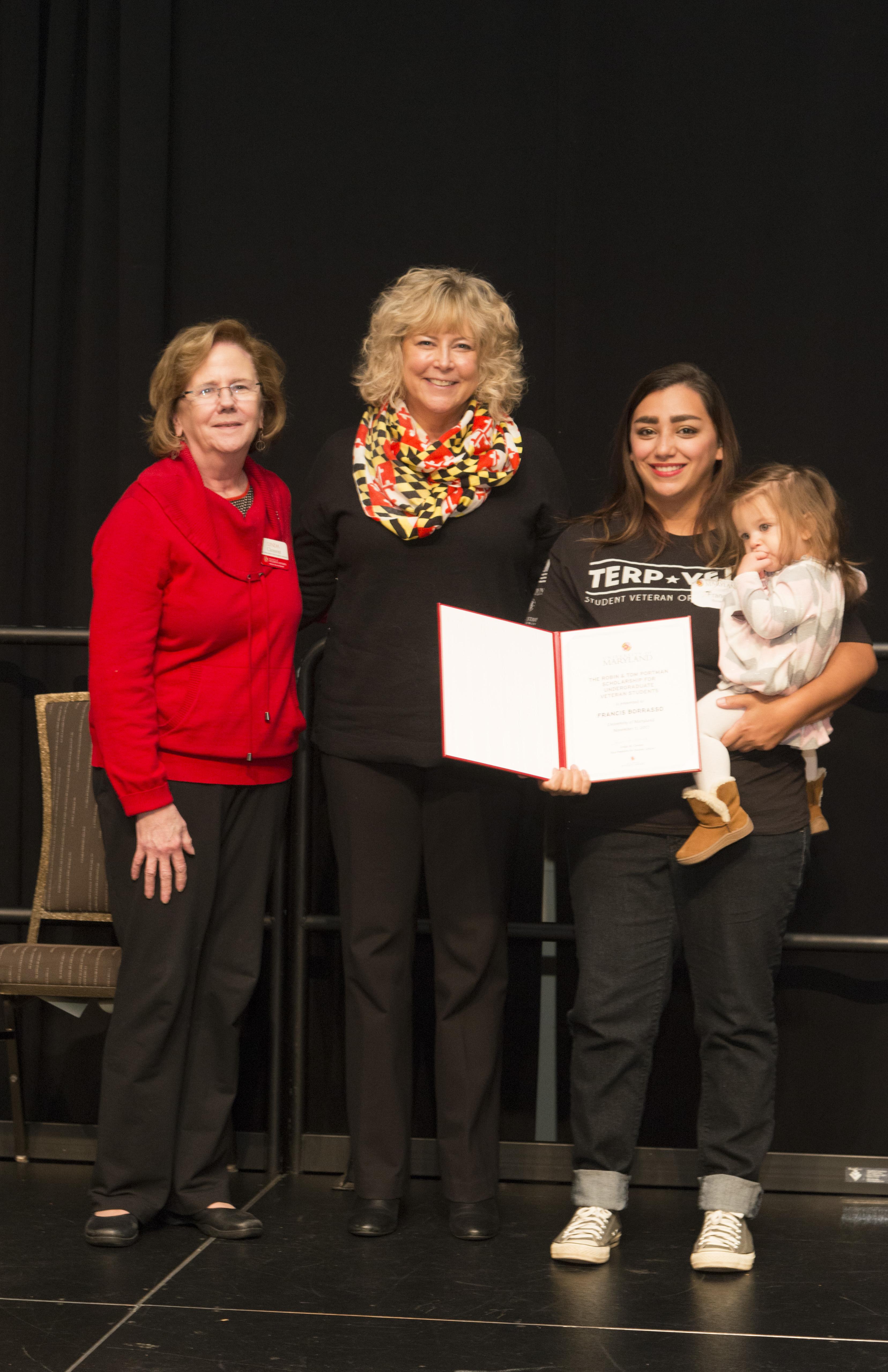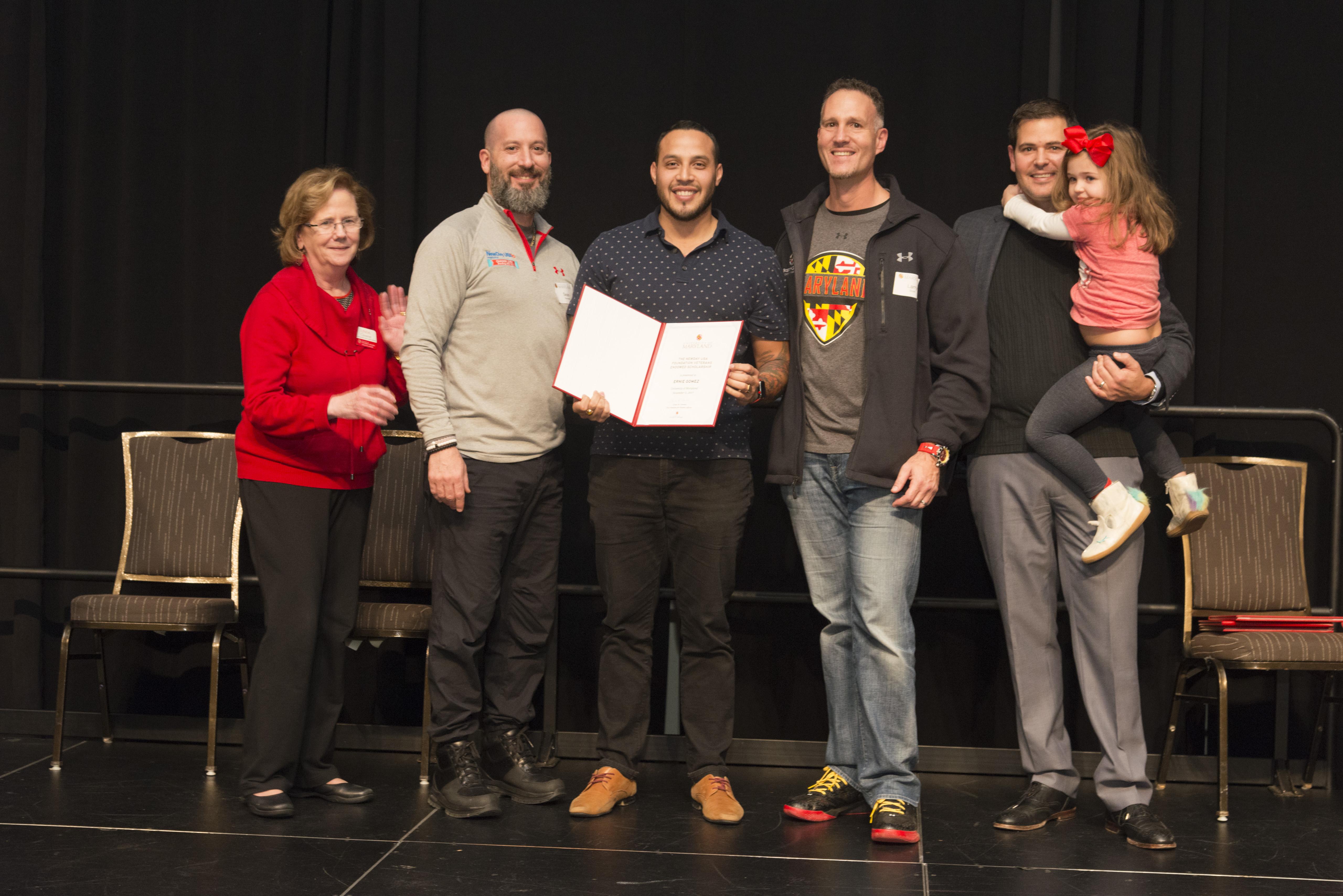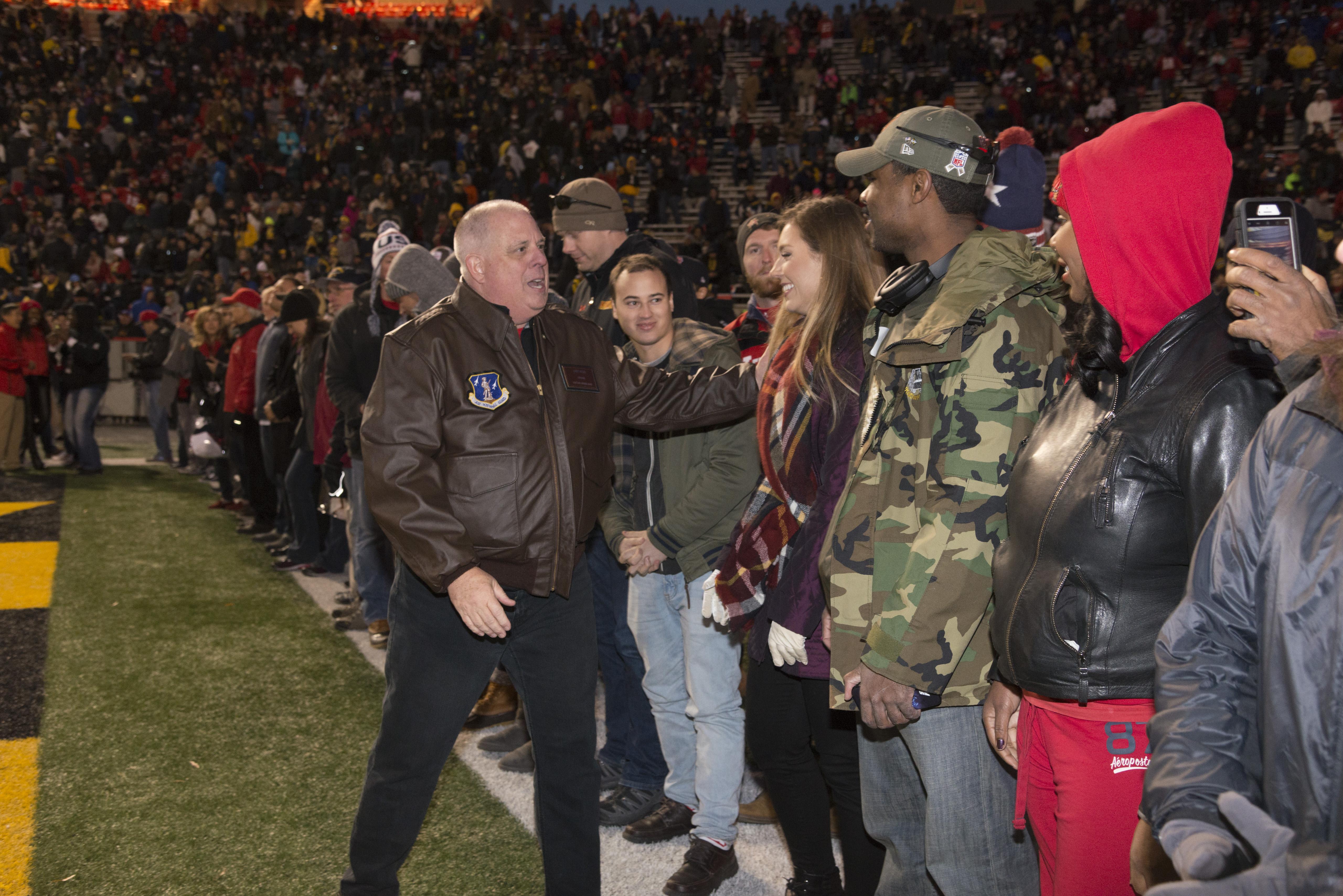 Veterans Reception and Football Game 2015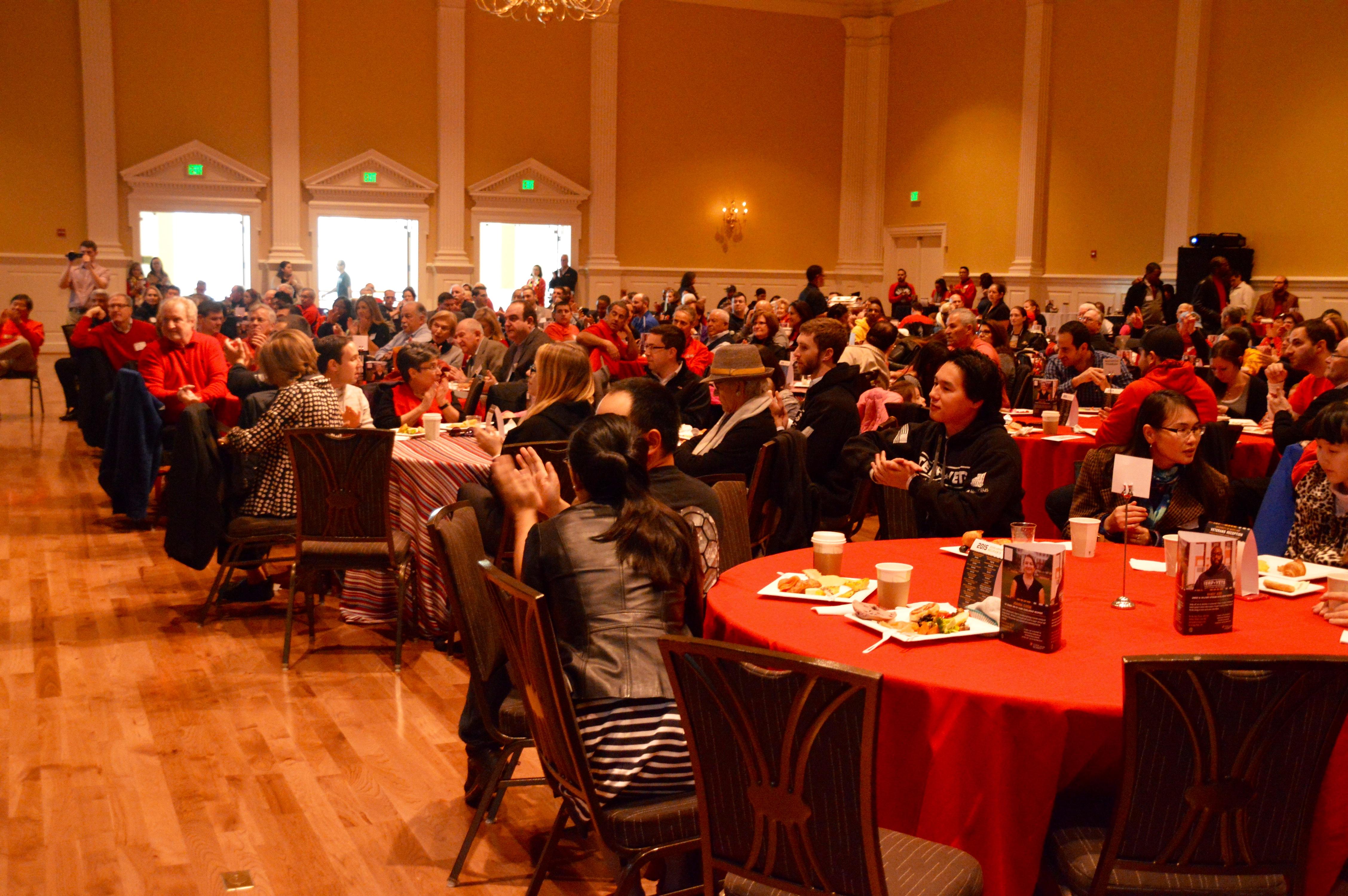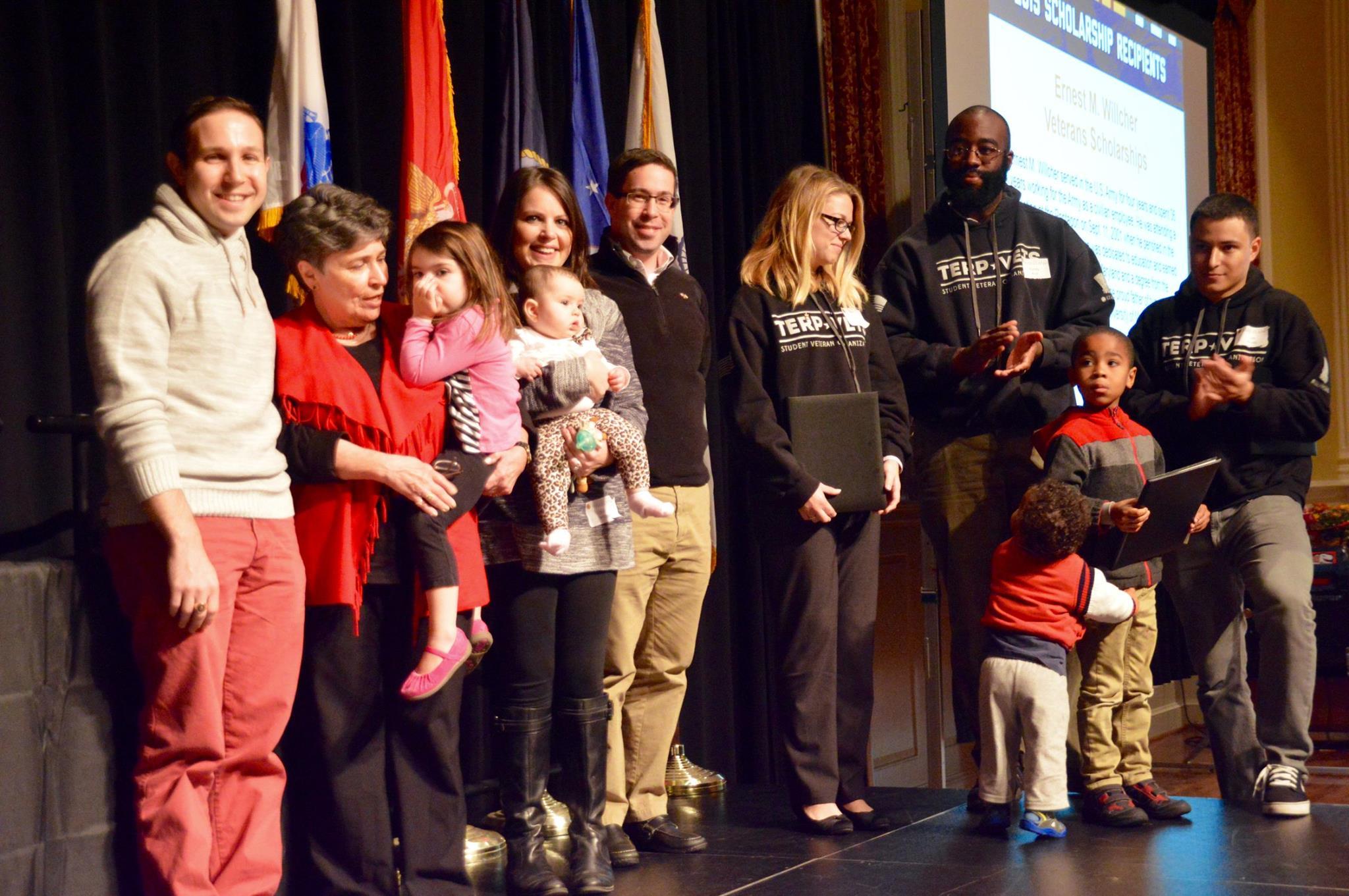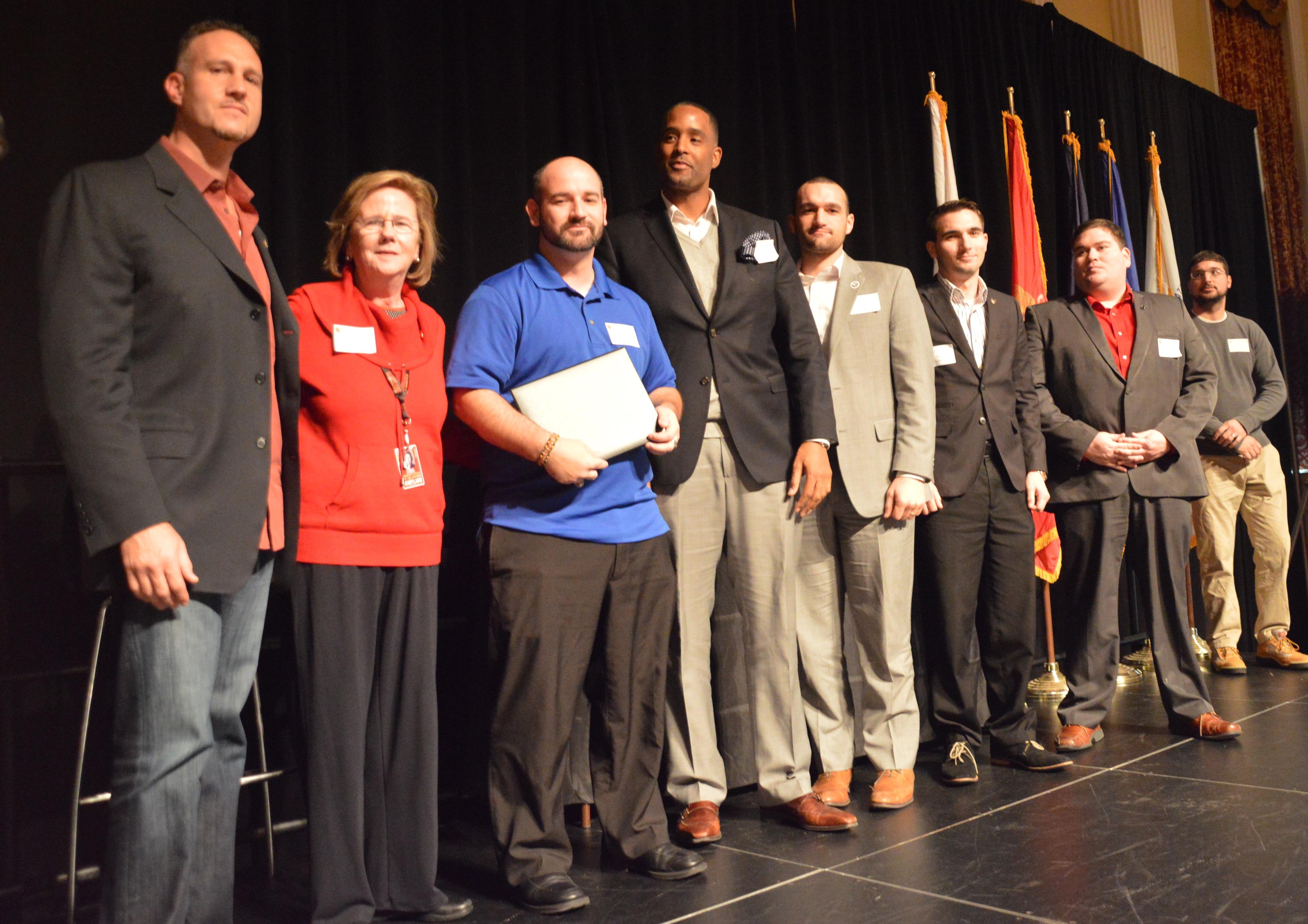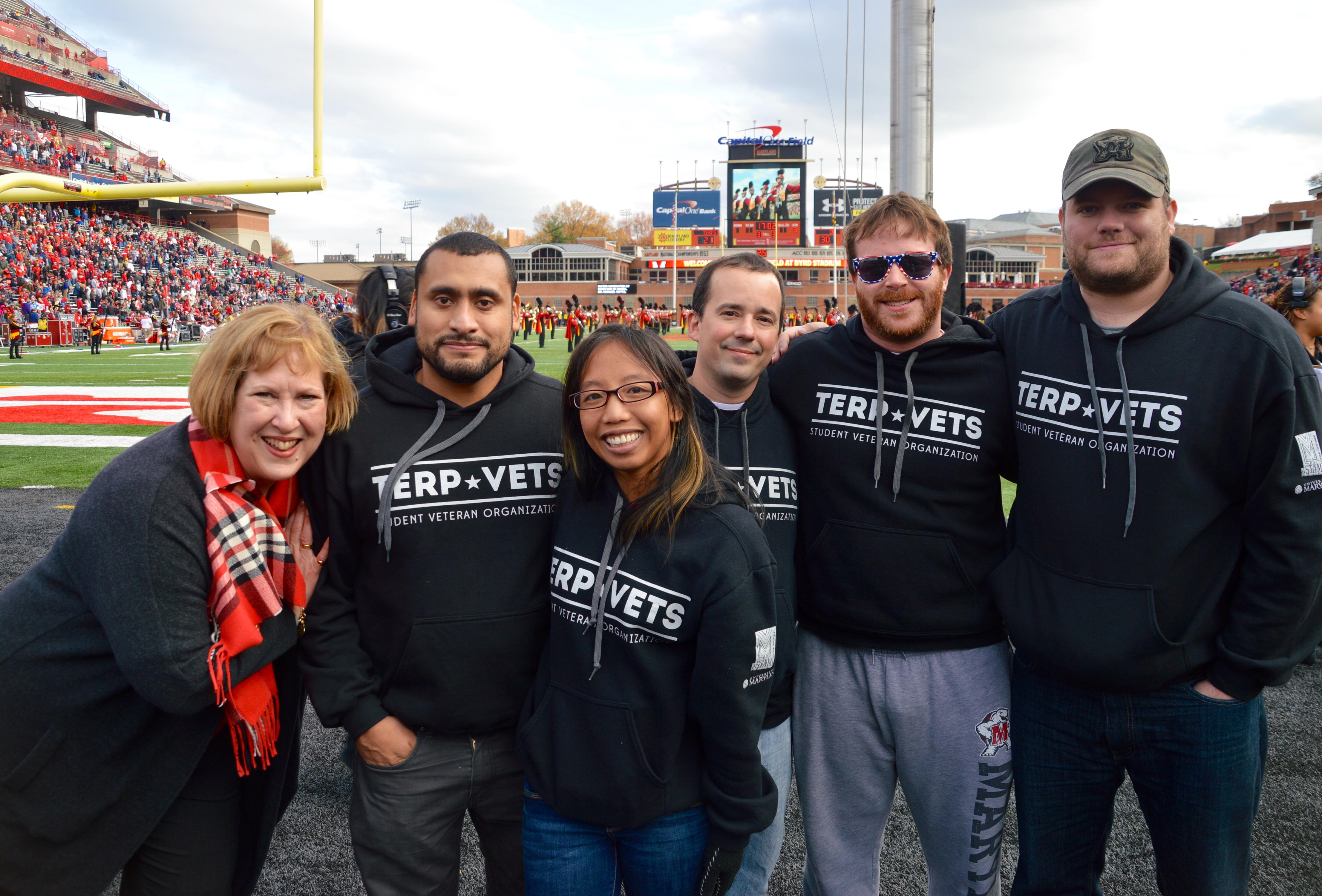 2014 Veterans Reception and Football Game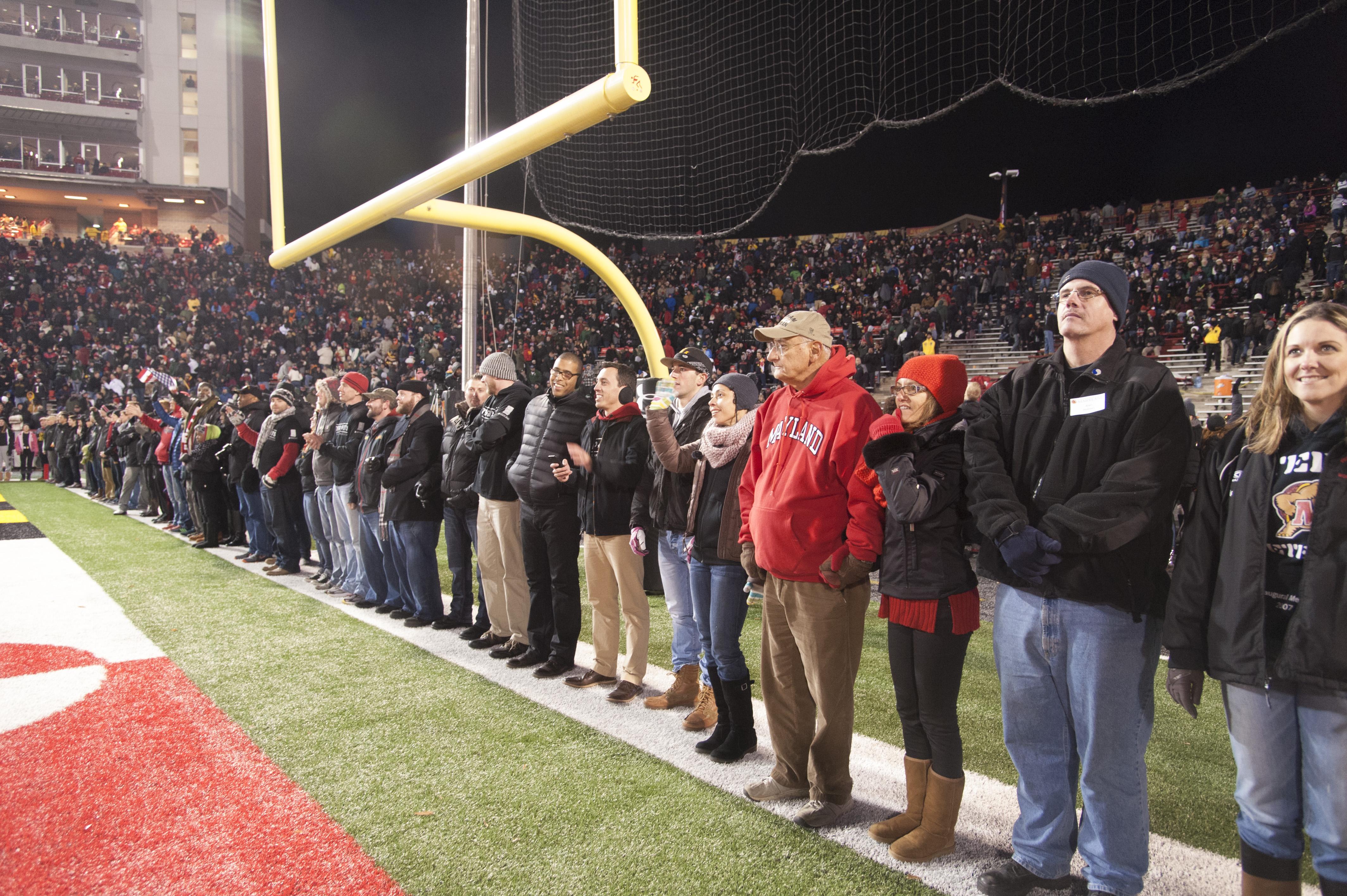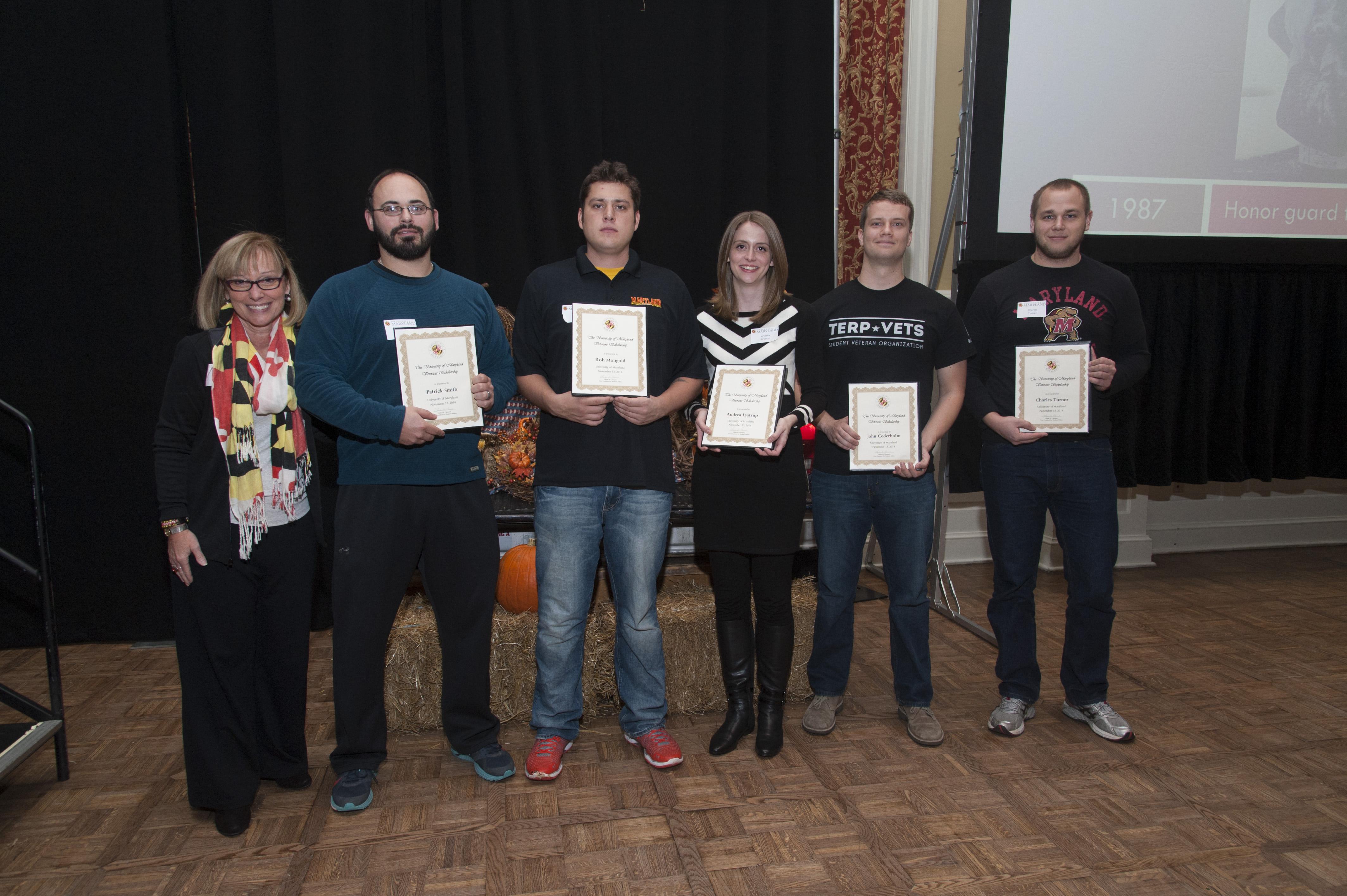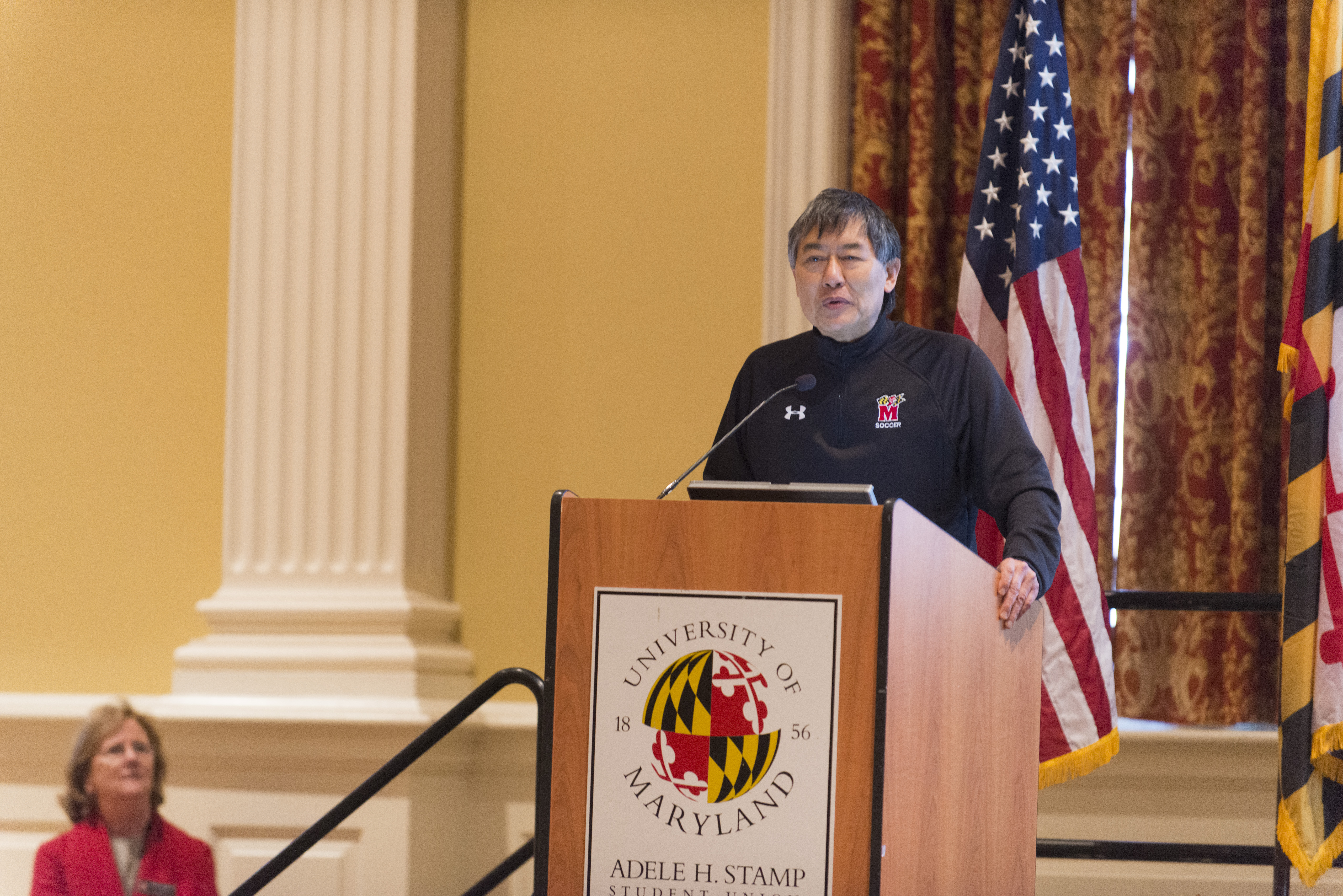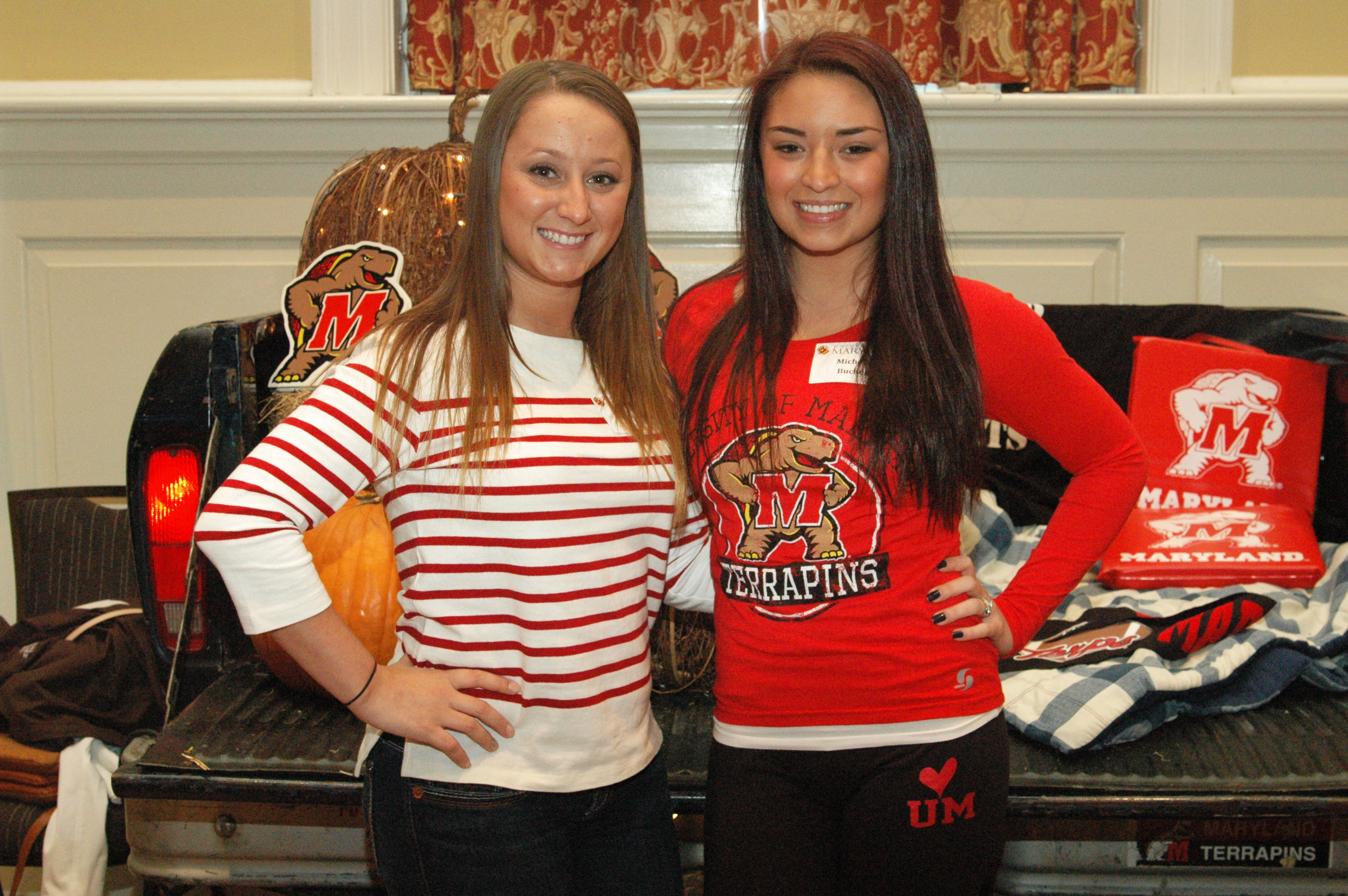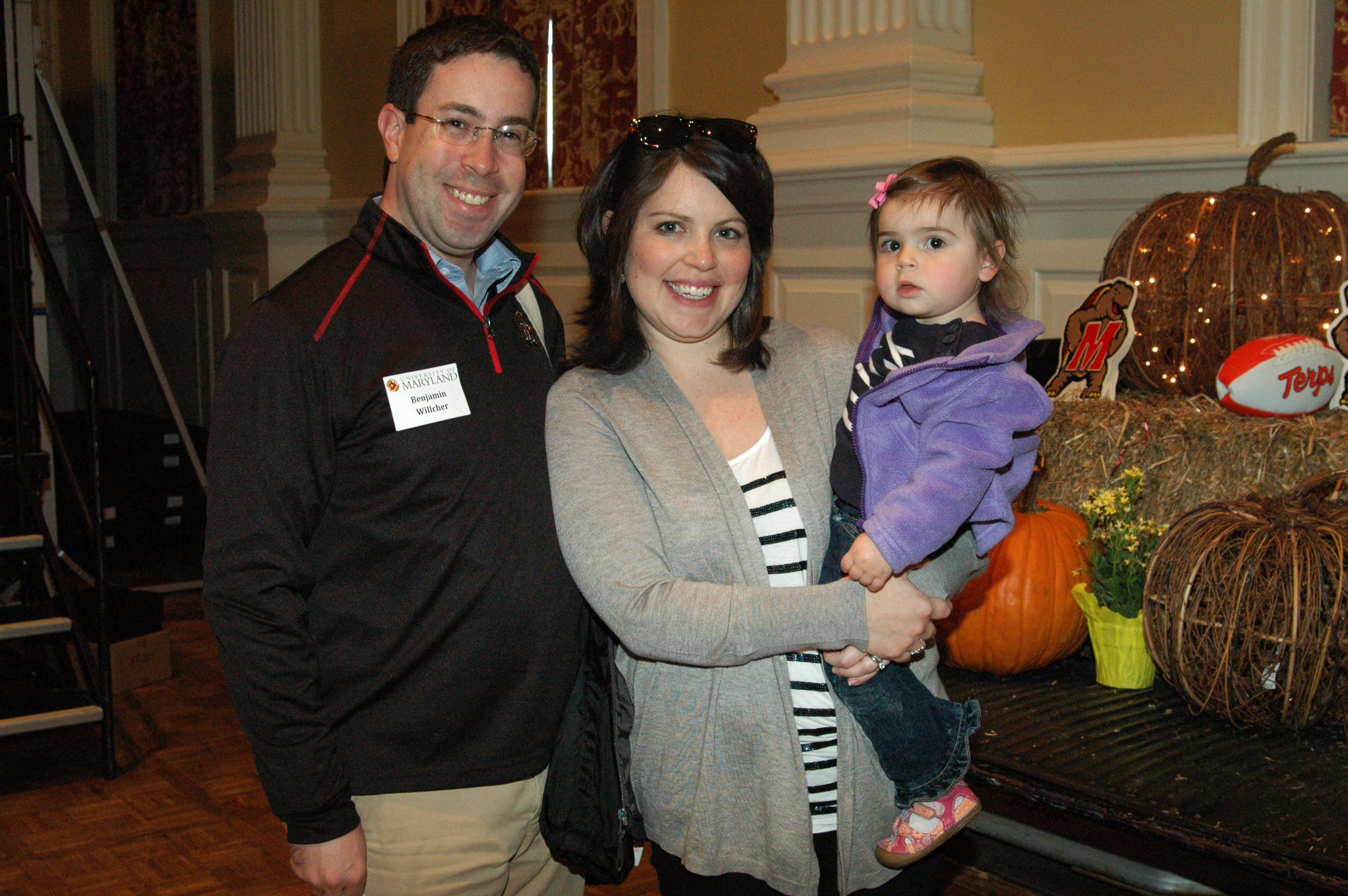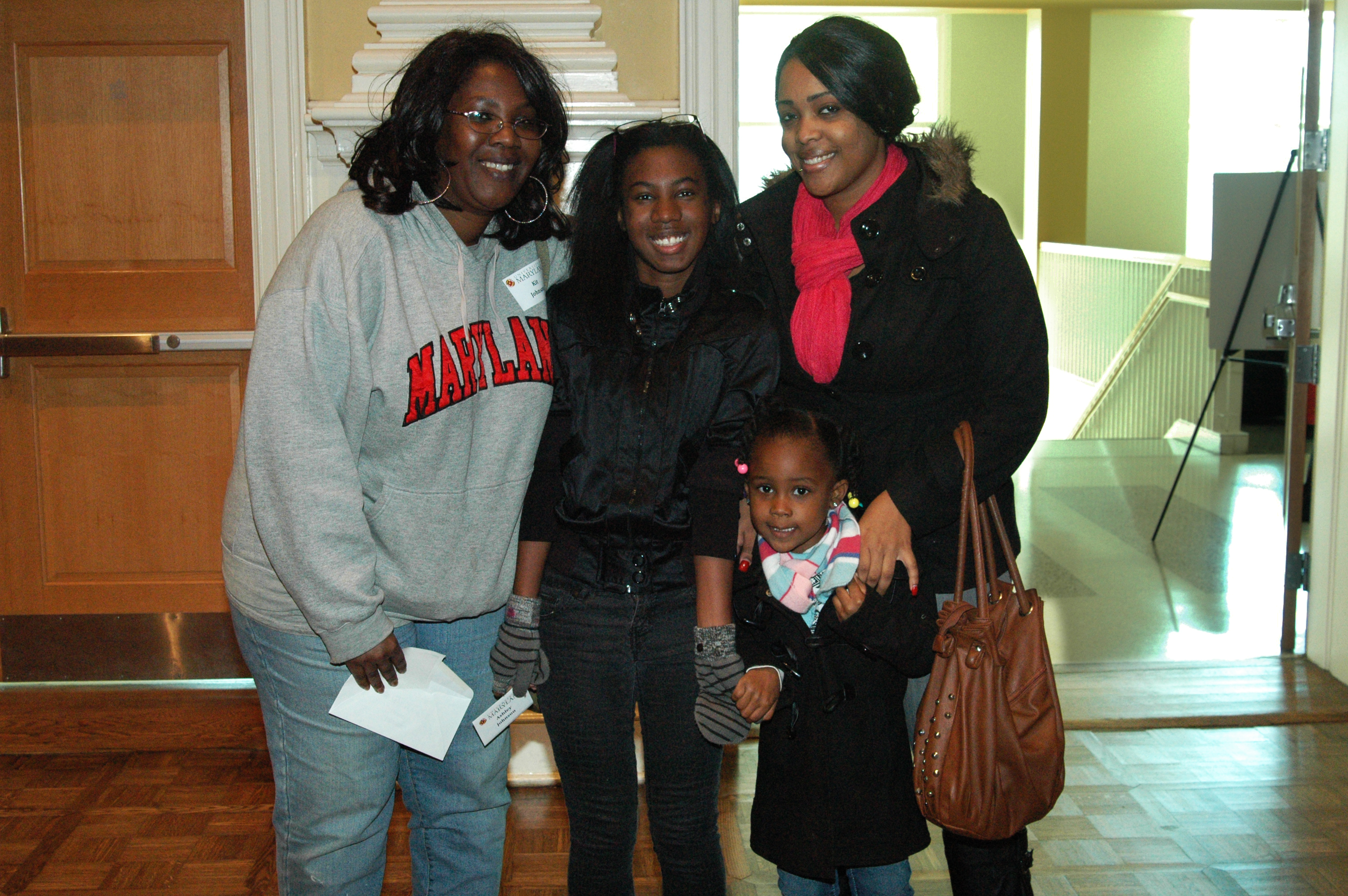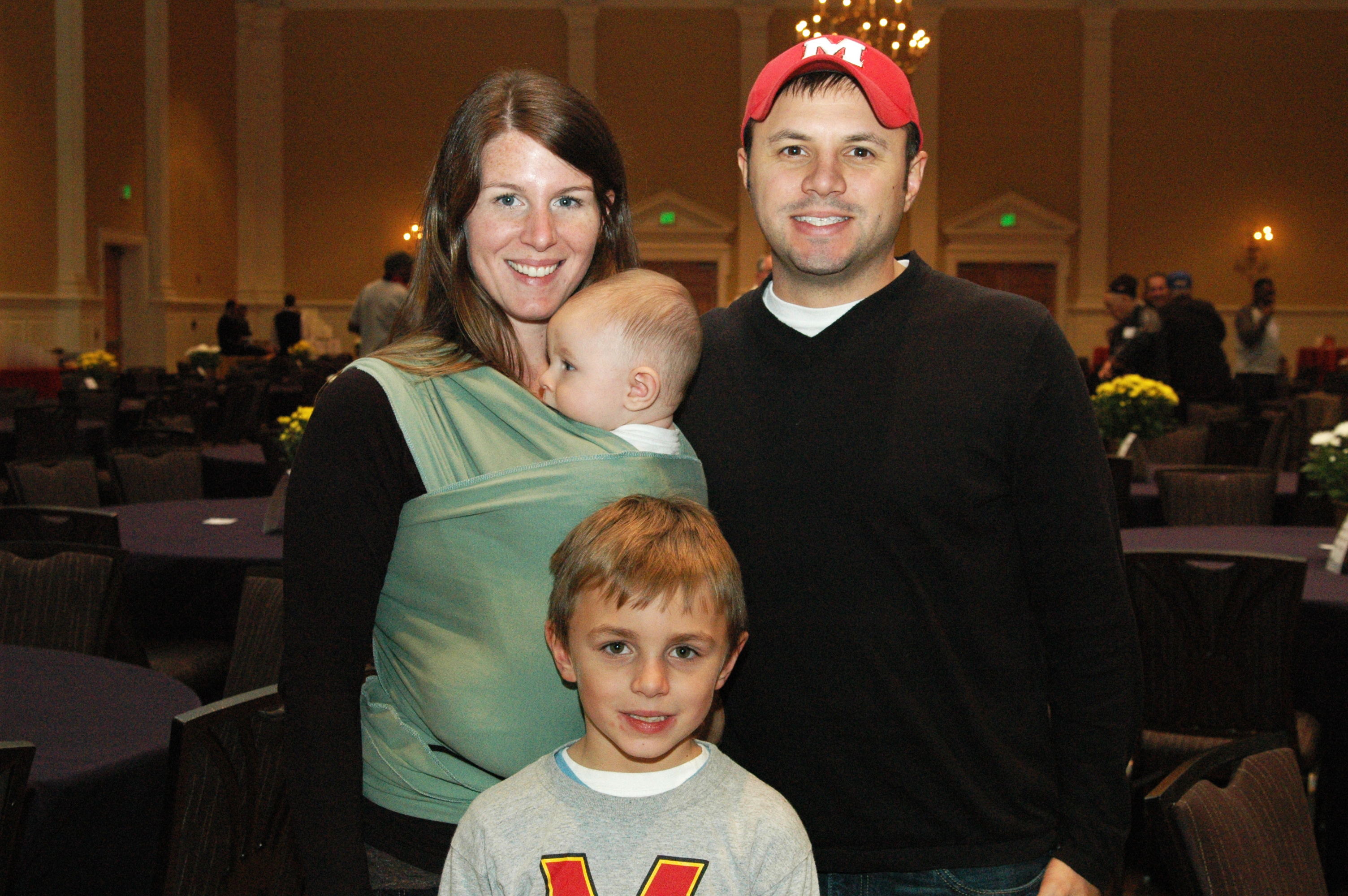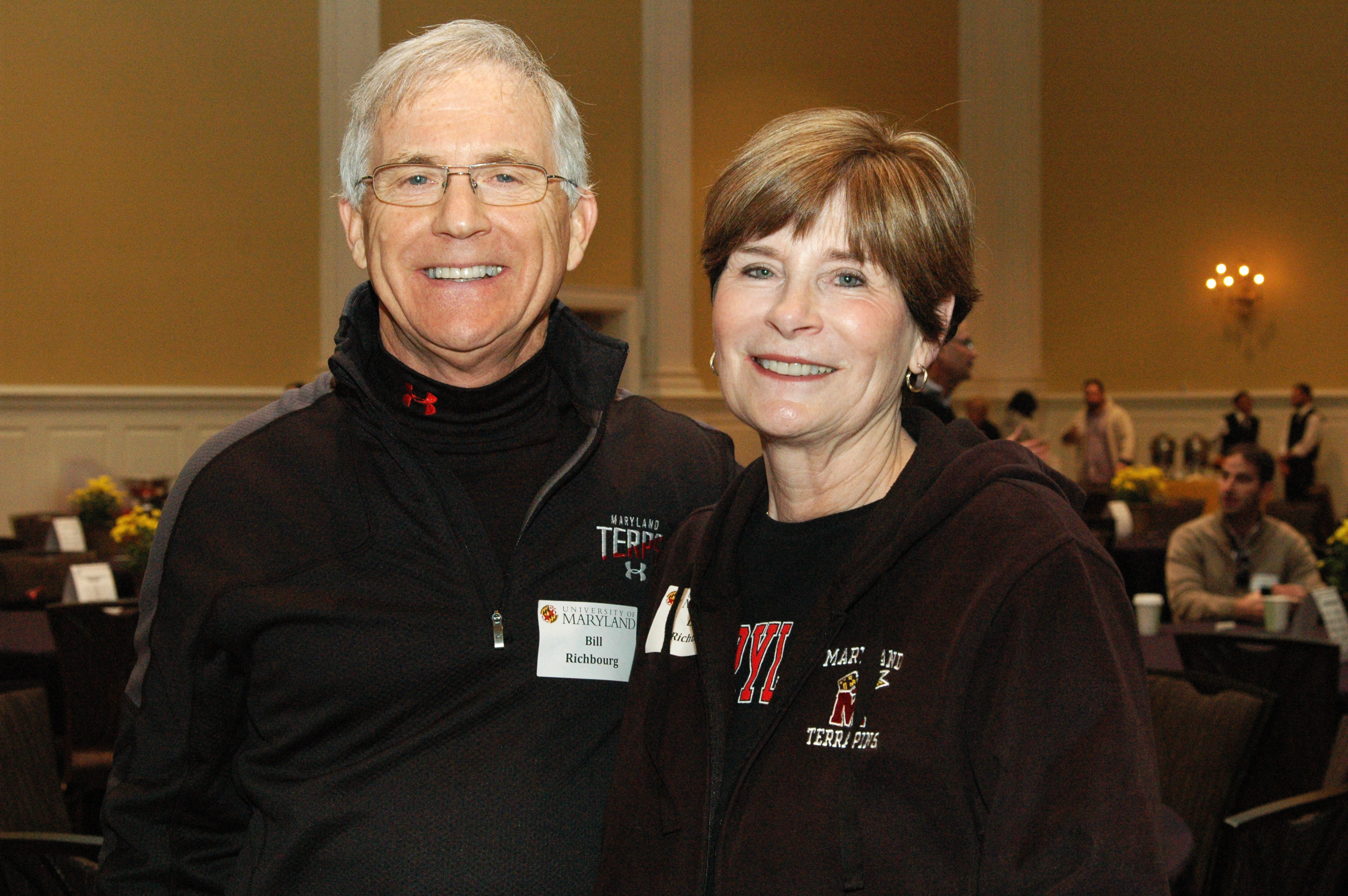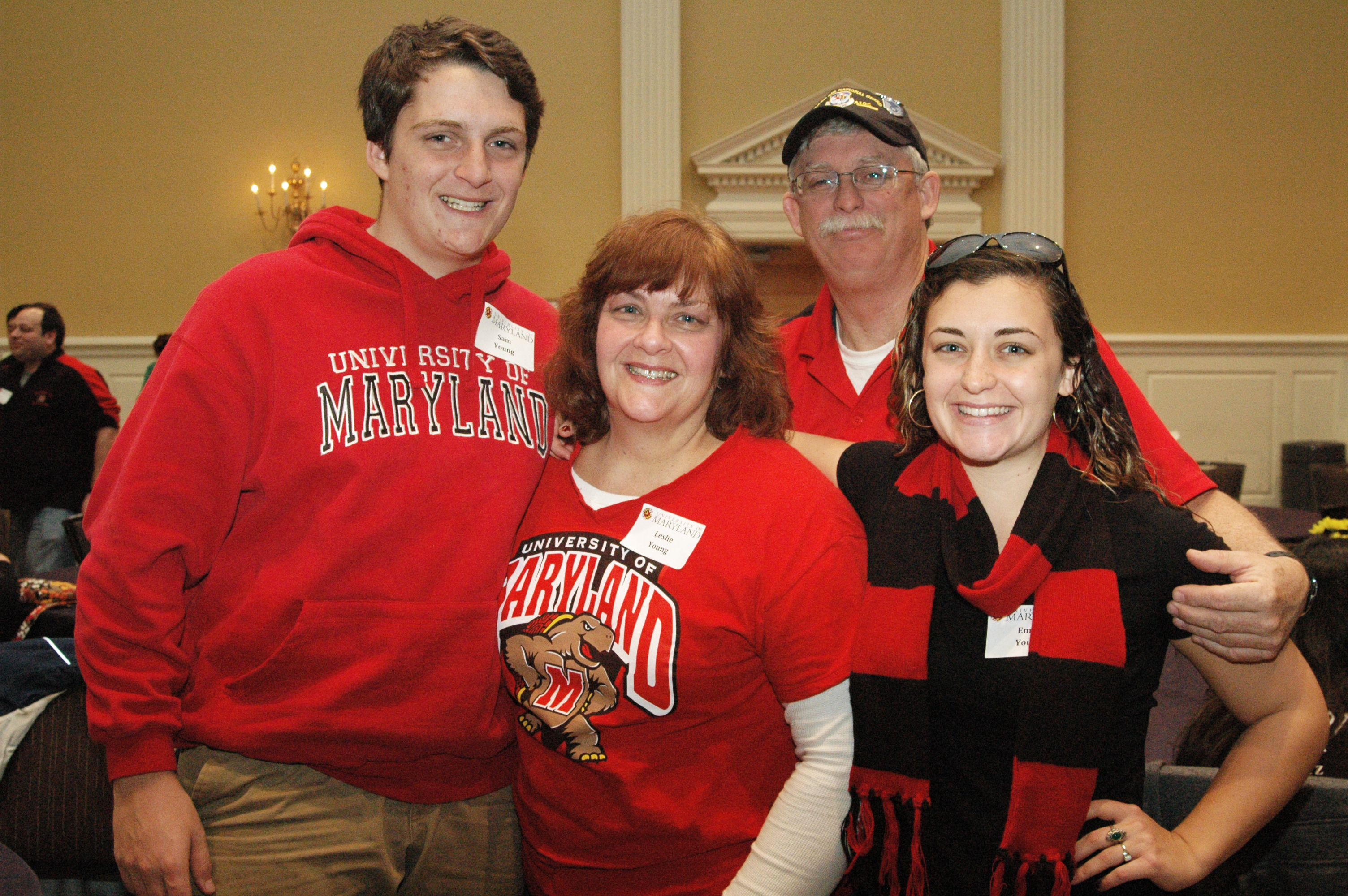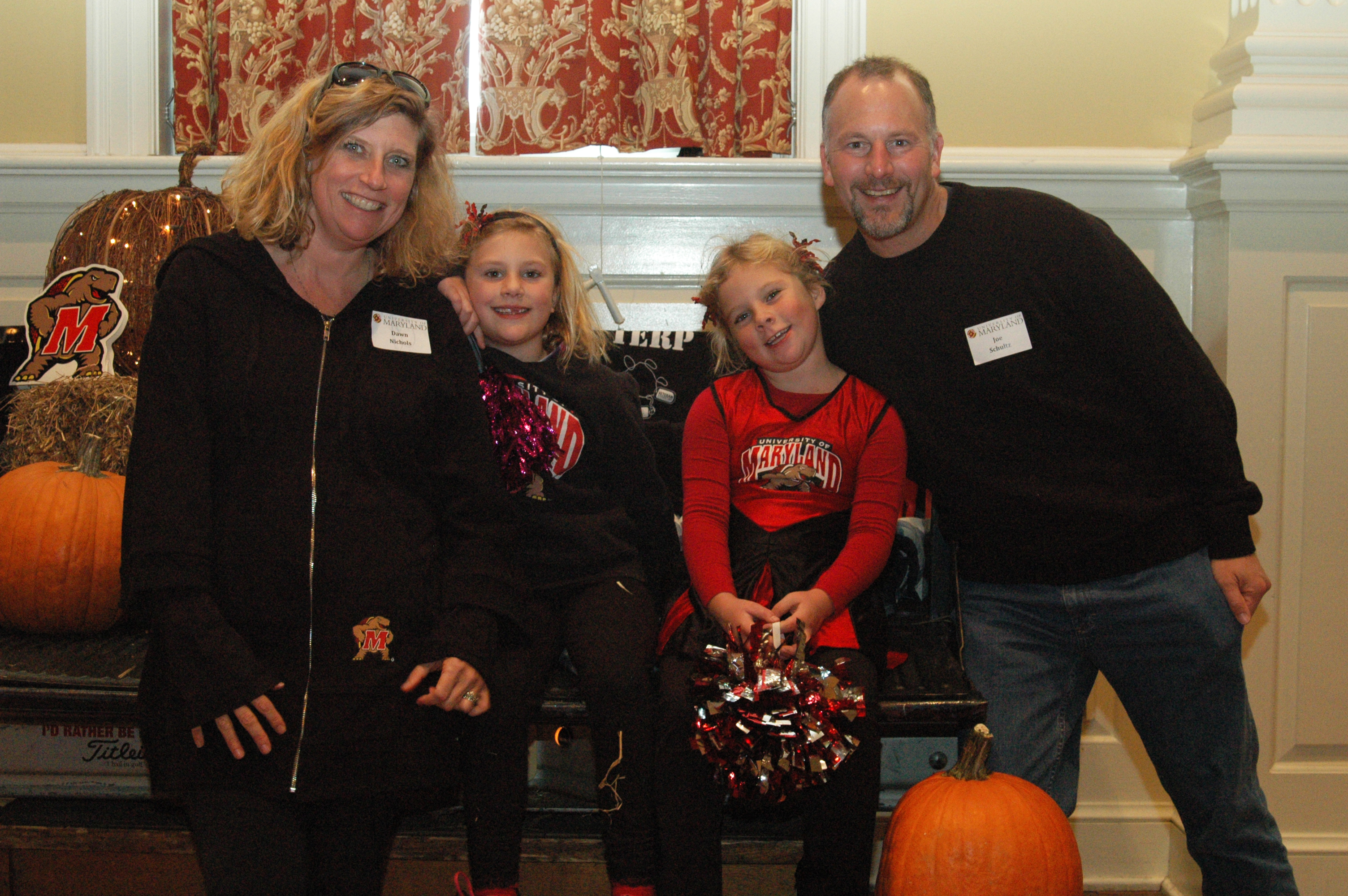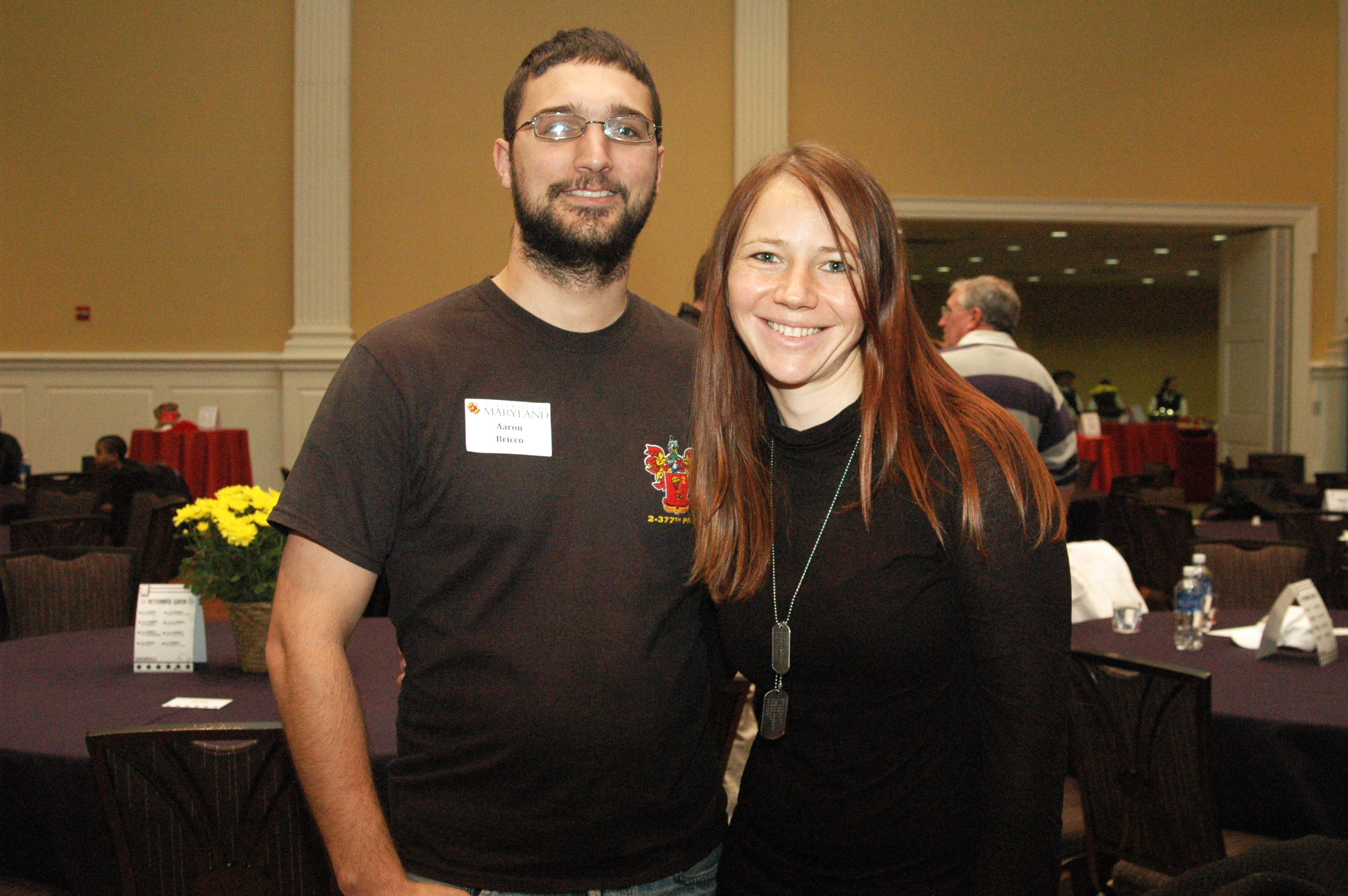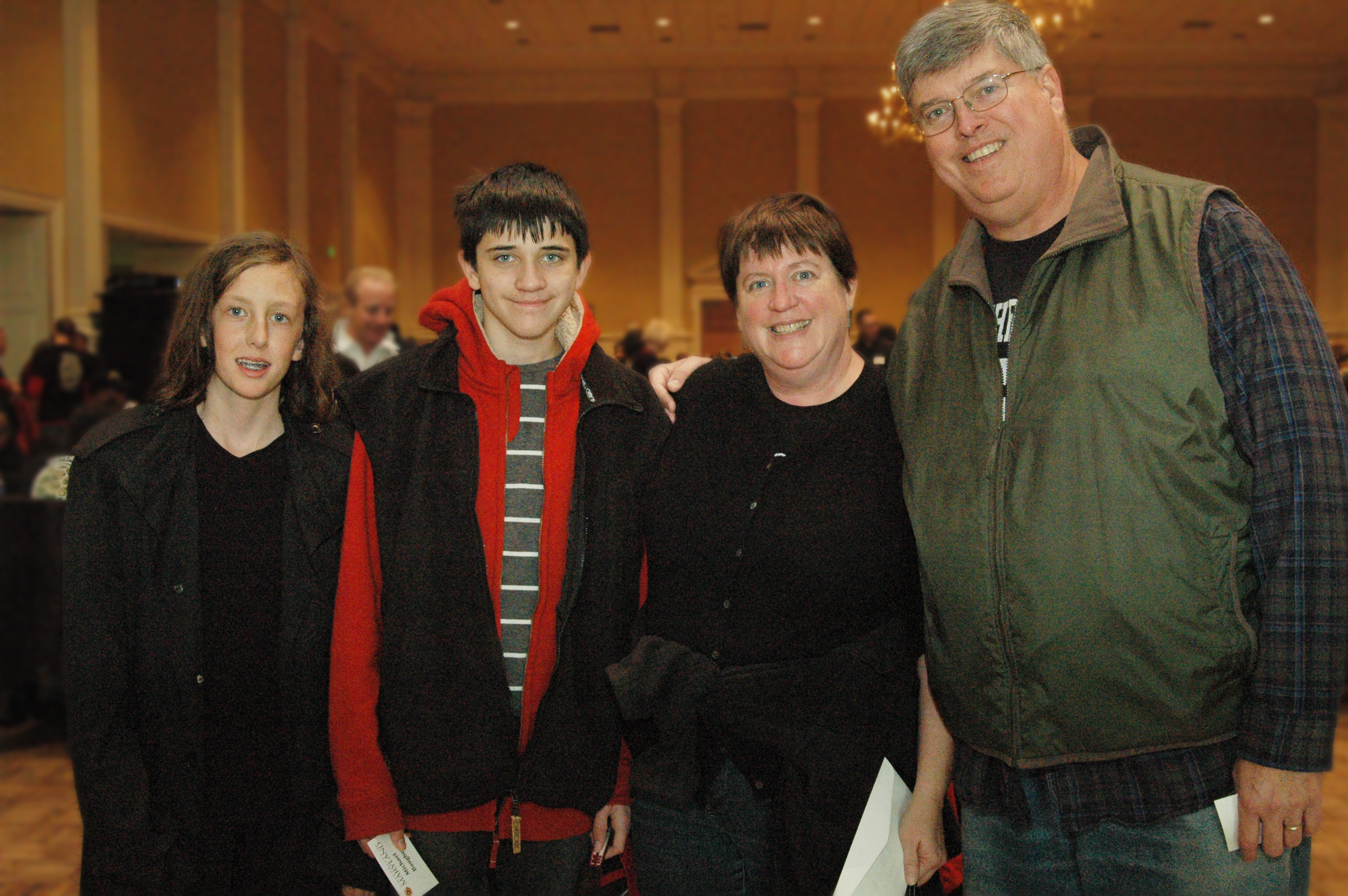 Alumni and friends of UMD reception attendees, 
Thank you for attending our 6th Annual Veterans Reception at the University of Maryland. The reception provided a wonderful opportunity to celebrate our progress but more importantly, to show our gratitude to the men and women in our UMD family who have sacrificed so much.
We are especially grateful for the ongoing support of our alumni and friends that has helped to launch our Veterans Initiative. This year alone, we provided $70,000 in scholarships to 21 deserving members of the UMD veteran student community.
Thank you so much for all you have done for the veteran community at the University of Maryland. I am glad that you were able to join us and hope you enjoyed the reception!
Veterans Day of Service