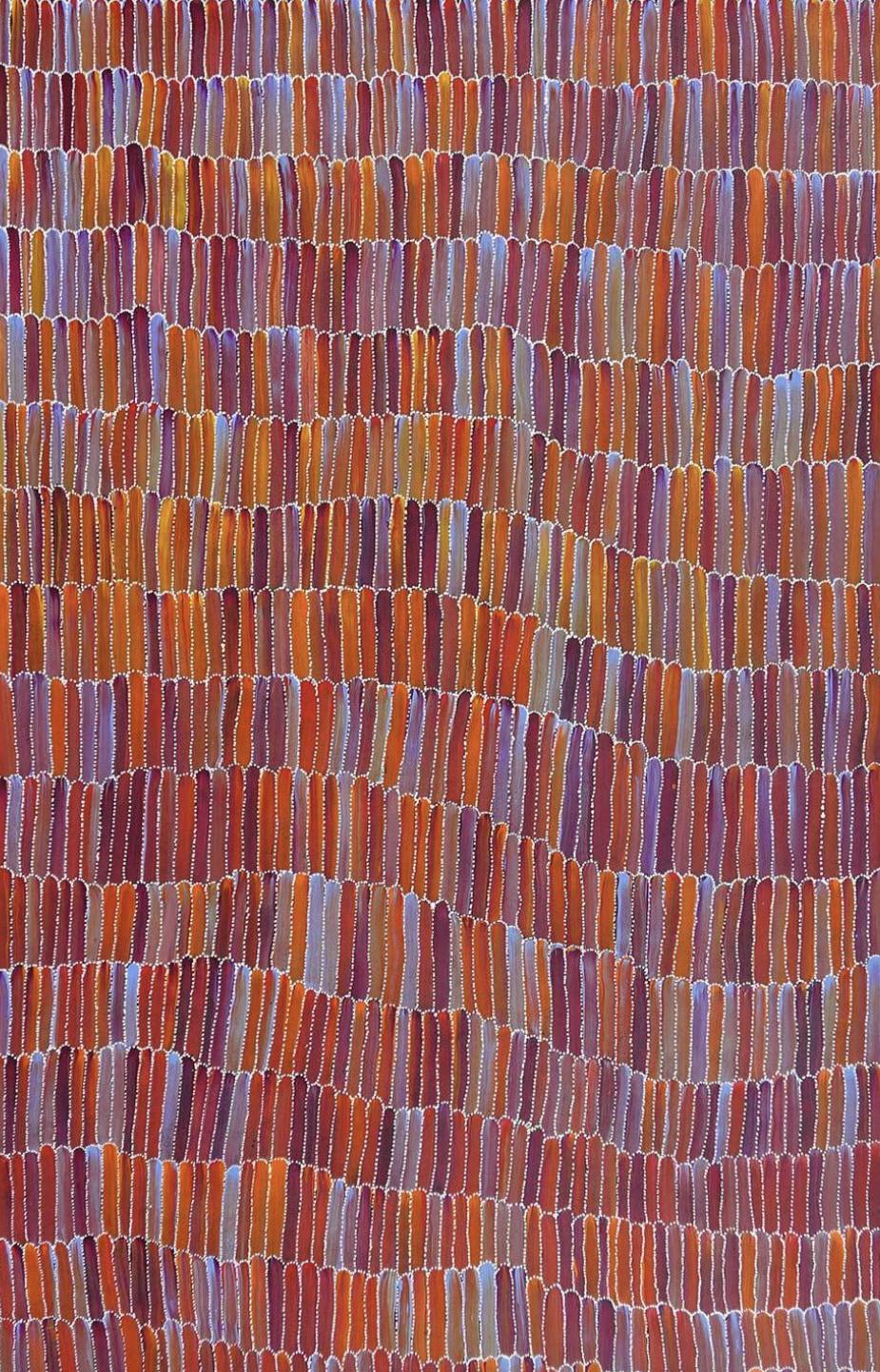 Yams, Tomatoes, Potatoes, and Plums
Featuring Works by Esther Bruno Nangala, Naata Nungurrayi, Jeannie Mills Pwerle, Lorna Ward Napanangka, Ningura Napurulla, Angelina Pwerle, Josepha Petrick Kemarre, Kathleen Ngala, Polly Ngale, Lorna Fencer Napurulla, Bessie Petyarre, Judy Watson Napangardi, Faith Butler, Stella Multkatana, Yinarupa Nangala, Tarisse King, and Tilau Nangala
Opening Reception 
Thursday, October 28, 2021, 5:00PM – 7:00PM 
Free and Open to the Public
College Park, MD. This fall, the Stamp Gallery at the University of Maryland, College Park, presents Yams, Tomatoes, Potatoes, and Plums, an exhibition celebrating the bush tucker of First Nations Australia in paintings created by contemporary Indigenous Australian artists. On view October 25 through December 2021,  The works in this exhibition feature imagery of Central Australian bush tucker. The term bush tucker refers to tucker (food) from the bush (bush referring to land – nature – the outback). Plant and insect foods are described in highly figurative and mystically abstract bush tucker paintings.
ABOUT THE GALLERY
Located on the first floor of the Adele H. Stamp Student Union—Center for Campus Life at the University of Maryland, College Park, the Stamp Gallery is dedicated to exhibiting contemporary art, especially the work of emerging and mid-career artists. The Stamp Gallery supports contemporary art that is challenging, academically engaging, and attuned to broad community and social issues. Through meaningful exhibitions and programming, the Gallery offers outside-of-the-classroom experiential learning opportunities. It functions as a laboratory where emerging artists and curators experiment and work through their ideas. The Gallery's programming aims to emphasize the importance of process to contemporary artistic practice and to provide a forum for dialogue.
FREE and open to the public. Fall Hours: Mondays–Thursdays: 10 am – 8 pm, Fridays: 10 am – 5 pm, Saturdays: 11 am – 5 pm, Sundays: Closed. 
This exhibition is supported by the Department of Plant Sciences and Landscape Architecture, and One Health Arts and Sciences (https://onehealthgalleries.org), and the Maryland State Arts Council (msac.org)