Senior Shirts
Class of 2022 Senior Shirts
If you ordered a Class of 2022 shirt or/and a Bar Crawl Shirt (scheduled for April 30, 2022), they will be available for pickup in the Student Involvement Suite on April 28th and April 29th!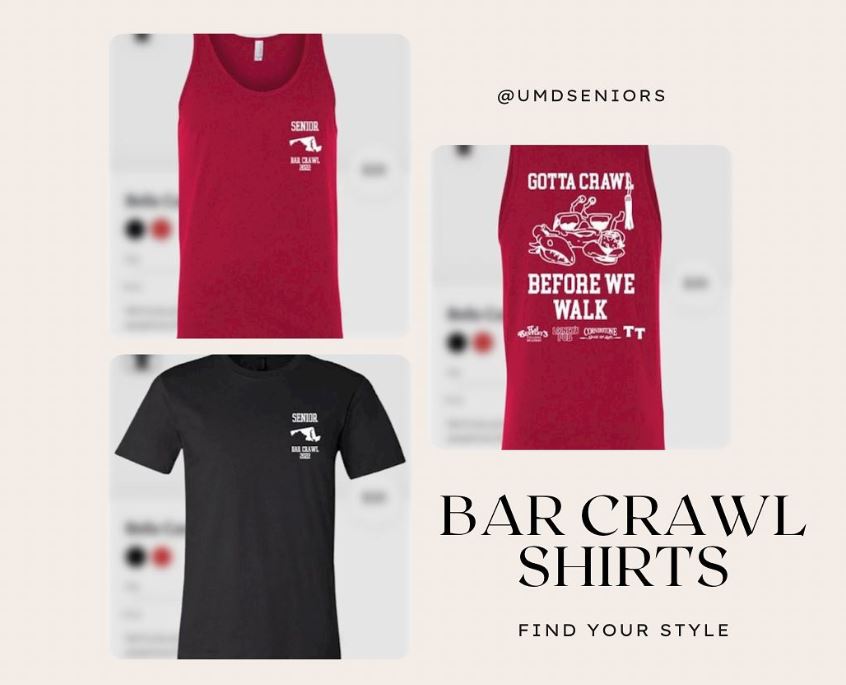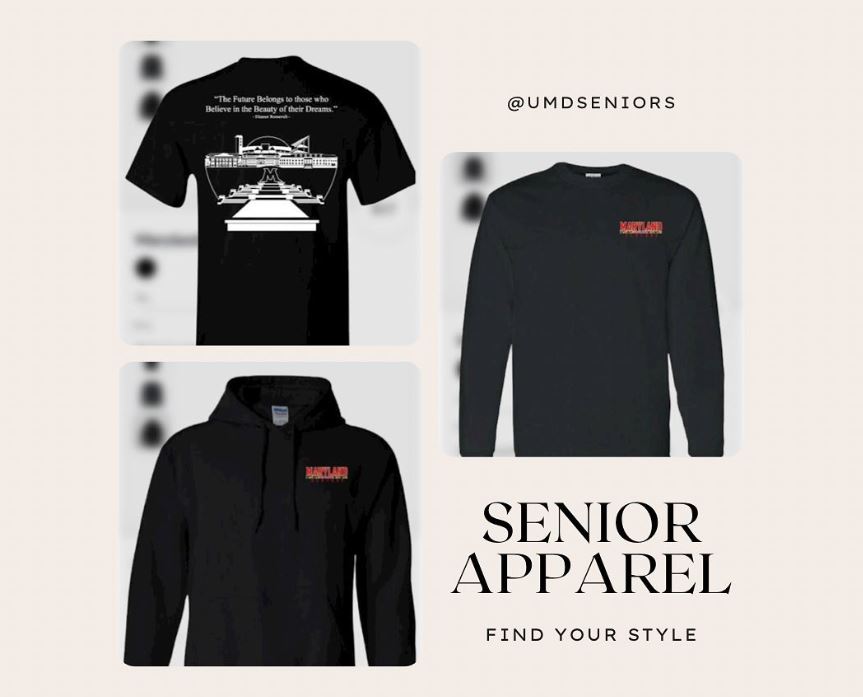 Senior Spotlights from previous years!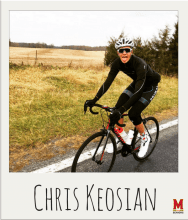 This week we have Chris Keosian! Chris is a Government and Politics major hailing from the Eastern Shore. Currently, he interns under California Representative Eric Swalwell in the U.S. House of Representatives. He hopes to work in the realm of government after graduation.

At Maryland, he's been very active in both the Student Government Association and the Cycling Team. As member of SGA he served as the Director of City Affairs for 2 terms, and helped to build a relationship between the residents of College Park and students at Maryland. He also served as the president of the UMD Cycling team and helped to design their new kit! 

Outside of Maryland he interned at the Rails-To Trails Conservancy; an organization that aims to better the walkability and bike-ability of neighborhoods.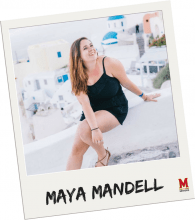 Today we're featuring Maya Mandell! Maya is a Communications and Film Studies double major from Connecticut! She has a passion for film production and hopes to be a producer someday.

During her time at the University of Maryland, she's served as the secretary for club softball and has been a member of Sigma Kappa sorority, Maryland Filmmakers, Oxfam, and volunteered for the Nationals Baseball Youth Academy.

She's also a digital media ~guru~. Currently, she works as a content curator for the University Career Center PR and Marketing team. She's also interned for both 4th Row Films and JohnHighBrow Limited.

Fun fact: Her favorite Snapchat Story is the National Geographic's!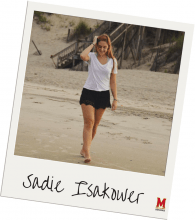 Our next Senior Spotlight is Sadie Isakower! Sadie is a Mechanical Engineering major from Bethesda, Maryland who will start working for the United States Navy after graduation!
As a Terrapin, she's served 2 terms as the Panhellenic Association's Vice President of Risk Management and spent her last term organizing the IFC/PHA Tailgate. She's worked closely with the city of College Park to get the tailgate to where it is today! She's also spent her terms restructuring the policies within Greek life to make it a safer place.
Along with her amazing accomplishments, she's been featured in the Diamondback and Unwind Magazine discussing matters dealing with Greek life and being a female engineer.
Good job, Sadie!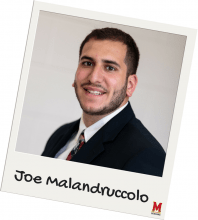 This week's Senior Spotlight: Joe Malandruccolo! Other than being very Italian, Joe is also a Broadcast Journalism major in the Phillip Merrill College of Journalism and a member of Sigma Alpha Epsilon. During his time at Maryland he's worked with D.C. United as a Digital Media Intern and he's reported for the Capital News Service. He's also written for the Left Bench and is a play-by-play broadcaster for WMUC Sports. If you want to hear more of his soothing New York accent you can tune into his radio show on WMUC Radio too!

Fun Fact: Even though he's a sports aficionado he's kind of clumsy. The mark in the middle of his head is from slamming it against a car door.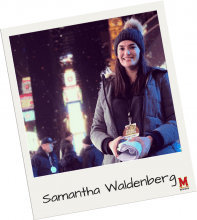 Next up: Samantha Waldenberg! Samantha is a Broadcast Journalism major and public leadership minor from Livingston, New Jersey! She has a passion for politics and sports, and is the former President and Treasurer of the University of Maryland Society of Professional Journalists and the former Vice President of Public Relations for the Panhellenic Association. Samantha's also had a slew of amazing internships while at Maryland including NBC Washington, Monumental Sports and Entertainment, the Redskins, the Democratic National Convention, and CNN (is there a limit on amazing internships? Because we didn't even list all of hers). 

This semester, Samantha was inducted into Omicron Delta Kappa and she's also a member of Order of Omega, an organization that recognizes the leadership and academics of the top 3% of Greek Life, the Primannum Honor Society, and the National Society of Collegiate Scholars. 

In her free time she enjoys gifs, BuzzFeed quizzes, and memorizing Hilary Clinton quotes.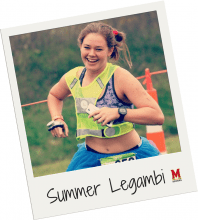 This week we're featuring Summer Legambi! Lovingly called Sum Bum and Somar by her friends, Summer is a Civil Engineering major who just accepted a consulting position at Deloitte! During her time at Maryland she's served as a TA for ENES100. She is also a member of the American Society of Civil Engineers and the honor societies, Order of Omega, Chi Epsilon, and Omicron Delta Kappa (catch her name on the fountain). 

She's not just smart, she's also super sporty! She's the former President of the Triathlon team and during her term, she started the service initiative Strive2Tri, won the only individual award for club sports, "Spirit of the Sports Club", and the team award "Sports Club of the Year". You can also take her spin class at the Regents Cycling Studio! Fun fact she's also run a Ragnar Ultra (that's 36 miles in 24 hours people). 

In the future, she wants to run an Iron Man and get her Masters after working in the field.

You're truly an inspiration, Summer! We just know that you'll do so many amazing things after college and potentially change the world!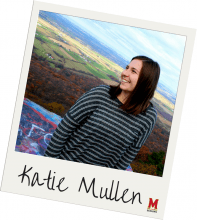 Our first Senior Spotlight is Katie Mullen! Katie is a Biological Sciences major with a focus in Ecology and Evolution and is working towards a minor in Sustainability. During her 4 years at Maryland, she was a CMNS mentor, a TA for ANSC255, a Smithsonian Zoo Reptile Discovery Center Interpreter, and a member of Beta Psi Omega Professional Biology Fraternity where she served as Secretary! People who run into Katie know her as a supportive friend who spends her time helping others. She serves as an inspiration for her friends and the students that she TAs for her UNIV100 class, and hopes to continue encouraging and teaching more students in the future. 
We're proud of all that you've done Katie!