Nyumburu Amphitheater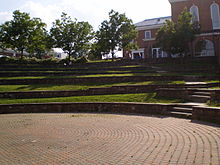 The Nyumburu Cultural Center is dedicated to advancing and augmenting the academic and the multi-cultural missions of the university by presenting a forum for the scholarly exchange and artistic engagement of African Diaspora culture and history.
The Amphitheater located just outside of the Cultural Center is an open space available for reservation for an array of events from cultural shows, rallies, and many more!
The Nyumburu Amphitheater is available for reservation for organizations affiliated with the University of Maryland College Park.