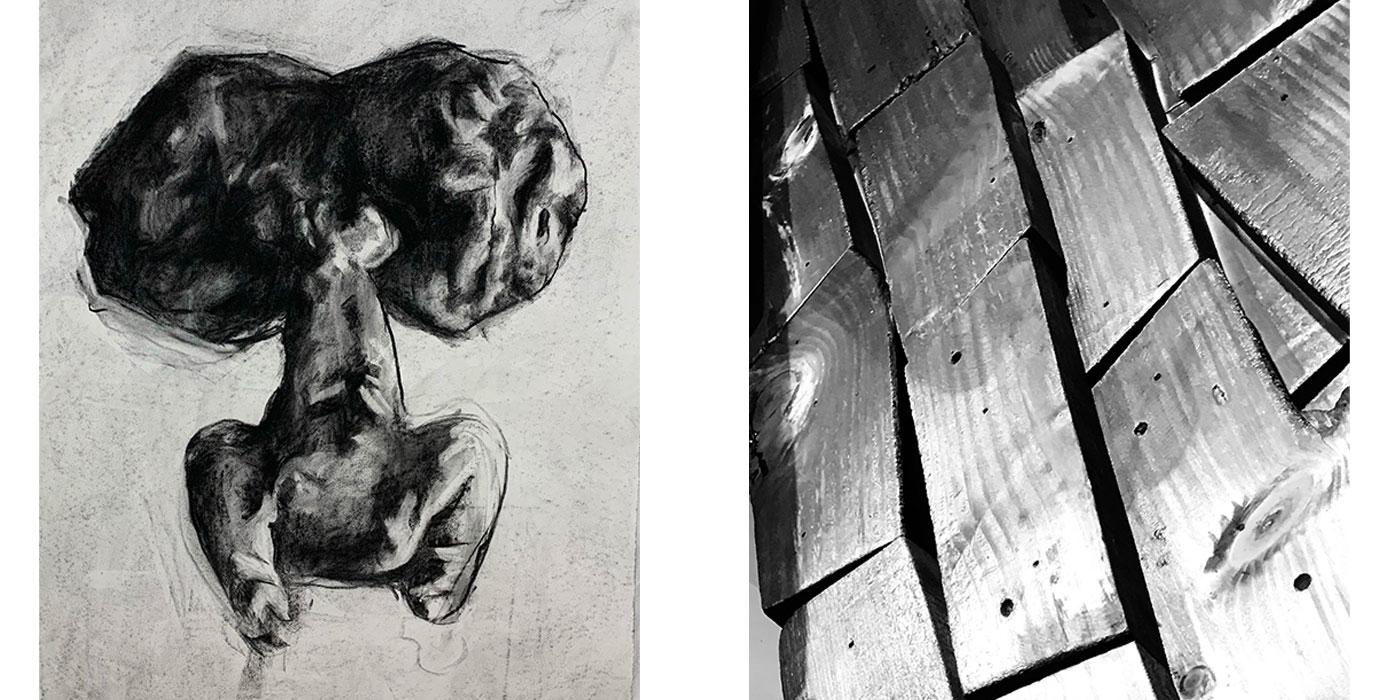 THE STAMP GALLERY PRESENTS 
LIMBSHIFT
April 20 - May 19, 2023
Opening reception Thursday, April 20, 5:30-7:30pm
Artist Talk:  Wednesday, April 26, 6:30pm
Free and open to the public
Workshop: Imagining Fictitious [non] futures: AI and Us
with Dan Ortiz Leizman
Friday, April 28, 7:30pm
LIMBSHIFT presents the work of second year MFA students Dan Ortiz Leizman and Kenneth Hilker, who explore the boundaries of the body and its relationship to the world. Through their distinctive approaches, Hilker and Ortiz Leizman offer new ways of thinking about human experience and its potentialities. 
Dan Ortiz Leizman's work probes the limits of the body and its capacity for transformation. Their research into the intersections of the body, time, and queer worldbuilding strategies leads them to question the boundaries of identity and the possibilities of fictitious [non] futures. In this exhibition, Ortiz Leizman presents a series of works that imagine a future in which asexual reproduction in humans has become a reality in the aftermath of nuclear catastrophe. Through a combination of writing, drawing, sound, and AI generated "histories from the future," they invite the viewer to consider what it means to be human when the traditional  modes of social navigation are no longer viable. More about Ortiz Leizman's work is on their website and instagram.
Kenneth Hilker's sculptures explore the sensitivities of the body and memory through material engagement. His paintings and woodwork are intimate and sensual, inviting the viewer to contemplate the physicality of human experience. Through the use of materials such as wood and metal, Hilker evokes the textures of the body and the emotions associated with memory and human relationship. His work embodies a sense of vulnerability and tenderness, inviting the viewer to connect with their own bodily experiences and emotions. More about Hilker's work is on his Instagram.
Through their respective mediums, Hilker and Ortiz Leizman offer different perspectives on the potentialities and limitations of human experience, inviting us to contemplate what it means to be embodied beings in a changing world. LIMBSHIFT challenges the viewer to rethink the boundaries of the body and its relationship to the world. 
This exhibition and associated programming is supported in part by the Maryland State Arts Council (msac.org)
ABOUT THE GALLERY
Located on the first floor of the Adele H. Stamp Student Union—Center for Campus Life at the University of Maryland, College Park, the Stamp Gallery is dedicated to exhibiting contemporary art, especially the work of emerging and mid-career artists. The Stamp Gallery supports contemporary art that is challenging, academically engaging, and attuned to broad community and social issues. Through meaningful exhibitions and programming, the Gallery offers outside-of-the-classroom experiential learning opportunities. It functions as a laboratory where emerging artists and curators experiment and work through their ideas. The Gallery's programming aims to emphasize the importance of process to contemporary artistic practice and to provide a forum for dialogue.
FREE and open to the public. Mondays–Thursdays: 10 am – 8 pm, Fridays: 10 am – 5 pm, Saturdays: 11 am – 5 pm, Sundays: Closed.
More information: stamp.umd.edu/gallery