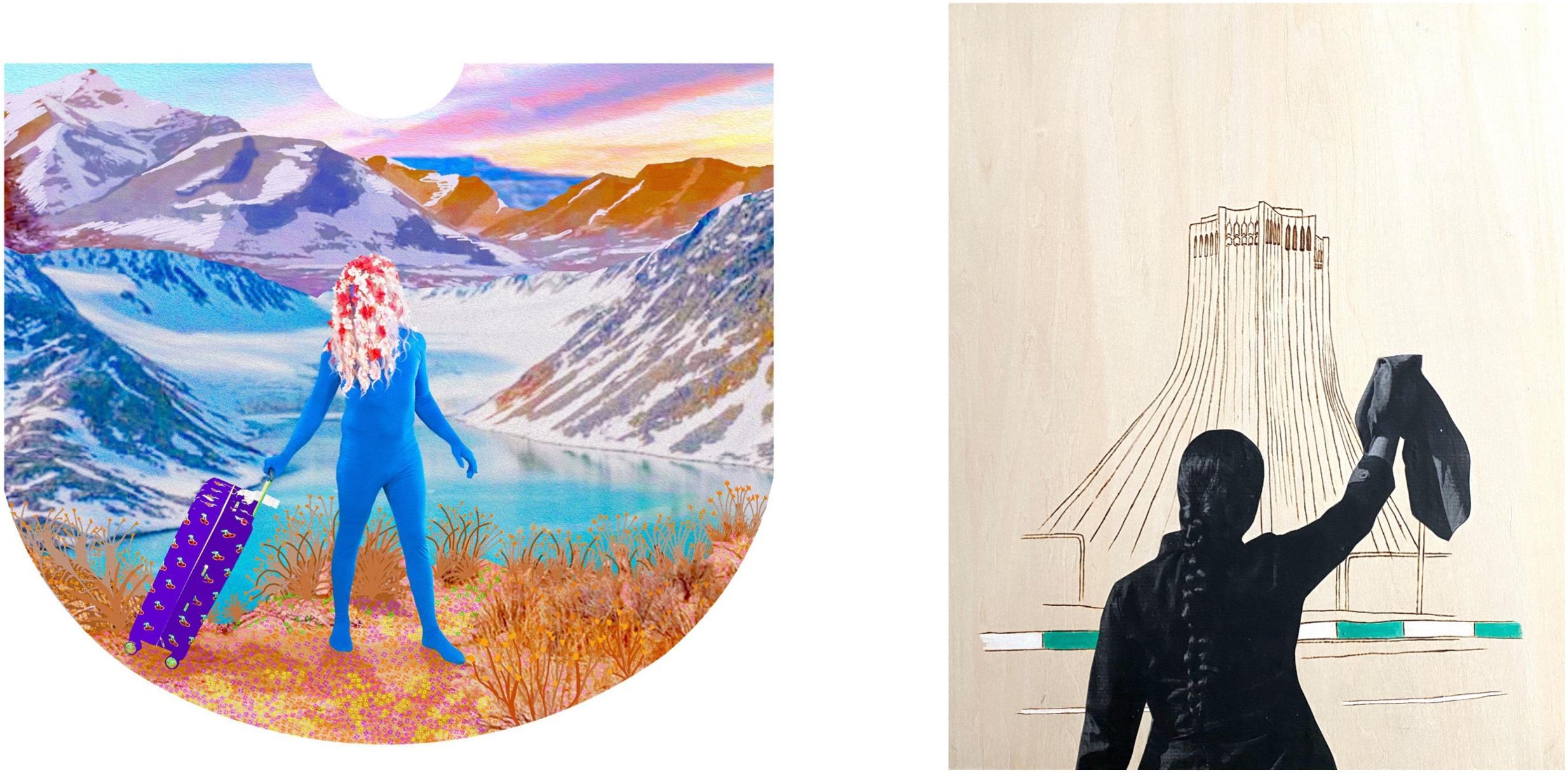 March 7, 2023
7pm via Zoom
Free and open to the public
The Stamp Gallery is pleased to announce a virtual artist talk event with Hoesy Corona and Mojdeh Rezaeipour, who will discuss their works included the exhibition UNFOLD, now on view in the Gallery through April 1.
Bringing together the diverse practices of four DMV-area artists, UNFOLD engages with the significance and possibilities of garments beyond their practical and ornamental functions. The works of Hoesy Corona, Elliot Doughtie, HH Hiaasen, and Mojdeh Rezaeipour direct attention toward clothing's power to expose, conceal, assimilate, distinguish, comfort, alienate, protect, and transform. When "unfolded," clothing can be understood to mediate connections between public and private, human and non-human, self and other—in effect complicating these binaries. Through sculpture, textiles, drawing, mixed media, and more, UNFOLD positions clothing as a dynamic site of becoming, capable of organizing identities and setting them in motion. 
Hoesy Corona is a Queer Latinx artist working in installation, performance, and sculpture. His Climate Ponchos explore the complex relationships between humans and the environment by focusing on the changing climate and its impact on habitation and migration patterns. Corona has exhibited widely in galleries, museums, and public spaces in the United States and internationally, including Eric Dean Gallery at Wabash College (Crawfordsville, IN), The Walters Art Museum (Baltimore, MD), and The Hirshhorn Museum and Sculpture Garden (Washington, DC). He is currently a resident artist at the Creative Alliance in Baltimore, MD and a Winston Tabb Special Collections Research Center Public Humanities Fellow at the Johns Hopkins University's Sheridan Libraries.
Mojdeh Rezaeipour is an Iranian-born interdisciplinary artist based in Washington, DC who works primarily in mixed media, installation, and film. Her recent research and creative projects are excavations of material memory at the intersection of her own story and a collective diasporic story. She is a graduate of University of California Berkeley, where she studied architecture, and of Alt*Div, an alternative divinity school centering healing justice and art as spiritual practice. Rezaeipour has exhibited nationally and internationally in a wide range of venues from DIY project spaces in Berlin to museums such as The Phillips Collection (Washington, DC). She is currently a Studio Fellow with the Henry Luce III Center for Art and Religion at Wesley Theological Seminary.
This exhibition is supported in part by the Maryland State Arts Council (msac.org)
ABOUT THE GALLERY
Located on the first floor of the Adele H. Stamp Student Union—Center for Campus Life at the University of Maryland, College Park, the Stamp Gallery is dedicated to exhibiting contemporary art, especially the work of emerging and mid-career artists. The Stamp Gallery supports contemporary art that is challenging, academically engaging, and attuned to broad community and social issues. Through meaningful exhibitions and programming, the Gallery offers outside-of-the-classroom experiential learning opportunities. It functions as a laboratory where emerging artists and curators experiment and work through their ideas. The Gallery's programming aims to emphasize the importance of process to contemporary artistic practice and to provide a forum for dialogue. 
FREE and open to the public. Mondays–Thursdays: 10 am – 8 pm, Fridays: 10 am – 5 pm, Saturdays: 11 am – 5 pm, Sundays: Closed.
More information: stamp.umd.edu/gallery