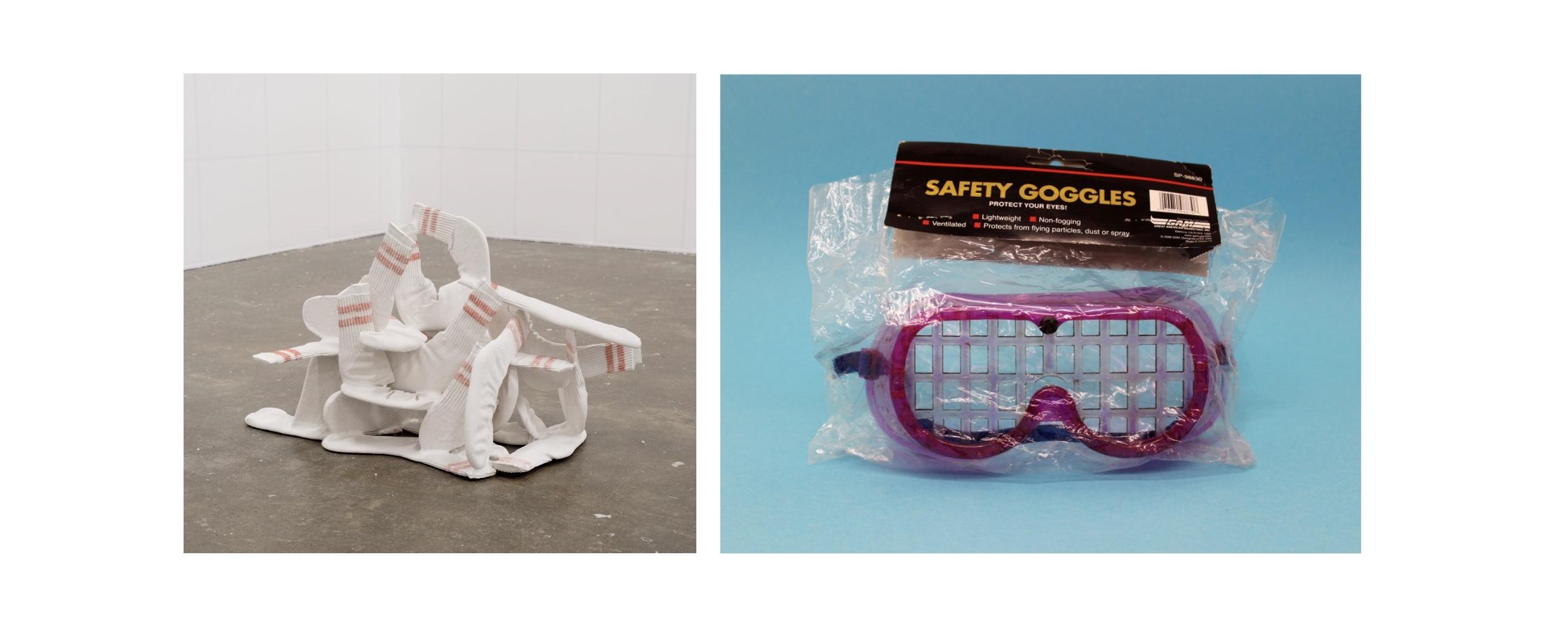 March 28, 2023
7pm via Zoom
Free and open to the public
The Stamp Gallery is pleased to announce a virtual artist talk event with Elliot Doughtie and HH Hiaasen, whose artwork is featured in the exhibition UNFOLD, now on view in the Gallery through April 1.
Bringing together the diverse practices of four DMV-area artists, UNFOLD engages with the significance and possibilities of garments beyond their practical and ornamental functions. The works of Hoesy Corona, Elliot Doughtie, HH Hiaasen, and Mojdeh Rezaeipour direct attention toward clothing's power to expose, conceal, assimilate, distinguish, comfort, alienate, protect, and transform. When "unfolded," clothing can be understood to mediate connections between public and private, human and non-human, self and other—in effect complicating these binaries. Through sculpture, textiles, drawing, mixed media, and more, UNFOLD positions clothing as a dynamic site of becoming, capable of organizing identities and setting them in motion. 
Elliot Doughtie is a Baltimore-based artist originally from Dallas, TX. His drawings, sculptures, and installations engage in a desire to form close relationships between objects and the body in proximity to intimate or vulnerable situations. Doughtie received his BA from Tulane University and MFA from the Maryland Institute College of Art. His work has been exhibited throughout North America including L'OEil de Poisson (Quebec City, Quebec), Basketshop Galley (Cincinnati, OH), LangerOverDickie (Chicago, IL), Fjord Gallery (Philadelphia, PA), and the Nasher Sculpture Center (Dallas, TX). He has been awarded a Maryland State Arts Council Individual Artist Award and is a Joan Mitchell Foundation Painters & Sculptors Grant recipient.
HH Hiaasen is a non-binary, Richmond-based artist whose practice spans textiles, performance, writing, sculpture, and installation. Their work is activated by the exposure of the queer body in public space and its underlying desires, labors, and grief, ventilated by a resilient, queer sense of humor. Hiaasen has performed and exhibited at venues including Freie Universität Berlin (Germany), Yale School of Art (New Haven, CT), The Poetry Project (New York, NY), and the Leslie Lohman Museum of Art (New York, NY). Their first art book, published by Press Press in 2019, was collected by the Whitney Museum of Contemporary Art Archives. Hiaasen received their BFA from the Maryland Institute College of Art and an MFA from Virginia Commonwealth University.
This exhibition is supported in part by the Maryland State Arts Council (msac.org)
ABOUT THE GALLERY
Located on the first floor of the Adele H. Stamp Student Union—Center for Campus Life at the University of Maryland, College Park, the Stamp Gallery is dedicated to exhibiting contemporary art, especially the work of emerging and mid-career artists. The Stamp Gallery supports contemporary art that is challenging, academically engaging, and attuned to broad community and social issues. Through meaningful exhibitions and programming, the Gallery offers outside-of-the-classroom experiential learning opportunities. It functions as a laboratory where emerging artists and curators experiment and work through their ideas. The Gallery's programming aims to emphasize the importance of process to contemporary artistic practice and to provide a forum for dialogue. 
FREE and open to the public. Mondays–Thursdays: 10 am – 8 pm, Fridays: 10 am – 5 pm, Saturdays: 11 am – 5 pm, Sundays: Closed.
More information: stamp.umd.edu/gallery