Pride Month
On behalf of the office of Multicultural Involvement and Community Advocacy (MICA) of the Adele H. Stamp Student Union Center for campus life, we are thrilled to announce the theme for this year's LGBTQ+ Pride Month:
Pride Month 2022: Breaking Out of the Shell
Throughout three years of restrictions related to the COVID-19 pandemic, the LGBTQ+ community has persevered through the unique challenges of finding connection through virtual spaces and online forums. This year, we embrace the opportunity to present our full, authentic selves after a challenging, yet reflective period in quarantine.

In this context, "breaking out of the shell" becomes more than overcoming inhibitions. It is an empowering act that recognizes the transformative process that so many LGBTQ+ individuals experience in their discovery of self-authenticity. It is a moment of visibility that presents a mosaic of intersecting identities that fortifies the heart of UMD's community. As we use this moment to gather, this month's theme poses the question: what "shells" have you broken out of? What "shells'' remain - as either shelter or confinement?

Too often in the LGBTQ+ community, the choice to truthfully present your authentic self is not given. For various legislative, social, and cultural reasons, the choice to live out one's sexual orientation or gender expression becomes a subversive, and sometimes dangerous act. This Pride month, we celebrate all stages of this evolution. At the individual level, we champion the acts of bravery - big and small - to come into one's self. At the collective level, we rally for an environment that cultivates true belonging instead of tolerance. To our community we ask: what can you do to allow for authenticity?
If you have any questions or concerns regarding LGBTQ+ month or how your organization can be involved, please contact Joey Haavik, the Graduate Coordinator for LGBTQ+ student involvement at Ljhaavik@umd.edu. We look forward to this period of connection and engagement!
Upcoming Pride Events
April 26:
Lip Sync for Your Life
SGA & Equity Center
STAMP Jimenez Room
7-8 PM 
A karaoke night featuring songs from iconic queer artists within the community. Sing by yourself or with friends to some of your favorite artists who are in and support the LGBTQ community

Contact sgadiversity@umd.edu for more details 
 
April 28: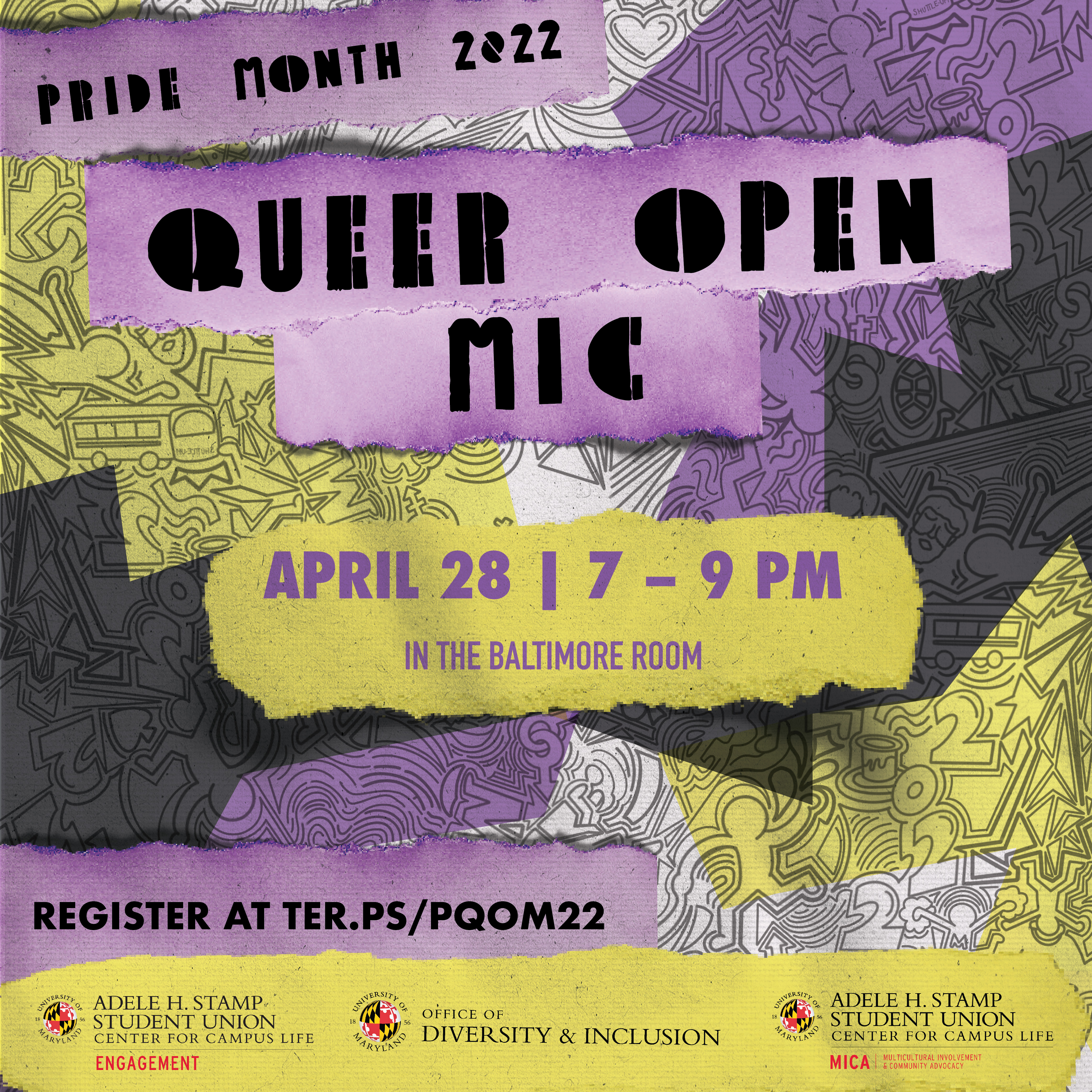 Queer Open Mic
7-9 PM
Baltimore Room
The Queer Open Mic brings together LGBTQ+ spoken word artists, musicians, groups, and comedians for a night of artistic expression! This event will collaborate with Jammin' with Maryland in the Baltimore Room, and will include snacks, drinks, and other student vendors. 
Queer Sex Education Panel
6 - 7 PM
STAMP Grand Ballroom Lounge 
SGA is hosting a queer sex education panel. Panelists with experience in sexual health for various genders and sexual orientations will participate in the Queer Sexual Education Town Hall, which will be held in person.
April 29
Pride Prom 
7pm-10pm 
Hornbake Plaza 
Pride Prom is an event allowing students to proudly attend prom, dress however they are most comfortable, and dance - without fear - with whomever they choose. This event is for LGBTQIA students AND straight-supportive allies. There will also be drag performances! Sponsored by SGA. 
April 30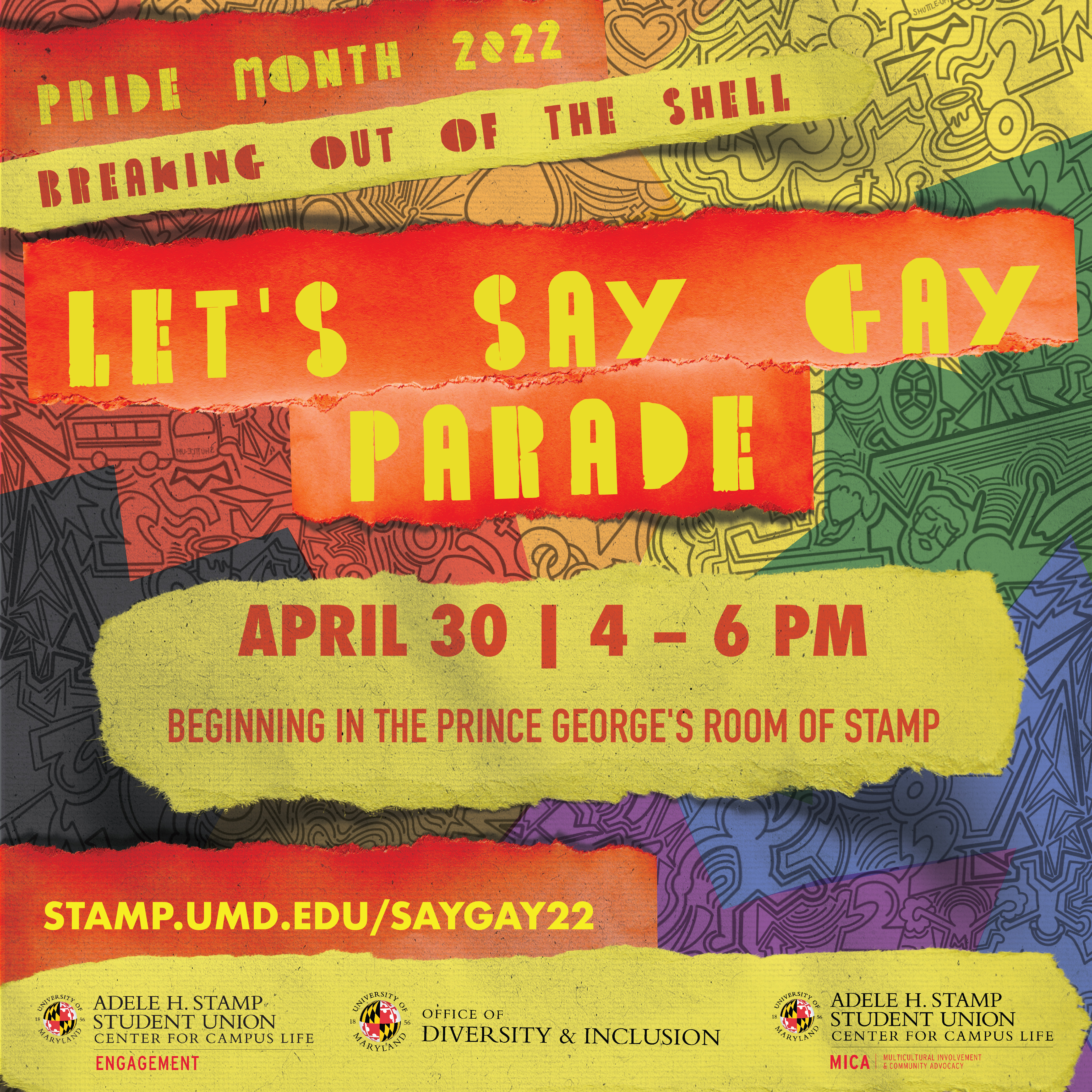 Let's Say Gay Parade
4-6 PM
Prince George Room (Stamp), Nyumburu Amphitheater
In response to the wave of recent anti-LGBTQ+ legislation that has been launched in states such as Florida, Texas, and other southern states, the UMD community will come together to "Say Gay" together. These legislative bills, known as the "Don't Say Gay" bills, aim to incriminate youth in schools by restricting discussion of gender identity and sexual orientation. The UMD community stands in opposition to these sentiments, and we plan to "Say Gay" as proudly as ever. The event will begin in the Prince George's room in the STAMP student union, and will reconvene at the Nyumburu Amphitheater for student speeches and a keynote speech. 
Below is the calendar for LGBTQ+ events and programs. You can find our Linking Communities calendar, which includes programs from all MICA involvement areas, here.