Join us if you are a leader looking to SPARK change!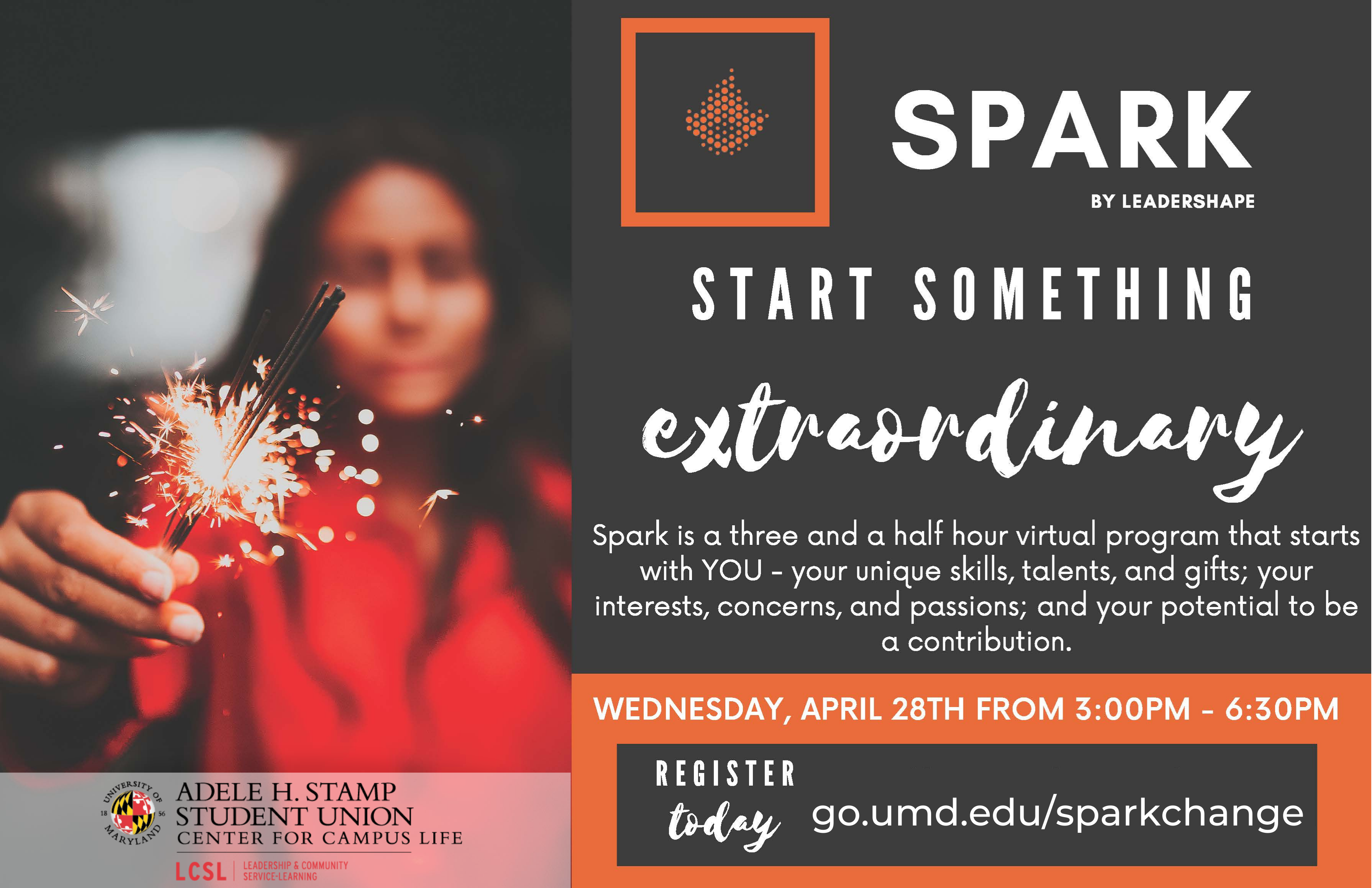 Program Details
The Spark Program looks to build a world in which UMD students are empowered learners in community together, taking action toward just causes.
Participants will be engaged in deliberative and reflective small group dialogue, large group interaction, and personal reflection.
Explore questions like: Who do I want to be? What is my story? Am I being the leader I want to be? What are the causes and communities I care most about and how can I contribute?
Interested students must be willing to commit 3.5 hours on Wednesday, April 28th, 2021 from 3:00 PM - 6:30 PM 
The experience is free.
Who Should Participate?
Any undergraduate and graduate student who is:

open to the exploration of authenticity, connection, and commitment while increasing your capacity to lead.
a member of a student organization, or involved in serving the greater College Park community.
interested in starting something extraordinary.
ready to take action.
How Will You Benefit From Participating?
Connect with a community of peers from across campus and create new friendships. 
Explore what it means to choose your own authentic path.
Understand how you best connect and contribute to the groups and causes you care about.
Commit to a plan to be a catalyst for yourself and the groups or communities you are a part of.
Leave compelled to start a new habit, to persist, and to live in possibility.
What Should I Expect?
Engage In an Active Learning Experience | Showing up is only part of participating. Participants will challenge themselves to do something different to help their learning. If you are often the one speaking up, we will encourage you to listen more. If you tend to wait before engaging, we'll encourage you to jump right in the middle and take a risk. Bottom line, we do not want you to wait for learning to happen. Spark will be about taking ownership of your learning and what you can accomplish in the community with others.
Connect With Your Peer and Their Ideas | Participants will have time to get to know other peers and listen to their thoughts. It is rare to have the space to connect with other people and what they truly care about in the world. Spark creates a community that welcomes that opportunity.
Craft Your Story | Where have you been? Who are you? What labels have you adopted that help tell your story? We are constantly writing our life's story. We will take some time to think about what stories you have learned along the way and how you have developed. When we tell our story, we allow others to see us in a different way. We also make it a little easier for them to tell their story. Let's have courage and be brave together to share stories and listen to the stories of others.
Expand Your Perspective | If you continue to do what you have always done, you can't really expect different results. Spark will challenge you to think out of the box. Ask "why" more often. Quietly reflect on your choices and the path you have taken so far … and then look farther. We do not know everything we think we know. Spark will encourage you to engage curiosity and remain open to a different way of seeing the world.
Application Information
Sign up Today.
The deadline to apply is Sunday, April 25th, 2021. (Limited Spots Available)
For more information or questions contact us at mlead@umd.edu