DACA Student Info
DACA Webinar Recording
DACA Webinar Presentation (Graduate Student Legal Aid)
-Friday, July 10, 2020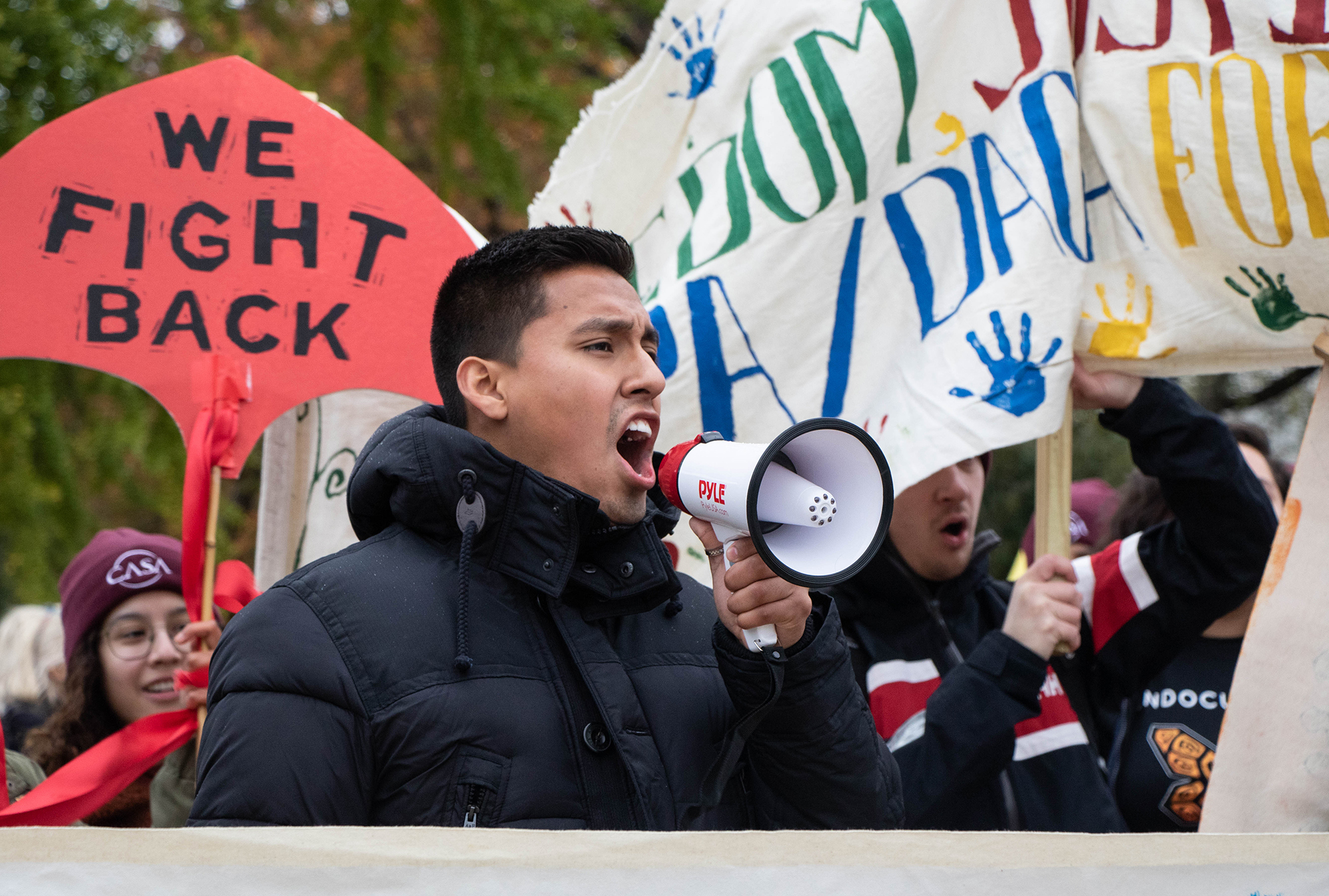 Message Regarding Support for Deferred Action for Childhood Arrivals (DACA) Recipients at UMD
-Tuesday May 5, 2020
"...Regardless of the Supreme Court's decision, I want to communicate the University of Maryland's strong and continuing support for our DACA recipients and their families. Over the next few months, we will work with our DACA recipients to continue to connect them with legal service providers on and off campus, mental and physical health services, and other support services. If you have not already subscribed to the UndocuTerp newsletter, I encourage you to do so for information and resources…" 
Read this entire statement by Patricia Perillo Ph.D., Vice President of Student Affairs and Georgina Dodge Ph.D., Vice President for Diversity and Inclusion here.
What is Deferred Action for Childhood Arrivals (DACA)?
Deferred Action for Childhood Arrivals (DACA) is an immigration protection that provides protection from deportation and the ability to work in the United States. DACA enabled approximately half a million undocumented students to enroll in colleges and universities in the United States. The University of Maryland  supports DACA recipients on our campus and in our communities and calls on the Trump administration to forebear the deportation of current and former DACA recipients and to Congress to immediately pass legislation protecting these individuals.
Can I still renew my DACA?
Yes, as of May 1, 2020. USCIS is also accepting DACA renewal requests even if they are sent in more than 150 days prior to the expiration date. For more guidance and items to consider before renewing, please visit Informed Immigrant or National Immigration Law Center.
Depending on which service center location the DACA renewal request is sent to, it may take several months before recipients receive their new work permit.
NOTE: As of March 18, USCIS has closed its offices and suspended all routine in-person services until at least May 3, 2020. In the meantime, USCIS is still processing DACA renewal applications and has announced that they may use previously submitted biometrics to process applications. 
Are new DACA applications being accepted?
Yes, based on the latest SCOTUS DACA must return to it's orginal standing until futher notice. If you are a UMD student elligable for DACA please schedule an appointmet with Graduate Legal Aid who servies undergraduate and graduate students with DACA applications.
What legal services can help me with my DACA renewal?
We encourage DACA recipients who have not yet renewed to contact a legal service provider and renew their DACA as quickly as possible.
What financial resources are available to renew my DACA as a UMD student?
Student Affairs Crisis Fund
To apply for the UMD Student Crisis Fund please complete the UMD Student Crisis Fund application here. You should be contacted within two business days to discuss your application.
PLUMAS Dream Fund
Funds are first-come, first-serve. 
The PLUMAS Dream Fund was made available to UndocuTerps at UMD for DACA renewal fees,and general legal fees. 
PLUMAS (Political Latinxs United for Movement and Action in Society) is a campus activist organization at the University of Maryland at College Park. During the 2016 election, PLUMAS members came together to establish a fund in anticipation of upcoming challenges. Sure enough, within the first year of the current administration, DACA and other immigration programs came under attack. In total, PLUMAS have raised more than $9,000 and have helped more than fifteen students.
DACA Recipients' Journeys
Undergraduate Students
"Before DACA, I am proud to say that I was able to complete high school. Because of DACA, though it was tough, I was able to apply to college and to be able to transfer to my current dream school, something that I wasn't able to do before DACA. My long term goal is to be a Medical Doctor. It's not common to see Medical Doctors who are DACA recipients, but I know they are out there and doing wonders. I want to be one of the best Medical Doctors, and though I may not be American, I don't want my status and circumstances to limit my excellence, cause I can do all things." 
-Anonymous Undergraduate Pre-Med Student
"Before DACA, "I'm proud that I was able to maintain great grades and focus mentality throughout grade school even though there was no certainty about my status or what path I would take after high school. Because of DACA, I'm proud that I attended, paid my way through college, and am a student leader. Regardless of the DACA, I won't allow anything to stop me from being able to continuously improve my education so that I may continue to help the Latinx Community."
- Josue, Undergraduate Business Student (Spring 2020) 
"Before becoming a DACA recipient, one thing that I've accomplished and that I am proud of is being able to create an impact in my hometown by providing mentorship to first-generation students and graduating from community college. My dream is to create my own business and promote financial literacy in the Latino community and having DACA has allowed me to continue higher education to be one step closer to this dream. Regardless of DACA, I will be the first one in my family to graduate from the University of Maryland, I will continue to serve my Latino community."
- Nori Oscuro, Accounting Student 
"Before having DACA, one of the things I accomplished was graduating high school in the IB Program and attending community college. DACA has been a great blessing in my life as it has opened doors for job opportunities and the ability to live a more stable life without having to worry about being arrested and deported. Working towards a better future for me and my family in the U.S. is more accessible because of DACA however, my mother has endured so much to provide for me and my sister and I won't let anything stop me from achieving my dream. I will thrive for a brighter life."
-Anonymous, American Studies, Class of 2021
Graduate Students
"Before DACA, I am proud of having made it to college despite my immigration status and therefore lack of resources. In high school I had guidance counselors tell me I couldn't go to college because of being unauthorized, and I'm proud that I didn't let that stop me and that I kept fighting to get a higher education. Because of DACA, I was able to use my degree to get a great job that was a stepping stone towards becoming an economist. Without the ability to work and therefore gain work experience, I would not have been able to pursue and be on the path to achieving this goal. Regardless of what happens with DACA, I will not let anything stop me from completing my PhD from a top economics program and becoming an economist focused on fighting global poverty."
-Anonymous PhD Economics Student
"DACA allowed me the opportunity to continue my education and complete my Masters. It allowed me to support myself financially while obtaining practical skills. It allowed me to become more comfortable with traveling, blessing me with the opportunity to visit some amazing places. I am able to live more comfortably because of DACA. Regardless of DACA's outcome, my happiness and the happiness of those around me are the most important part of my life. Nothing can stop me from living my life to the fullest."
-Anonymous, Masters in Education, Class of 2020
Alumni
"Before DACA, I am proud that I began to do the work of unlearning intergenerational trauma and becoming aware about the true history of the U.S. With DACA, I had the opportunity to go to university and create communities that shaped my understanding of the world and of myself.  I'm not going to let the uncertainty of my immigration status stop me from living a fulfilled life and from continuing to work on bringing justice for marginalized folks."
-Karla Casique, American Studies, Class of 2019
"Before DACA, my biggest accomplishment was to be admitted to the Scholars Program at Montgomery College and later be accepted to the University of Maryland at the Universities at Shady Grove. Despite not qualifying for in-state tuition at the time due to my legal status, I graduated with a Bachelor's degree in the Spring of 2013 with the financial support of my parents and some merit scholarships. Before graduation, I did ponder about my future and my ability to work in the field of public health, a career I had always aspired to be in. But in August of 2012, DACA was granted and I was able to dream a little bigger and calm some of the uncertainty I had prior to graduation. Because of DACA, I was able to start jobs and internships in the realm of health promotion and health education with different local nonprofits that serve the Latino community. This experience inspired me to advance my education and I graduated with a Master's degree in Public Health in 2018. Thankfully, new legislation in the State of Maryland allowed me to get in-state tuition this time around which was a big driving force for me to make this dream happen. After years of working in the fronts at the community level, I am now part of the nation's largest Latino civil rights and advocacy organization and my focus now is to provide support to programmatic work that advances health equity and promotes well-being in our communities across the United States. I will not allow the current uncertainty and new court decisions from continuing to serve and give back to my community. DACA did facilitate many of our accomplishments as students and professionals but we could not make it all of this happen without the arduous work and commitment from our families, mentors, and allies. 
-Selene Tituaña Jurado, MPH'18
What other resources should I look into beyond DACA and regardless of the SCOTUS decision?
Beyond DACA
Immigration Legal Intake
Immigration Preparedness toolkit
How can I stay connected to this community or issue at UMD?
How can I advocate for DACA and the immigrant community?
See the following resources compiled by the Presidents Alliance for Higher Education and  Immigration.
Presidents' Alliance on Higher Education and Immigration
Immigrant Legal Resource Center
Center for American Progress
I still have questions, who can I contact?
Please email undoc@umd.edu and add DACA Questions in your email subject line.